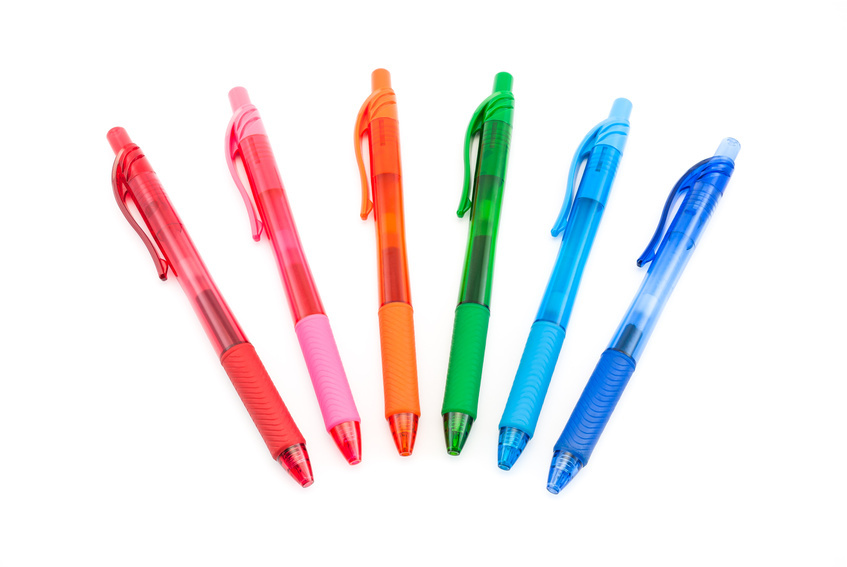 There are many kinds of pens in the world for writing and art enthusiasts, and one of the most popular is the gel ink pen. The gel ink pen is a pen whose ink is made from pigment in a water-based gel. Shoppers looking to learn more about gel ink pens or how to select and purchase the right one should check out the helpful information below.
Uses for Gel Ink Pens
Gel ink pens are popularly used for everyday activities like letter writing and school work. One reason gel ink pens are popular is because they show up on dark surfaces or slick surfaces that many other types of pen ink would not show up on. Gel ink pens are also popularly used in children's art projects.
Benefits of Gel Ink Pens
Gel ink pens have highly viscous ink, which means that the colour is more condensed within the ink, and thus shows up as more colourful on a piece of paper. Gel ink pens can be used on a wider range of surfaces than many pens, including dark paper and even cloth.
Disadvantages of Gel Ink Pens
While gel ink pens have many advantages, there are also some drawbacks to using them. First, they are more likely to smear or smudge than many other kinds of pens because the ink is so wet. Next, they run out of ink quickly because a large amount of ink comes out of the pen each time it is used on a surface. Finally, gel ink pens tend to create skips in lines, because the ball at the tip of the pen is not as evenly coated in ink as it may be in a traditional ball point pen.
Choosing the Right Gel Ink Pens
Ink pens come in a range of shapes, sizes and colours. The below considerations are important to keep in mind when selecting the right pen to buy.
Type of Tip
The material of a gel ink pen varies from pen to pen. Some gel pens have fibre or brush tips, which result in thick, paint-like lines. Other gel ink pens have ball tips, which are reminiscent of ball point pens and used to create thin, fine lines.
Opacity
The ink within gel pens varies by opacity. Some gel pens have ink that is opaque, which means that it completely covers the surface below it. Gel ink pens with ink that is not opaque create a finer, lighter colour, and the surface or paper below the ink is able to be seen.
Use
Consider the use of a gel ink pen before it is purchased. If it is going to be used for writing, buyers should select a gel ink pen with a thin, small tip that can create thin lines. If a gel ink pen is going to be used to create an art project or colour a colouring book, buyers should consider purchasing large-tipped gel ink pens that can create bold, thick lines and large characters.