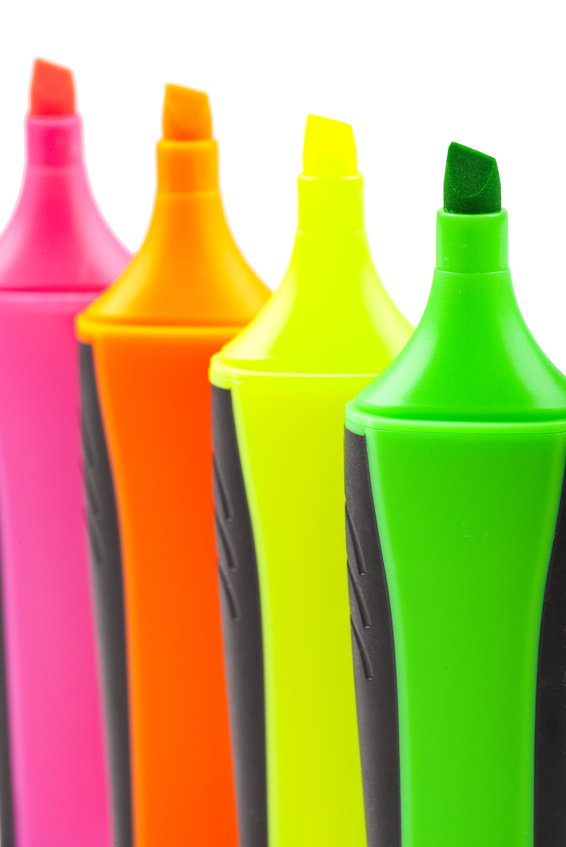 Highlighters are one of the most useful office tools to consider when stocking and setting up a home office or desk at work, since they allow people to use bright colours to call attention to specific information easily. They also are a useful addition to an art supply collection, as they can provide a vibrant hue unlike that of a regular marker or pen. People looking to purchase the right highlighters can check out some helpful considerations for the purchase process below.
Consider Tip Size
One important consideration to keep in mind when selecting a highlighter is the size of the tip. The highlighter's tip determines the precision with which words can be highlighted. Small texts require a highlighter with a small tip, while those with large fonts can benefit from a highlighter with a large, wide tip. One excellent thin tip highlighter is the Poppin Yellow Thin Highlighter. A great wide tip highlighter for larger texts is the Sharpie Accent Tank Style Highlighter.
Choose the Proper Ink Quality
The quality of a highlighter's ink is important when it comes to choosing the right tool. Shoppers will want to choose a highlighter that has smear-proof ink, so that it does not smear the ink that it is highlighting, rending it unreadable. Users may also want to buy a highlighter that is fast drying, since highlighters that do not dry quickly often leave spots on the back of the pages before them when they are turned. One great choice for highlighter ink is a gel ink highlighter, since gel ink is known to be fast drying. A great option for a gel ink highlighter is the Sharpie Gel Highlighter, which comes in a range of widths.
Explore an Erasable Feature
Many pen and marker companies today create highlighters that have the ability to be erased. This means that users who highlight text can get rid of a highlight that was placed in error, or they can share their texts with other people without all of their previous highlights. Two great examples of popular erasable highlighters include the Uni Propus Erasable Highlighter Pen and the Pilot FriXion Light US Erasable Highlighter. Erasable highlighters also come in handy if they're used at home and accidentally make an unwanted mark on an item like a piece of furniture.
Pick a Colour
One of the final considerations to keep in mind when selecting a highlighter is the colour of the ink. While traditional highlighters come in bright yellow, there are now highlighters that come in a huge selection of colours - including pink, blue, green, purple, and more. Consider the colour of a text and choose a highlighter that will accent that text, not blend in with it. For example, a reader reading a text written in red ink will find using a yellow highlighter more effective than a pink one. Buyers should also consider their own stylistic and aesthetic choices when choosing what colour highlighter to buy. One great option for buyers who want a range of coloured highlighters is the Uni Ball Promark View Water-based Fluorescent Highlighters, which come with 6 different colours of markers.