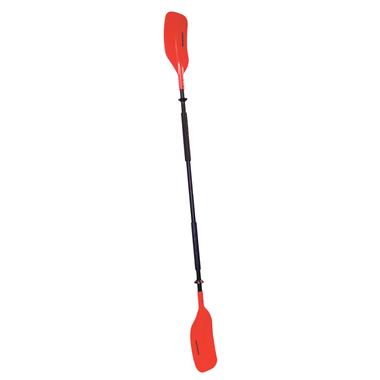 Kayaking is a great way to get out and explore the waterways and shorelines of the country, and of course, getting a good kayak is a critical step. However, a kayak all by itself is not enough. Any piece of gear that is not actually part of the boat counts as an accessory, and there are many accessories that are almost as necessary as the boat, usually for safety reasons. Even an experienced kayaker is always learning more about what gear it is important to bring, but unfortunately they often do so by trial and error. Someone goes out and gets into a dangerous or uncomfortable situation, and thereafter brings an additional accessory so that the problem does not happen again. Beginners and long-time paddlers alike might appreciate a review of the most useful kayak accessories.
Kayak Accessories
A kayak accessory is anything a paddler might use with the kayak. The list of potential accessories is very long. Some of the most important kayak accessories bear some discussion, either about why the thing is important to have or how to buy a good one.
Some accessories, like paddles, are obvious necessities. Others are either optional or meant for specific types of paddling. A helmet, for example, is important for white-water paddlers, but pointless otherwise. Most kayak accessories are safety related, so it is important to get and use the right accessories for any given paddle sport.
Paddles
A kayaker actually needs twopaddles, in case the first one is lost or broken, especially when paddling in deep water away from shore. Kayak paddles, in contrast to canoe paddles, have a blade at each end, and come in several different designs, depending on the type of paddling they are for.
Long, thin blades work well for touring, since they cause less muscle strain, but they also produce less power per stroke. Feathered blades, meaning blades set at different angles, produce less wind resistance for open water paddling, but are harder on the wrists, and so might not be right for long river trips. Wooden or fibreglass paddles are probably the best, but are more expensive than other materials. Two-piece paddles that can disassemble for easy storage also cost more than one-piece paddles, but are dramatically more convenient, especially as spares. Regardless of the type of paddling, the shaft should be oval in cross-section, for comfortable grip and better control.
Personal Floatation Device (PFD)
It is important to wear a PFD at all times on the water, because it is difficult or impossible to put one on after the boat has capsized. Make sure the PFD is in good condition and safety approved. There are several different classifications for PFDs. For example, popular PFDs are only designed to help conscious users. Make sure to get a good fit; try the PFD on and make sure it is comfortable and that it cannot float up and interfere with visibility. Make sure it fits well over normal paddling clothes and has any needed pockets. Some paddle sports, such as fishing, have their own PFD styles.
Bailer or Pump
An excellent basic bailer is a sponge. Sponges are inexpensive, easy to store, and they can soak up even small puddles of water that a cup cannot dip into. In deep water a bilge pump is also important for emptying the boat after a capsize.
Self-Rescue Device
Self-rescue devices are critically important for trips in deep water away from shore. They work to keep the boat stable after a capsize so the paddler can climb back in. Some styles attach to the paddle so it can function as an outrigger, while others attach to the kayak itself. Most are inflatable, since they store easily, but foam floats are more secure, as they cannot leak and fail.
Tow or Throw Line
It is always a good idea to keep a length of rope in a kayak, so the boat can be tied up or towed. Kayakers spending a day on a small stream might be satisfied with a length of clothesline, coiled and tied so it cannot tangle. Kayakers heading away from shore in deep water need more than that. Throw bags contain a long length of strong, floatable rope and are designed so that one end of the rope can be easily thrown to a rescuer.
Med Kit
Anyone who goes into a remote area needs a medical kit, just in case, and the middle of a body of water counts as remote. Pre-packed med kits are available, although assembling a personalised kit means that the kit perfectly matches the user's needs. Know how to use every item in the kit; equipment without knowledge is pointless. Remember to adapt the kit to the needs of the trip. For example, kayak fishing requires pliers and cutters, in case anyone is hooked.
Proper Clothing
Even when the air is quite hot, if the water is cold, a paddler gone swimming unexpectedly might have only a minute or two of coordinated movement before serious hypothermia sets in. Wetsuits and drysuits are important pieces of safety gear for a kayaker. A sun hat and good, waterproof sunblock are also important.
Other Accessories
There are many other accessories available, and some of them are very important. However, their use and important considerations are close enough to self-evident that they do not require a full discussion. A simple list is enough to remind users to consider purchasing them.
This table shows a number of different kayak accessories, together with a note on why each is important. This list does not include every possible piece of gear any kayaker could ever need. Instead, please use it as a starting point for considering what gear to get.
| | |
| --- | --- |
| Accessory | Why the Accessory Is Important |
| Knife with a sheath | All kayak gear must be tied in; a knife can cut any dangerous tangles |
| VHF radio | For calling for help and for getting weather reports on long trips |
| Air horn or very loud whistle | Required for signalling other vessels in open water |
| Torch | Required for signalling other vessels in open water at night |
| Waterproof compass | With a map and proper training, useful for not getting lost |
| Anchor | Small anchors made for kayaks are available |
| Sprayskirt | Keeps the inside of the cockpit dry; get trained in freeing the skirt in case of rollover first |
| Dry bag | Keeps lunch, field guides, wallet, and so on dry |
| Cart | Wheels designed to strap to a kayak so it can be rolled to the water |
| Car rack | Useful for strapping the kayak to a car |
Note that not all kayakers need all these items. A sit-upon kayak has no cockpit, for example, and therefore cannot have a sprayskirt. But some of these are important for safety in most circumstances.
How to Buy Kayak Accessories on eBay
eBay has the advantage of having almost any possible kayak accessory together in one place. Even items that might not be designed or marketed for kayak use specifically are here. Plus, the site is easy to search.
Finding Kayak Accessories on eBay
It is easier to search for specific items, such as sun hats or a PFD, rather than searching for kayak accessories categorically. Just type the name of the desired item in the search box or use the Advanced Search feature. Or, check out eBay Deals for the best prices of the moment.
Buying Kayak Accessories on eBay with Confidence
Just take any questions to the seller. There is a contact link on the seller's profile for this. The profile also lists any deals or special offers the seller has, plus his or her feedback score and return policy.
Conclusion
Some people really get into buying gear. They amass whole collections of kayak accessories so that no matter what happens their boat has exactly the right gadget to stay ship-shape in style. Other people just want to be safe and comfortable so they can pay attention to the day's paddle. Many of these items, such as a self-rescue device, a throw-bag, or a knife, might never be used if all goes well. However, in an emergency, these items might be life-saving. Others dramatically increase the boat's usefulness, such as a rack or a cart. Some simply add enjoyable options, such as the way a dry bag allows a paddler to bring along sandwiches for a picnic. Either way, knowing which accessories to buy and why and how is part of responsible kayak ownership.