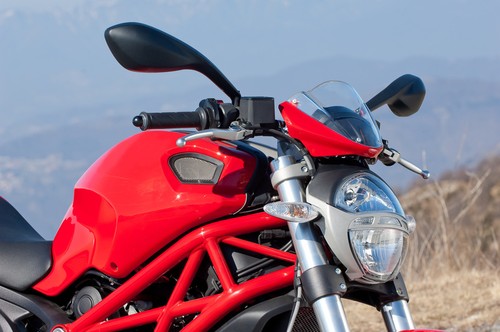 The most important step in selecting LED light bundles for motorcycles is deciding whether the lights are for on-road or off-road use. Off-road, anything goes. On-road, strict regulations and the rider's character constrain options. Those who ride both on and off road may add an on-off switch in order to change between road legal and colourful off-road configurations. Once you know your riding goals, the choice of street-legal LED light bundles or off-road light kits is obvious. Choosing the specific elements you want is then easy.
Street-Legal LED Lighting Bundles
Australia has national, state, and local regulations related to lights on street bikes. Nationwide regulations address lighting colours and placement. Red lights may only show from the rear of the bike. White lights must show only from the front. Daylight running lights, at the front, may be white or yellow. Directional signals should be amber. No blue lights of any kind may be used on non-emergency vehicles. National, state, and local regulations may also regulate such matters as the size and flash speed of indicator lights. Checking with local authorities is always wise before making a purchase.
Headlight LED Bundles
Headlight bundles are basic. One or more strings of white mini-LED lights wrap around the headlamp. LED headlamps are not generally considered bright enough to have replaced alternatives.
LED Daytime Running Lights
Riders recommend mounting LED Daytime Running Lights, or DRLs, on the forks near the reflectors. This placement adds more visibility than mounting DRLs closer to the headlamp, they say. Australian law requires DRLs to be white or yellow. Check local regulations related to DRLs designated as fog lights before making a purchase.
Brake Light and Indicator Kits
Brake light kits and LED signal light kits are offered separately and as integrated packages. The integrated packages must conform to regulations that stipulate the distance from the brake light to each indicator, the flashing speed for the indicators, and the maximum size for each indicator. These kits typically use light pods instead of LED light strips. Check with local authorities before making a purchase to insure conformity with local regulations.
Licence Plate Lighting Kits
Unfortunately, riders in many Australian jurisdictions have been cited for using LED licence plate light kits. Be sure to check with local authorities before making any purchase.
Off-Road and Racing LED Lights
LED motorcycle lighting bundles for off-road and racing purposes include the fun toys. Bundles may include some combination of light strips, light pods, one or more control boxes, an on-off switch, a remote, and any of the on-road elements as well.
LED Light Strips
LED light strips for motorcycles must be waterproof and heatproof to stand up to weather conditions and engine temperatures. Strips also take different voltages, so it is important to select LED strips that can be powered by the motorcycle's battery. LED light strips vary by colour, size, flexibility, and their ability to be programmed for diverse designs. The different kinds used on off-road and racing motorcycles include tubular LED strips, rubber encased flex strip LEDs, SMD flat strip LEDs, and advanced million colour LED strips.
Tubular LED strips use a round or oval plastic tube to enclose the LEDs. They are relatively stiff and typically used inside motorcycle wheels.
Rubber-encased flex strips are the standard LED strip. The LED lights appear to protrude from the strip but are actually sheathed in a flexible polymer. These strips are typically 0.5 inch deep and used in a wide range of motorcycle applications.
The SMD flat strip uses a different LED technology to produce brighter light from a nearly flat strip. Three LEDs are connected to each Surface Mounted Device LED chip. The square arrangement of the LEDs as well as the very thin, extremely flexible strip, are distinctive.
Any of the three types of LED light strips described above may come in single colour or multi-colour strips. The Advanced Million Colour LED light strip, by contrast, provides in essence a full digital colour palette for the owner's enjoyment. For these SMD strips, the three LEDs connected to each chip are of three different colours: red, green, and blue LEDs, representing the three colours of the light spectrum. Depending on the program, the three colours can produce virtually any light colour the user wants at any point in the design. These light strips allow the owner to create endless light effects in any colour or combination of colours.
Light Pods
Light pods combine six or more LEDs in frames made of various materials. The frame may be as sturdy as billeted aluminium.
Control Boxes
Depending on the design planned, one or two control boxes may be used. Dual control boxes make it possible to design more complex displays.
Controllers
Two kinds of controllers manage LED light displays: wireless remotes or Bluetooth-enabled cellphone apps. Flash rate controllers manage the speed that the lights flash. Cellphone apps provide the greatest flexibility in programming the LED light display and like everything app, seem to offer something new almost every time you turn the phone on.
How to Buy LED Motorcycle Lighting Bundles
Finding the right LED light kit for a motorcycle is easy on eBay. Start with the Motorbike Deals to see if the items you want are on special discount. Then enter in the Search box on any eBay page the items you have not yet found, for example " LED signal light kits". To select among the options that appear, you may want to sort by price or condition. You may also consider userfeedback to find quality sellers. Top Rated Sellers are those who have established records of quality customer service over many sales. You can locate the LED light bundles you want for on- and off-road biking quickly on eBay.