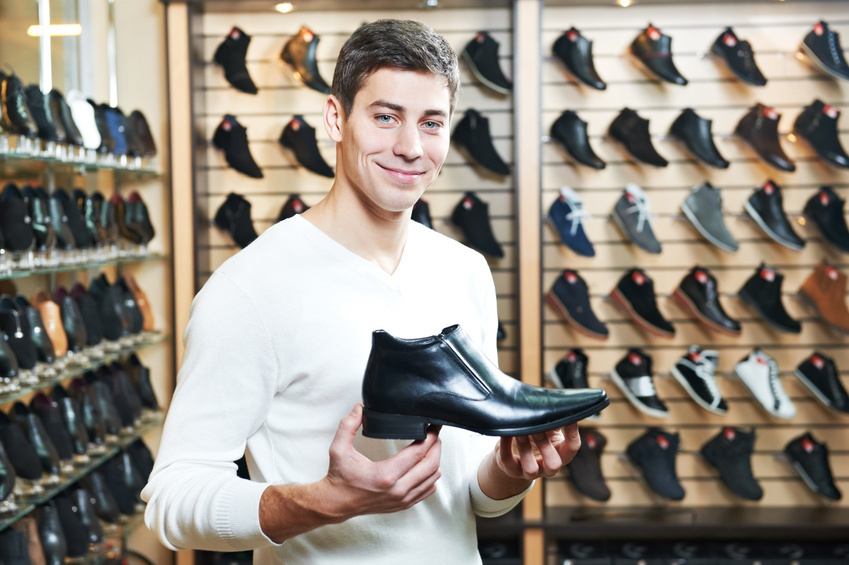 There is no shortage of men's footwear available, but none stay in style better than a pair of leather boots. They're simple yet stylish, and can be the perfect accompaniment to both formal and casual outfits. While designs for men's boots tend to be geared towards functionality, that doesn't mean they completely disregard style.
When buying a pair of leather boots, men should make sure that they're comfortable, and fit properly around the foot, ankle and calf. The type of boot one opts for should always come down to personal preference. eBay makes sure that there are plenty of deals available when it comes to men's footwear.
Types of Men's Leather Boots
Men's leather boots are a versatile piece of footwear that can be worn socially, casually, formally and professionally. They provide excellent support for the legs, and in most instances are tough and durable. When a man decides that leather boots are right for him, he will need to choose the right style.
Cowboy
· Cowboy leather boots pride themselves on being, warm, reliable, sturdy and above all else comfortable.
· They come in a range of colours and designs.
· Embroidered and embellished options can also be acquired.
· Their rugged appearance is inspired by their historical relevance in southern North American states.
· Provides added support to the lower legs.
· Those who commonly wear boots in hot and dry conditions should wear a low cut pair.
· The perfect boot for the fashion conscious man.
Winter
· Built to keep the feet dry and damp free.
· Expect them to have a snug fit.
· The perfect choice of boot for the winter months.
· They are utilised in work environments in which liquids are used.
· Scooter and motorcycle riders should own a pair in order to protect themselves against weather elements, debris, burns and grazes.
· Not considered the most stylish form of leather boot, but invaluable when walking in cold conditions.
Hiking
· The heavy-duty form of leather boot.
· Perfect for those who go on hikes and adventure trails.
· Built for longevity and use on rough terrain.
· They caress the feet, which helps prevent blisters and sores.
· Constructed out of a breathable material that aids airflow around the feet.
Equestrian
· A specialist leather boot that is perfect for men who ride horses.
· In some cases, they have straps that allow them to be attached to saddle stirrups.
· Horse riding places increased pressure on the feet, meaning that these specialist leather boots are built with protection in mind.
· Their specialist nature often makes them an expensive purchase.
· Outside of horse riding this type of leather boot doesn't have much use.
Types of Leather
When it comes to material there is rarely a standard leather option to pick, so shoppers actually have another decision to make. The type of leather chosen has an effect on the appearance, longevity and most importantly price of a pair of boots. The following are the forms of leather currently available:
| | |
| --- | --- |
| Cowhide | Firm and hard, cowhide is the most common form of leather used to make a pair of men's boots. It is the most affordable leather to use and provides great value for money. Cowhide is perfect for men who are new to the world of leather footwear. |
| Suede | A specialist type of leather that has a unique and distinctive appearance. Not particularly hard wearing and is easily damaged by liquid. However, with the correct care a pair of suede boots can truly be footwear to behold. |
| Alligator Skin | The exotic option when it comes to men's leather boots. Hardwearing and fairly standardised, due to their difficult colour dying attributes. Provides a top quality look but doesn't come cheap. Alligator leather is usually sold at between $20 and $40 per centimetre. |
| Ostrich Leather | The height of luxury and has the added price to boot. Ostrich leather boots are hard to find, but really stand out amongst the crowd. Has been around for well over one hundred years and are a must have for any luxury boot enthusiast. Simply put, ostrich leather has an appearance that is unmistakable. |
Buying Used
The leather market has never stalled, and with the advent of online auction sites like eBay, the used leather market has become increasingly popular. As leather is so hard wearing, it means when a pair of boots is taken care of properly they actually have resale value. The upside of this is that via eBay, shoppers can make great savings by buying high quality used footwear.
It should be noted that the used footwear market isn't for everyone, as there are risks involved. The seller may not have posted much information about the item, or been generally not very detailed in the description. When this is the case, the prerogative is on the buyer to ask questions to determine if the item is right for them.
· How old are the boots?
· How often have the boots been worn?
· What are the exact measurements and size of the boots?
· Have the boots suffered any water damage?
· Have the boots suffered any cosmetic damage?
· Have the boots been subjected to any repairs?
· What is the condition of the boot's soles?
· Do the boots come with the original sale receipt?
How to Buy a Pair of Leather Boots on eBay
Many fads have come and gone in the world of men's fashion, but one type of material has weathered the storm, and is still as popular as ever. When it comes to buying footwear, shoppers should look at the leather offerings currently available. Men's leather boots are the height of both luxury and comfort. In order to get a pair of boots at an affordable price, shoppers should check out what eBay has to offer.
· To see what leather boots have been put up for auction, click on clothing, shoes, accessories while on eBay's homepage.
· Click men's shoes and then boots to see all live auctions.
· To search for a specific brand, style or size use the keyword search and advanced search options.
Completing a Transaction

Finding the right leather shoes shouldn't be a tough task, and eBay has made sure that this is the case. In order to make sure that when an appropriate pair of boots is found, owning them becomes a real possibility, try doing one of the following.
· Place a Bid
· Make a Best Offer
· Buy it Now
When the auction is over the winning bidder will need to pay for the item, in order to complete the purchase. eBay users should opt for PayPal to complete the checkout process. This will guarantee that the buyer protection program protects the winning bidder.
Conclusion
It is safe to say that men's fashion is no longer an afterthought. Now there are a variety of luxury items for men to buy, with the premier option being a pair of leather boots. They are a piece of functional footwear that should take pride and place on a man's shoe rack. Simply put, it is time for men to get serious about fashion and they can't go wrong with a pair of leather boots.
Finding an appropriate pair of shoes used to be difficult. eBay has simplified the task, meaning that the perfect pair of leather boots is just a few clicks away.