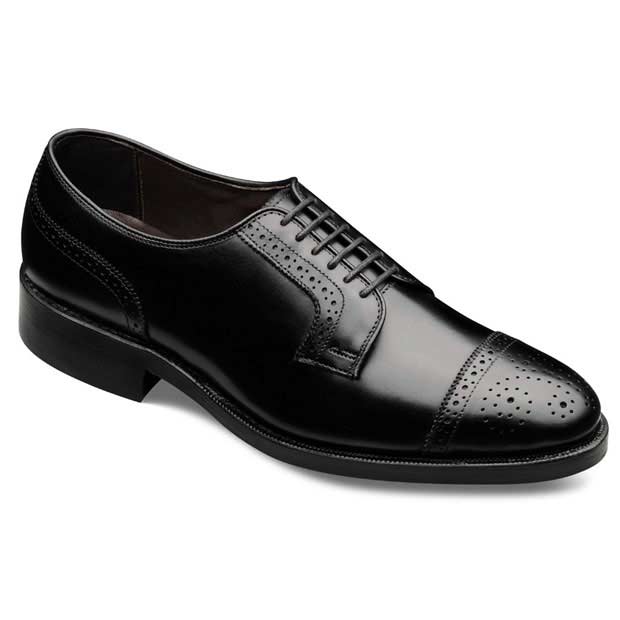 Although there are a wide range of casual men's shoes to choose from, there are times when a more formal shoe is required. Men's dress shoes come in a variety of styles, from traditional brogues to modern slip on loafers, and whilst they are traditionally black, it is also possible to find dress shoes in a variety of other colours to suit the tastes of the individual man in question.
eBay has a huge selection of men's dress shoes to choose from, and by searching for specific items or browsing the men's dress shoes category it is easy to find the perfect shoes at an affordable price.
What are Dress Shoes?
Men's dress shoes, also known as formal shoes, are usually made from high quality leather and designed for a smart appearance. They are suitable to wear to formal events and occasions such as weddings or funerals, as well as for a professional appearance at work and other corporate events.
There are many different types of men's dress shoes, but here are eight of the most popular styles that you will find online – eBay has a wide selection to choose from.
| | |
| --- | --- |
| Style | Features |
| Oxfords (also known as Balmorals) | Oxfords are generally black or brown and the more formal Oxfords have a sleek appearance. These lace-up without visible panels. |
| | These slip on formal shoes are usually sleek and simple – darker colours are best for formal occasions. |
| | With a buckled strap instead of laces, these shoes are a more modern formal style and can feature one, two or three buckles. |
| | Similar to Oxfords, these have externally visible lacing panels and are a slightly more rugged and less formal style than Oxfords. |
| | This generally refers to a type of Derby shoe – the cap of the shoe is decorated with brogue leather, which resembles a wing shape. These can be found in a solid colour or a more classic two-tone. |
| Dress boots | There are a wide variety of dress boots available but they are generally brown or black and minimalistic. |
| | Cap toes have an extra piece of leather to the front of the shoe – heavier cap toed shoes are less formal. |
| | These are slip on pumps generally made from black patent leather and often featuring a grosgrain ribbon accent. Suede formal pumps can also be found. |
When to Wear Dress Shoes
Dress shoes are ideal to wear for a variety of occasions, whether men opt for a formal suede pump or a brown derby shoe. Here are some of the occasions when dress shoes are suitable:
Weddings
Funerals
Corporate functions or events
Formal parties such as an anniversary or engagement
Work
Business meetings
Dress shoes are most commonly worn with a suit or dress pants, and it is common to match any buckles on the shoes to any accessories being worn such as a watch or cufflinks.
Popular Brands of Dress Shoes
There are many different brands of men's dress shoes to choose from, and eBay has a wide selection to choose from at affordable prices. Here are some of the most popular brands available:
Pierre Cardin
Clarks
Hush Puppies
Each of these brands offers a different style of shoes, from traditional Derby shoes through to more modern loafers. Even designer brands such as Pierre Cardin can be found for reasonable prices on eBay, where it is easy to find both used and new men's dress shoes.
Choosing the Right Colour of Dress Shoes
Whilst men's dress shoes are traditionally black or brown, modern tastes are creeping in, and coloured dress shoes can be found nowadays. Two-tone wingtips that come in complementary colours and Derby shoes with suede panels are just a couple of examples of more modern dress shoes that can be found on eBay. When thinking about the right colour of dress shoes, it is important to consider what event they will be worn for and what they will be worn with. For a funeral, a brightly coloured suede dress shoe is inappropriate, but for a friend's 1960s themed wedding, a blue and white wingtip shoe could look great.
Here are some factors to consider when choosing the right colour of dress shoes:
What will the shoes be worn for?
What will the shoes be worn with – for example, a formal suit or a less formal pair of dress pants and a shirt?
How formal is the event and will other people be wearing coloured shoes?
Can the individual in question carry off coloured shoes with style?
By considering the answers to these questions, it should be easy to find the right colour of dress shoes no matter what the occasion, whether a brown pair of Derby shoes or red wingtip shoes are chosen.
Should you Buy Used or New Dress Shoes?
Whether to buy used or new dress shoes is a personal decision that will depend on the individual as well as their available budget. eBay has a wide range of used and new shoes to choose from, and by buying used shoes it is often possible to find a designer brand such as Louis Vuitton at a discounted price.
When considering purchasing used dress shoes on eBay, it is important to read the product description carefully, as the condition of the shoes and any defects will be described in more detail here. If in any doubt it is a good idea to contact the seller to ask questions before purchasing.
Finding the Perfect Dress Shoes for You
There is no such thing as 'perfect' dress shoes, as it will depend on the occasion and the personal taste of the individual. For a classic look, men should stick to black Oxfords or Derby shoes, as these look great on everyone and especially stylish with a smart suit. For men looking to be a little more adventurous, a brown version can add a touch of class. If the event is slightly less formal and the man in question is confident in himself, wearing coloured or two tone dress shoes can add a quirky look to a smart outfit – although wearing shoes like this to a corporate meeting or interview is not recommended.
How Buy Men's Dress Shoes on eBay
For the best place to find a wide range of men's dress shoes at affordable prices, head to eBay. Just visit eBay and click on the drop-down menu 'Shop by Category' at the top left of the page. This will open up a category list – under Fashion, click on Men's Shoes. In the left-hand menu, Dress/Formal can be selected.
There are so many different types, styles and colours of men's dress shoes to choose from that it can be helpful to narrow a search using a certain term if looking for something specific. Just type the words related to the search, such as 'Blue Wingtip' into the search bar, and a list of available items will appear.
Conclusion
Men's dress shoes come in a huge variety of styles and it is easy to find the perfect style no matter what a man's tastes. From blue Derby shoes to black cap toes, there are shoes to suit everyone online – eBay has a great selection to choose from at affordable prices.
Finding a great deal on men's shoes on eBay couldn't be easier, thanks to the ability to search using various criteria such as style, colour, size and a range of other specifications. For the perfect dress shoes, men should always opt for a smart, tailored shoe that suits their outfit and personality, rather than trying to make a bold statement with unusual styles or colours.