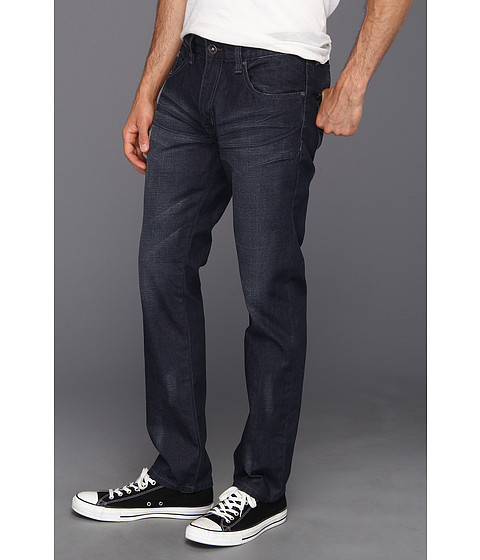 Shopping for jeans isn't always a simple task, and finding the perfect fitting pair is no easy feat. Men often spend hours trying on pair after pair in an attempt to get the look their longing for. The entire process can turn out to be a fairly deflating experience if approached incorrectly. This guide is here to make sure that such an experience never occurs again.
There are a variety of outlet stores, claiming to offer the biggest selection and best prices on men's jeans. However, none rival the deals on men's clothing that eBay consistently deliver.
Types of Cut
It is evident that men's jeans are in a constant state of evolution. They have gone from being factory worker's attire in the 1950s, to a prominent fashion choice in the 21st century. Men are fortunate to have a variety of cuts to choose from when looking for a new pair of jeans, so it is important to understand the differences between them all.
Straight Cut
Straight cut jeans look the most natural on a man due to the way they sit on the waist. The fabric will suit any man's silhouette, by utilising a slightly longer inseam that tapers off around the ankle. Their versatility is also almost unrivalled, as they suit almost any type of formal or casual outfit.
Boot Cut
The staple of 1970s fashion and sometimes listed as a flare cut. Purposely designed for use with boots. They should sit just below the waistline on a man, while having a looser feel in the legs. From the knee down, the jeans widen out and are known for their fashion staying power. However, boot cut jeans aren't for everyone, as they look different depending on a man's body shape.
Athletic Cut
Considered a denim hybrid that finds the perfect balance between legroom and fit, while featuring a flared hem that is typically found in boot cuts. It's a modern style that can be tough to find, but are worth their weight in gold if located. Athletic cut jeans pride themselves on feeling snug whilst offering unique specifications.
Relaxed Cut
The perfect jeans for those who want something a laid back, they are cut wider in the hem to allow for maximum legroom and increased comfort. Relaxed cuts aren't the type of style for fashion conscious men, and can be tough jeans to work with in terms of outfit. If not handled correctly, they can look ill fitting and overly baggy on a man.
Skinny Cut
Originating in the 1980s, many men thought the time of super tight jeans were left back in the era of The Ramones. However, they came back with a bang at the beginning of the 21st century. Skinny jeans are longer than most other cuts, designed to bunch at the ankle whilst keeping the pants fabric tight around the calf.
Body Types
Men should never cram their legs into pair jeans that don't fit correctly. They should always take body size and frame into consideration when trying to find an appropriate pair. The following will examine the types of men's body frames and what jeans would suit them best:
Lean
If someone has a lean body type, it would be best that the wear straight cut jeans, as it will show off the best bits of a well-trimmed physique. However, those with wide hips should choose a boot-cut variation instead, as they can create a more streamlined appearance. Be aware than men with a lean build would be well served to avoid wide-leg jeans, as they offer a somewhat ragged look.
Slim
Many may envy the slim build, but it is notoriously difficult to style. There are things to consider should a man want to avoid having the 'garden rake' look the next time they're on a night out. These are:
· Avoid wide leg jeans at all costs, as they have the ability to engulf an entire outfit.
· Choose a simple straight cut that is low-rise around the waist; it will add a couple of extra inches around the legs that allows for extra comfort.
· Jeans that are slightly flared are also worth considering, as they offer a more defined silhouette.
· Find a pair of jeans with added back pockets and material, to add a little extra bulk to the waistline and legs.
Athletic
Those who hit the gym regularly will reap the rewards, as jeans of all kinds tend to fit an athletic frame better than others.
· Wide leg jeans will show off the best attributes of a toned body by creating a flattering silhouette.
· The only type of jeans that could have a negative look are those that are cut close to the body, as they can make some muscular physiques look bulky.
Large
Heavy-set men will have a tougher time finding appropriate jeans, but the following are a few tips to help make the tough job a little easier:
· Flare cut jeans can make a large man look even larger, so they're definitely a style to avoid.
· Jeans that have a wider leg are great for covering up a larger man's physical impracticalities. This includes thick waists and hips; and they also remain stylish in spite of this.
· Don't wear jeans that are baggy or loose looking, as they can make larger men's legs look thicker.
· Deeper pockets are surprising feature that can actually make a man's thighs look smaller.
· Try and look for a pair of jeans where the pockets are positioned closer together.
Brands
Australia is a hotbed for the jeans market, as there are countless brands to choose from. All brands design their jeans with a different target market in mind, so a good idea would be to explore the following companies in the field:
· Levi
· Lee Jeans
· Nudie Jeans
· Ksubi
· Sass and Bide
· Bettina Liano
· Nobody Jeans
· Just Jeans
· Jeans West
· G Star
· Diesel
· Wrangler
Take some time to assess the market before finding all these jeans brands in eBay's dedicated men's jeans section.
How to Buy Men's Jeans on eBay
Men's jeans are the height of both fashion and comfort, while the market and need for them is in a state of constant growth. eBay has built a steady reputation in the world of men's fashion, and is considered to be a great place to find denim related bargains.
It couldn't be easier to find a suitable pair of jeans, just select the clothing, shoes, accessories portal and head into the jeans sub-portal. Men often have brand loyalty; so to find specific types of jeans use the keyword search bar, found at the top of every eBay page.
Finding the perfect pair of men's jeans is easy thanks to eBay, and paying for them is just as simple because of PayPal. The world's leading online money transaction service has a reputation for protecting buyers.
Conclusion
There is nothing more important in a man's wardrobe than a hardwearing and reliable pair of jeans. It is important that men find the perfect fitting pair for their frame, which is both suitable and stylish. Brands and designers are fighting for business, and shoppers have no shortage of jean types to choose from.
This guide has broken down the types of jeans available and what types are appropriate. eBay is on hand to provide the best jeans currently available at the most competitive prices.