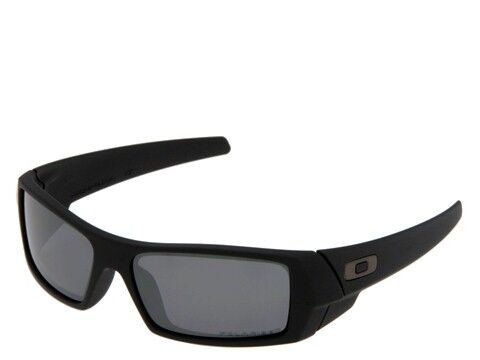 Whether fishing on a stream with powerful glare, fighting the sun to see a tennis ball during a game, or simply enjoying a day at the beach, you need to be able to see clearly and protect your eyes from harmful ultraviolet rays. The sun does not always shine the same way, though, so it can be challenging to find the right pair of sunglasses to suit your needs. Fortunately, Oakley makes a wide range of men's sunglasses with different lenses and frame types. All you need to do is find the right pair.
Learning about the different lenses, frames, and accessories that Oakley uses in its men's sunglasses can help you choose the right one for your activities and style. You can find a wide selection of these shades at the traditional eyeglass shop. You can also find them online at eBay, where you can find great deals if you know how to use the website to find what you are looking for.
Lenses in Men's Oakley Sunglasses
Lens features greatly impact the uses for different Oakley sunglasses. One can choose the right pair of shades by learning how colour influences transmission of light and contrast, and the different technologies Oakley makes available for its lenses.
Colour
Colour impacts the performance of Oakley lenses in a couple of ways. First, it determines how much light the lens allows to pass through. Second, it sets the amount of contrast that appears to wearers. As a general rule, the darker the colour of the lens, the less light it allows through. This means that darker lenses, such as black, dark grey, and dark bronze, are well suited for bright conditions. Lighter shades of red, orange, and yellow are appropriate for low-light or flat-light conditions.
Contrast is more subjective than light transmission because it varies with the light conditions. For example, rose-coloured Oakley lenses make objects appear more sharply defined in low-light conditions than in bright light. Brown is a good overall contrast colour. Greys, especially darker ones, reduce contrast but are necessary for people who are sensitive to light. Yellow brightens objects in low-light conditions but does not improve contrast.
Technology
Various technologies also influence how people see through Oakley lenses. Learning about polarisation, hydrophobia, prescription lenses, and photochrome helps in choosing the right technologies for one's needs.
Polarisation
Polarisation is a filter that cuts through glare from sunlight. Oakley infuses its lenses with liquid that bonds to the lens' molecules for enhanced filtering. Polarised lenses are particularly useful around water, where the reflection of sunlight can make it difficult to see clearly.
Hydrophobia
Oakley applies a permanent coating to many of its lenses that causes water to bead up and roll off. This hydrophobic coating also prevents the lenses from absorbing sweat and skin oils, keeping the lenses clean and smudge-free.
Prescription
Oakley prescription lenses are designed for people who normally wear eyeglasses. These lenses therefore serve multiple purposes: they block UV rays and enable people to see as clearly as if they were wearing their own prescription eyeglasses.
Photochrome
Photochromic lenses represent advanced Oakley technology. They change shades automatically as light conditions change. This feature provides a consistent balance of protection from UV rays and clarity of vision even when the intensity of sunlight is not so steady.
Frames for Men's Oakley Sunglasses
Frames are the other key component of Oakley sunglasses. Although frames are less technical than lenses, their designs and fit affect how they look on your face and influence the activities for which you use a pair of sunglasses.
Styles for Men's Oakley Sunglasses
Oakley places its various lenses in different frame styles. These styles fall into one of three categories, namely, sport, active, or lifestyle. The table below lists these styles.
| | |
| --- | --- |
| Style | Description |
| Sport | Designed for active wear; temple pieces angled to grip head behind ears; temple and nose pieces often fitted with rubber for extra grip; many models are jacketed for quick interchanging of lenses |
| Active | Also designed for active wear, though less functional than sport frames; full jacket frames not conducive to interchanging of lenses; frames may be plastic or metal; former well-suited to tennis, latter to fishing |
| Lifestyle | Designed more for look than functionality, but many models suitable for active wear; numerous flat-front models for style on the beach or the street; lenses highly capable of protecting eyes from UV rays and improving vision |
Although the lenses are the technical aspect of a pair of Oakley sunglasses, frames often dictate the circumstances for which that pair of sunglasses is designed. Quality lenses mean little if the frames do not stay on one's face.
Fit of Oakley Sunglasses
Men's and women's Oakley sunglasses offer different fits. Men's faces tend to be larger than women's, and the bridge of a man's nose is often wider as well. Oakley sunglass frames for men are designed to accommodate the differences in these anatomical features. Men's lifestyle frames also do not offer the large frame styles found on the women's side due to differences in tastes.
In addition to separate men's and women's frames, Oakley offers Asian-fit sunglasses. These are designed for anatomical features that are more common amongst the Asian population. These frames feature a narrower bridge and longer pad mounts. The pad angles on Asian-fit frames are more adjustable than those on non-Asian-fit frames. The nose pads are also higher up on the Asian fit to keep the frames from sliding down the wearer's nose. If you have trouble keeping traditional Oakley frames on your face, it is a good idea to try Asian-fit frames, regardless of your heritage.
Accessories for Men's Oakley Sunglasses
Oakley produces numerous accessories to help maintain the sunglasses. Cases protect them from scratching and breaking, and cleaning kits help you wipe smudges from lenses to restore crystal-clear vision. You can also purchase lenses in different colours to make some models more versatile. Replacement lenses are also available in case lenses get damaged. Accessory kits add flair to shades by changing the colour of nose pieces and the rubber grips on the temple pieces. Oakley makes highly functional sunglasses, but you can get even more out of them with the right accessories.
How to Buy Men's Oakley Sunglasses on eBay
You can buy men's Oakley sunglasses from local and online sunglass shops. You can also find a large selection of sunglasses from this brand on eBay. To search the site, enter the term "Oakley sunglasses" into the search bar that is found on most eBay pages. When eBay returns the results, select the category related to men's sunglasses. You can also search for particular Oakley models or add a descriptive word, such as "polarised", to your term, to get more specific results.
One way to save money on men's Oakley sunglasses is by checking the eBay Deals page. eBay lists big discounts on appealing items here, and you can check the eyewear section to see if there are any bargains on men's Oakley sunglasses.
Conclusion
Any guy who spends time out in the sun can benefit from owning a pair of Oakley sunglasses. Oakley offers a wide selection of sunglass models to suit various activities and styles. Lenses come in different colours that block varying amounts of light and provide different levels of contrast. This makes lenses appropriate for certain lighting conditions, so knowing how much light different lens colours block and how much contrast they provide helps you pick the right sunglasses. Paying attention to the frames also helps you choose wisely. Each style is conducive to an activity or more, and understanding the different fits Oakley offers helps you find sunglasses that stay on your face. You can find men's Oakley sunglasses on eBay, so being aware of how to use the site can result in a great deal on the right pair of shades.