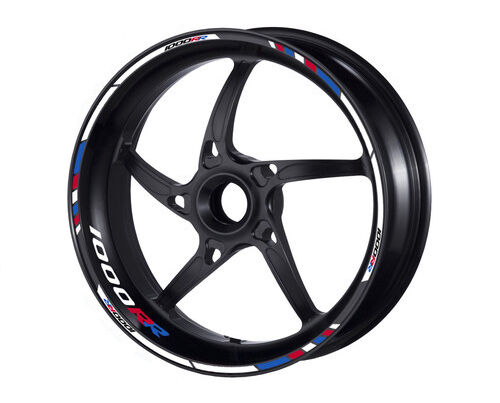 A motorcycle is an impressive machine, and one that has thousands of various makes, models, colours, and styles available. It is easy for the user to find a motorcycle that fits his or her needs and personality, but after a bike is bought, the rider does not have to stop personalising just because the purchase is complete. One effective way to make one's bike unique is to add colourful rim stickers made especially for motorcycle rims. These stickers are designed to endure the weather, grit, boot scuffs, and other adversaries a motorcycle faces daily. Good for adding some flash, and possibly doubling as a safety feature, inexpensive rim stickers in the user's favourite colours can easily be found on eBay from thousands of different sellers.
Types of Rim Stickers
As mentioned above, motorcycle rim stickers come in many colours, from bold colours such as red, green, blue, and orange, to classy gold and white. However, because they need to fit onto the rims of a bike, these stickers only come in a crescent-moon shape. Many rim stickers are made of the same material, which is a high-quality, durable vinyl, and most also come in a "quarter-cut" configuration, which means that each wheel requires four stickers. This also allows users to have more than one colour on their wheels if they wish.
Breaking up the entire sticker into four parts makes it easier for the user to apply the sticker, but it also leaves less room for mistakes. One choice that the shopper can make when buying rim stickers is whether to buy plain standard vinyl, chrome, carbon fibre, fluorescent, or reflective stickers (also called retroreflective). Plain, carbon fibre, and chrome stickers do not act as safety features and are used as colourful decoration only.
A set of fluorescent rim stickers contain a pigment that can convert light from the UV spectrum into the visible spectrum, so that more light reflects from the surface. Fluorescent stickers reflect plenty of light during the day, adding some flash and flair to one's bike, but do not work as well at night when there is only artificial light available. Finally, reflective rim stickers are the best of both worlds, combining both colourful style and safety with its ability to reflect nearly all the light from its surface back along the path of the incoming light beam. Reflective rim stickers can be a life-saving decoration during nighttime rides, when drivers may not be paying as much attention until a headlight catches a reflective sticker and alerts them of the bike rider's presence.
Within the reflective category is reflective metallic rim stickers. The metallic coating adds an eye-catching shine to one's rims that not only enable them to reflect more light, but also add more flair to one's motorcycle. The user can personalise a motorcycle further by shading or decorating the stickers themselves with an air paint brush or markers. Options include adding a logo, a favourite quote, or a personal design to make one's rims stand out.
Rim Sticker Accessories
Another choice the buyer should consider when looking for rim stickers to purchase is whether pre-cut, fitted stickers are wanted, or if the user wants stickers that need to be hand-trimmed before applying. Most rim stickers fit on any make or model of motorcycle, but, especially if one has had custom rims installed, there is still a chance that the stickers may be too large or small. To avoid this, the shopper must either carefully look up the measurements of the stickers, or he or she should buy a sticker trim kit. A trim kit helps the user cut down the stickers until they fit perfectly on a motorcycle's rims. Such a kit is also a handy accessory to have for future motorcycle decoration adjustments.
How to Apply Rim Stickers
Before applying any newly bought rim stickers, the user must first clean the wheel and make sure to remove any chain lubricant. An alcohol-based cleaner is recommended for thorough cleaning of the wheel and rim. Next, the wheel must be removed to apply quarter-cut rim stickers. Start by placing the end of the first sticker firmly in whatever place the user wants to start laying the sticker; then place the next 5 mm of sticker down and press it into the wheel. Continue this until the first sticker is on the rim. To start laying down the second sticker, place the end with a 8 - 10 mm overlap of the first sticker to ensure there are no gaps between stickers. Repeat these two steps until all the stickers are in place. The user should remember to keep any spare stickers in a safe place, in case the ones currently on the motorcycle get damaged.
How to Buy
It is easy to find the right rim stickers for your motorcycle on eBay, where the thousands of sellers provide you with a large selection of stickers to choose from. You can begin your search by checking eBay Deals for the daily bargains. If you do not see what you are looking for there, you can go to any eBay page and type in keywords that relate to your search into the search engine; for example, " fluorescent rim stickers." From there, you can narrow down the results that appear on the screen by specifying your search by price, condition, colour, and more. Whatever colour or condition of rim sticker you decide to buy, you are sure to find the right stickers, and maybe a trim kit as well, for your motorcycle.