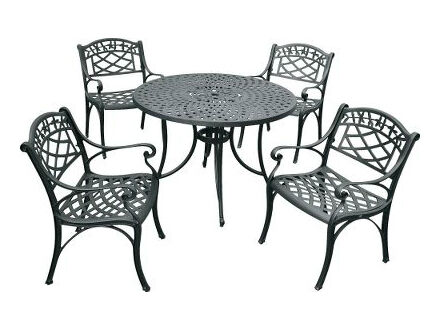 One of the great pleasures of owning comfortable, durable outdoor furniture is being able to relax on the patio, deck, or in the backyard. Because Australia's climate includes equatorial, tropical, subtropical, desert grassland, and temperate climates, Aussies enjoy unwinding and dining outdoors while basking in the sunshine or shade, as well as under the moon and stars.
Consumers can find a vast selection of outdoor furniture sets to suit every style, budget, and climate. These sets can include chairs, lounges, loveseats, dining tables, coffee tables, and umbrellas. While outdoor furniture sets can be found at home and garden shops, consumers can also choose from many attractive, practical, and comfortable sets by browsing the constantly updated listings on sites like eBay.
Outdoor Furniture Pieces
As when decorating the inside of a house, it is important for the consumer to plan the use, flow, and style of outdoor furniture. Many people enjoy a garden environment that offers an inviting stay among flowers and shade trees, while others prefer an outdoor living room or dining room. Outdoor furniture pieces can range from casual to plush while offering a variety of functions.
Garden Chair Sets
Numerous outdoor chairs are available to consumers, including cheerful garden chairs that are paired with matching tables. These garden sets are ideal for sharing a beverage and a light bite while enjoying a beautiful day. Garden sets are normally constructed of wrought iron, wood, wicker, bamboo, or rattan, and the tabletops may incorporate tempered glass for an airy, open feel.
Armchairs
For those who prefer sinking into a chair when relaxing, armchairs are an attractive way to relax in comfort. Armchairs can be made with waterproof mesh on a light metal framework that can be folded up and stored. Also available are upholstered armchairs that can be covered when not in use. Other choices include classic Adirondack chairs that utilise wide wood planks to form the deep seats, fanned backs, and generous arm rests. These styles include matching footstools. Armchairs can be stationary, mounted on rockers, or set on gliders. Exotic variations include hammock chairs, swings, or generously cushioned Papa-san chairs.
Patio Chairs
Patio chairs are a great match for outdoor dining tables, and they offer support and comfort while allowing the user to reach the table with ease. Patio chairs may be armless or feature armrests, and they may be cushioned or bare. Consumers may purchase separate seating cushions that are available in a variety of colours and fabrics, providing an inexpensive way to expand your decorating options.
Lounges
After an outdoor meal or refreshments, a comfortable rest in a reclining lounge is a welcoming. Lounge chairs are often made of the same materials as the matching arm chairs, such as moulded plastic, wood with cushioned upholstery, or airy rattan. Reclining lounges range in style from casual to elegant, and they often include a small cushion to support the head.
Couches and Loveseats
Outdoor furniture sets frequently include a full-size couch, sectional couch, or a cosy loveseat to accommodate several people or for one person to stretch out in comfort. Outdoor couches are often made of wicker or a wood frame with soft cushions. Couches and loveseats can be stationary or set on smooth gliders.
Tables
Outdoor tables serve several functions, including use as side tables and coffee tables to hold refreshments, reading materials, and lamps. Full-size dining tables are suited for hosting meals, and garden or bistro tables are good choices for a casual cafe feel. Tables are generally available in the same styles and materials as the complementary chairs. Many tables include a central opening to accommodate an umbrella.
Considerations When Buying an Outdoor Furniture Set
Just as when furnishing the interior of a home, it is important to consider several factors when choosing outdoor furniture. The sizes colours, materials, and styles of the pieces are among the details the consumer should keep in mind when selecting and arranging outdoor furniture.
Size and Scale
If the outdoor area is cosy, the consumer should choose furniture that is scaled to a compact area. The number of pieces should be limited to allow enough space for people to circulate through the area comfortably. Likewise, an expansive space can accommodate more pieces on a larger scale and with bolder designs. The consumer can also create several seating groupings throughout the area. Dark and bright colours may overwhelm a small space, but they are well suited for a spacious area. Lighter colours create an open feeling and fit well in a small area.
Number of People
The buyer should identify the number of people who use the furniture on a regular basis. If the immediate family uses the area most often, the seating should accommodate that number, plus a few guests. If the consumer welcomes large groups infrequently, resin or metal chairs are a good, cost effective way to seat the guests. Then these chairs can be stacked and stored in between events.
Decor and Style
The patio, deck, or backyard is an extension of the home's interior style, and outdoor furnishings can showcase the consumer's decorating taste. A consumer may brighten the outdoor set with cushions and umbrellas in vibrant colours, and the furniture's materials can express a contemporary or casual feel. For instance, natural upholstery and wood furniture create a rustic feel, while floral upholstery, sheer netting, and bamboo furniture bring to mind a lush, tropical atmosphere.
Types of Materials
A major consideration when selecting outdoor furniture is the climate in the area. Climates that are primarily rainy and humid require materials that are water-, mould-, and mildew-resistant. Likewise, hot, arid, and sunny climates are punishing on outdoor furniture, and the consumer should choose items that have UV protection on the fabric and frames. Buyers in moderate climates with a mixture of sun and rain should look for materials that protect the furniture against both elements.
Upholstered seating should be washable and weatherproofed to guard against sun, wind, and water damage. Australia's native eucalyptus is a good choice for wood outdoor furniture, and any wood frames may be coated with weatherproof paint, polyurethane, or other protective coatings to discourage rot, splitting, and mould. Other good choices for wood outdoor furniture include teak and cedar, which are resistant to insects and rot. Likewise, tropical materials that include bamboo, rattan, and wicker should be painted or protected against the elements and mould. These materials offer optimal comfort when paired with cushions.
Metal-framed furniture should be protected with outdoor paint or weatherproof coating to prevent rust and water damage. Rust-proof and lightweight aluminium is a popular choice for portable folding chairs and lounge chairs. Steel is more durable and heavier than aluminium, and it complements contemporary styles. As the heaviest of the metal furniture options, wrought iron is a strong, rust-resistant choice for tables and chairs. Wrought iron should be painted or coated, and it requires touch-ups from time to time to maintain its rust resistance. Chairs made of wrought iron are not very comfortable without the addition of cushions.
Many outdoor tables include attractive glass or plastic tops, which are naturally resistant to water damage. Used with or without cushions, moulded plastic and resin chairs, tables, and footstools are generally inexpensive options for outdoor seating and dining. Moreover, these items can be stacked and stored easily when not in use.
How to Buy Outdoor Furniture Sets on eBay
When shopping for outdoor furniture on eBay, simply enter a search query such as 'patio furniture' or 'outdoor furniture' into the search window on any eBay page. When the results return, you may choose to browse through the listings or narrow your focus further by filtering by product type, material, colour, brand, or condition. Alternatively, you can search for deals on outdoor furniture for your next purchase.
Because outdoor furniture is heavy, bulky, and costly to ship, you may prefer to shop with sellers who are located within a certain distance from your postcode. Be sure to confirm that the seller is agreeable to a local pick up before concluding the transaction. It is a good idea to become familiar with the seller's profile, including customer comments, feedback rating, and selling policies.
Conclusion
Outdoor furniture sets offer a comfortable, stylish, and practical way to enjoy eating, socialising, or relaxing outdoors. Buyers should evaluate the area they have available and choose the scale and number of pieces that best suit the space, as well as the materials, design style, and durability of the furniture. Other important factors include the climate and how the outdoor furniture blends with the home's interior.
eBay offers an extensive selection of tables, chairs, and couches to enhance the consumer's enjoyment and comfort during a refreshing morning repast, a warm afternoon in the sun, or a balmy evening meal. By researching the choices on the site, as well as the seller's profile, feedback, and policies, consumers can buy attractive, cost effective outdoor furniture sets with confidence without leaving home, or they can opt to shop locally at garden centres.