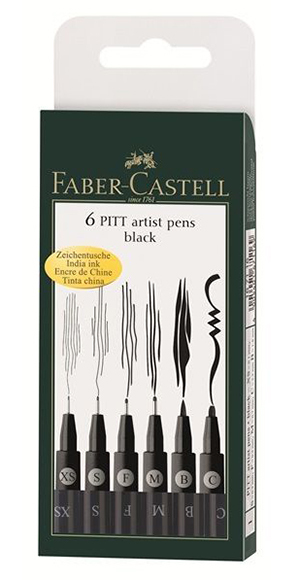 In the history of art, ink drawings have been very popular due to their ability to convey detailed images with dramatic levels of contrast, their versatility across mediums, and their ability to be combined with many other artist tools, like watercolours and oil paints. There are many types of artist pens to choose from, but the Pitt Artist Pens by Faber-Castell are among the most popular. Here is a helpful guide to buying Pitt Artist Pens.
About Pitt Pens
Faber-Castell is a manufacturer or high-quality artist tools. They make colour pencils, watercolour pencils, pastel crayons, charcoal, and graphite tools, in addition to the Pitt Artist Pens. The Pitt pens feature Indian ink, which is waterproof, acid-free, and pH-neutral -- all in a modern, easy-to-use pen. Artists can use them in a wide range of mediums and techniques. Indian ink is also long-lasting, appealing to both artists and designers alike.
Qualities of a Pitt Artist Pen
When choosing a Pitt Artist pen, there are a few things that buyers will want to consider. The pens come in a variety of different colours, a number of different weights and different nib variations, which vary in their strength and proper usage.
Colour
There are over 40 colours available to choose from when buying a Pitt Artist Pen. There is a basic black, four shades of gray, a number of shades of red, pink, blue, brown, and many more. Some require only a basic black pen for sketching while other artists might need a variety of colours to complete their work.
Weight
Another important consideration is the weight of the pen. Pitt pens come in three different weights - superfine, fine, and medium. The weight refers to the thickness of the pen's drawing point. A superfine pen will produce a very thin line, a fine pen will produce an even thicker line, and a medium pen will yield a line thicker still.
Nib
The nib refers to the shape of the drawing point of the pen. The Pitt pen is available in four different nibs. The brush nib features a soft point made up of fine hairs -- just like a brush -- that come together to a fine point to make detailed, thin lines. The soft brush nib is similar, but the brush hairs are softer and more flexible. The soft chisel nib, meanwhile, is in a chisel shape like you might see on a highlighter, and the bullet nib has a short, firm point that creates thicker lines.
Where to Buy Pitt Artist Pens
Pitt Artist Pens can be purchased at many art supply stores and office supply stores. They can also be found, often at discounted rates, at online retailers such as eBay.com.au. When buying from eBay, search at the search bar at the top of the page for the desired item, like "Pitt Artist Pens." Then scroll through the available options to find the right item. Make sure to check the reviews and ratings of the sellers to ensure that they are legitimate.