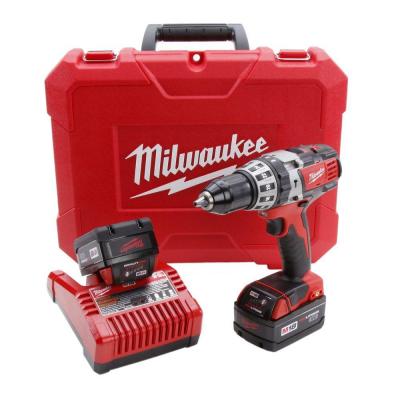 The world of DIY is big business for retailers, with no items being of more importance than power tools. There isn't a shortage of power tools available, but it can be tough determining what tool suits what job. It is beneficial for shoppers to learn about power tools and the brands that make them.
When it comes to getting the best price on new and used power tools, shoppers should check out the great deals on eBay.
Power Saws
Sometimes a regular saw is too tough to handle, or doesn't have the strength to cut through robust materials. When more oomph is required, a power saw is a smart choice. Before shopping for one, look at the types of power saw available:
· Circular Saw
· Chainsaw
· Band Saw
· Concrete Saw
· Table Saw
· Miter Saw
· Steel Cut-off Saw
· Jigsaw
· Tile Saw
· Reciprocating Saw
· Scroll Saw
As shoppers can see, saws are one area in which shoppers have plenty of choice. Take the time to research the features of each saw, and how suitable they are for set tasks.
Power Drills
When efficiency and accuracy is required, no tool provides it at a quicker speed than a decent power drill. It can make a huge difference when undertaking DIY jobs, but remember that there are a few things to consider prior to purchase. Power, torque, drill bits, and battery life are all things to think about when investing in a power drill.
| | |
| --- | --- |
| Type of Power Drill | Features |
| Right-angle Drill | The drill bit extends from the chunk at a right angle. A unique feature is that models of this type have no barrel. Expect to find plenty of cordless models that are available for purchase. |
| T-Handle Drill | When balance is a priority a T-handle drill is a popular choice. The handle of such drill is centered for added control. Easily the most popular type of drill, due to its T-shape design and increased stability. |
| Pistol-grip Drill | The handle is positioned at the back of the drill, allowing for easy access. It has a grip that is shaped like a pistol, which allow for extra comfort. Another popular choice that has plenty of cordless options. |
Drill Bits
Arguably the most important part of the drill is the drill bit. Many power drills will come with either a limited set of bits or no bits at all. This means shoppers will need to buy a set of their own. When shopping for drill bits, always take into consideration what is needed. A good rule of thumb is to not over invest and never acquire bits that won't be used.
Torque
On power drills there is usually an option that allows users to switch between different degrees of torque. It can be adjusted at times when extra or less is needed, to handle certain types of material. However, too much torque can be very detrimental to a job. For example, using a higher torque setting on a screw that doesn't require it can snap it, causing damage to the joint.
Power Grinders
DIY often requires users to cut, shape, grind and finish certain items. The best way to do this is to use a high quality and robust power grinder. When it comes to power grinders, shoppers will have three options to choose from, each of which offers a multitude of features.
| | |
| --- | --- |
| Type of Grinder | Description |
| Straight Grinder | Commonly known as an angle grinder and is ideal for benched based projects. The grinding surface is situated at a 90-degree angle to the motor. It is versatile in the sense that it can use a variety of different discs, meaning that different looks are obtainable. |
| Bench Grinder | The perfect item for tool sharpening, and has an unrivalled ability to shape handheld items. It Is also useful for removing rust from certain objects. |
| Die Grinder | Die grinders are the largest power grinder available. The longer spindle allows it to grind ports and cylinder objects with ease. |
Power Sanders
The power sander has become an increasingly popular power tool in recent years, due to its ability to make the job of sanding easier. Power sanders are not a cut and dry tool, as there are several types available. Before buying think about what it is going to be used for, and how much use it is likely to receive.
| | |
| --- | --- |
| Type of Sander | Description |
| Orbital Sander | Heavy-duty in design and perfect for jobs that require a large amount of sanding. |
| Palm Sander | Compact and portable, palm sanders are perfect for builders and carpenters on the go. The number one choice for finishing smaller objects. |
| Belt Sander | Rougher surfaces need an appropriate power sander. Belt sanders are perfect for this and do a great job on heavy wood, while working perfectly in unison with a palm sander. |
Voltage
In tough economic times everyone is trying to live greener by watching how much electricity they use. Power tools can be a tricky item to judge when it comes to electrical consumption. Always take energy use into consideration and find out the power tool voltage prior to use.
| | |
| --- | --- |
| Voltage | Description |
| 24 Volts | Best suited for heavy-duty work, but costs more to run. The battery life in such models isn't particularly long. |
| 18 Volts | A versatile voltage and the most popular form. Offers the most efficient amount of power per job requirement. However, can come up a little short on some heavy-duty tasks. |
| 13 Volts | Lightweight and offers the best battery life. Suitable for simple DIY jobs around the home but very little else. |
How Buy Power Tools on eBay
Power tools have never been more relevant than they are today, and it couldn't be easier to find one for the job at hand. Almost every form of power tool can be found for sale on eBay, and at competitive prices. Start by looking at specific listings that are in the home and garden category. From there, it is possible to narrow down listings even further, by selecting the tools sub-category from the options on the left.
Power tools are heavy items, which makes shipping a confusing topic. Sellers may offer free shipping, but in most instances there will be high charges. This has a knock on effect on the returns policy. Always take the time to talk to the seller, question them on shipping charges and the returns policy they offer.
To purchase an item, place a bid on an auction, or to make sure that it doesn't slip away opt for something via buy it now. Pay for it with PayPal to ensure that the order has an added level of security.
Conclusion
People have the tendency to attach the word 'struggle' to any and every DIY related job. Battling with manual tools is a monotonous task that is fortunately a thing of the past, thanks to the innovation of the power tool. They make every building and carpentry task easier, and there is no limit to what can be done with them. Simply put, power tools are must have items for those who regularly tackle DIY tasks.
Every conceivable type of power tool is available on eBay. Finding a long standing item that will serve you well has become as simple as a point and click process.