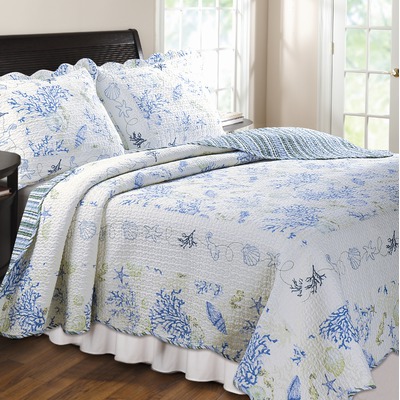 A quilt cover is an inexpensive way to protect your doona or quilt and other bedding. These covers are easy to put on beds. You simply put the quilt in the quilt cover and then to close the cover, you either zip up the fastener or snap the fasteners together. Additionally, a quilt cover is easy to clean because it is less bulky than a quilt and so is easy to toss in the washing machine. When shopping for a quilt cover, it is important for shoppers to know what to look for, as well as to consider all of their choices and options before making a selection. Shopping online is an easy way to find and compare different quilt covers, as well as find the best deals. Shoppers who want to find a large selection of quilt covers along with great deals should browse the listings on eBay.
Search for Quilt Covers
When shopping on eBay for a new quilt cover, the first step is to perform a search. Enter keywords into the search bar that describe the quilt cover that you want. Try to be specific to ensure that the local search engine returns a focused set of results. For example, a search for 'king floral quilt cover' would return more relevant results than a search for 'quilt cover'. From there, you can narrow down the options further by selecting the proper size, fabric, and condition.
Quilt Cover Sizes
Before looking at patterns or choosing a fabric, it is important to find the right size. Quilt covers are available in different sizes, and each size corresponds to the bed size. Sizes range from twin on the small end to king on the large end. The dimensions differ greatly in terms of width for each comforter. The standard sizes are listed in the table below.
| | | |
| --- | --- | --- |
| Quilt Cover Size | Length | Width |
| | 229 cm | 264 cm |
| | 229 cm | 224 cm |
| | 229 cm | 198 cm |
| | 229 cm | 160 cm |
Different brands and manufacturers have slightly different sizes. For this reason, it is important for shoppers to measure their quilts before purchasing a cover. A cover that is too large for the quilt is useable, but a cover that is too small does not work. eBay makes it easy for shoppers to find the right size by allowing them to filter the listings by size.
Quilt Cover Fabrics
A shoppers must also consider the fabric used to make the quilt cover. The cover should coordinate with the room decor, as well as be easy to launder. For a soft and comfortable feel, a shopper should choose jersey knit cotton or flannel quilt covers. For covers that feels smooth against the skin, a shopper should choose satin or silk. For a quilt cover that keeps a person warm on a cold night, wool is the best choice. Shoppers should keep the care instructions in mind when making their selections. Silk and wool have special care instructions and may need to be dry cleaned to prevent damage. eBay shoppers can narrow the results by specifying what materials the quilt covers are made from.
Quilt Cover Brands
Quilt covers are made by several different manufacturers, and shoppers who have a preference for one brand over another can refine the listings based on the brands that they prefer. Choosing a quilt cover brand that matches the brand of the quilt is one way to ensure that the sizes correspond with each other. Some shoppers simply prefer the quality of certain brands. Still, brands offer certain designs and styles that shoppers can count on. For example, Disney produces a number of quilt covers with cartoon characters for children. Other top brands include Sheridan, Linen House, and Kas.
Finding Used Quilt Covers
A shopper can broaden the search and find better deals on quilt covers by shopping for covers that are in used condition. This does not mean that the quilt cover is torn or stained, but rather that it has been opened and used on another bed. You can save a bit of money by considering used quilt covers, but you must be careful when shopping for used items. It is important that a shopper reads the description of the quilt cover listing, as well as view all attached photos. The used quilt cover needs to be laundered thoroughly before placing it over the doona. When shopping on eBay, shoppers can find new quilt covers that are still in their original packaging, new, never used quilt covers that are not in their original packaging, and used quilt covers that have been used.
Other Bedding Essentials
When shopping on eBay, a shopper should take the time to consider other bedding essentials to go along with the quilt cover. The quilt cover is an easy way to make over the bed without having to buy an entirely new quilt. However, to complete the look of the bed, sheets and pillows should also be considered.
Sheets
Sheets can be purchased by themselves or as part of a set. Sets include fitted sheets, flat sheets, and pillowcases. Some sets also include shams, which are decorative cases for pillows. When choosing sheets to go along with a quilt cover, it is important to make sure that the fabrics coordinate, as well as the colours and designs. For example, silk sheets would not be a good match for a wool quilt cover.
Pillows
Pillows are another inexpensive and easy way to make over a bed. Decorative throw pillows are available in several sizes, colours, and shapes. Additionally, some are printed with designs from geometric shapes to floral prints to artistic designs. Adding a few pillows to a bed can dress up a plain quilt cover or draw attention to the quilt cover when dressed properly.
Choose a Quilt Cover to Purchase
Once you have narrowed down your options to just a few listings, you can begin searching through them to find the quilt covers that you wish to purchase. The list of results contains a title as well as a thumbnail image of the quilt cover. To learn more about the cover that is for sale, you need to open the full listing. Inside is a more detailed description of the cover. Here, the seller describes the quilt cover, its appearance, its dimensions, any problems it has, and other information that helps the buyer make a decision. Many sellers also include at least one photo of the item. It is important for a shopper to consider this information carefully before making a decision.
Delivery Options
The cost of postage is something that you should consider when comparing prices for quilt covers. Depending on the type of fabric used to make the cover, it can be quite heavy. The weight of the cover affects how much the seller charges for postage. Some sellers offer free postage to reduce the price that buyers have to pay. eBay allows shoppers to sort the quilt cover listings to reflect only those options, like free postage.
Conclusion
A quilt cover is a type of bed clothing that goes over the quilt, or doona, on the bed. Made from a large selection of fabrics and available in a number of different patterns and designs, quilt covers are an easy way to make over a bed without having to replace the quilt entirely. Additionally, quilt covers offer protection to the quilt and make it easier to care for it. Depending on the type of fabric chosen, covers are often easier to clean than the quilt itself. Whether looking to replace all of the linens on a bed or simply change the look, a quilt cover is something you should consider. To find a wide selection of quilt covers and other bedding essentials, shoppers should head online to see what is available at eBay.