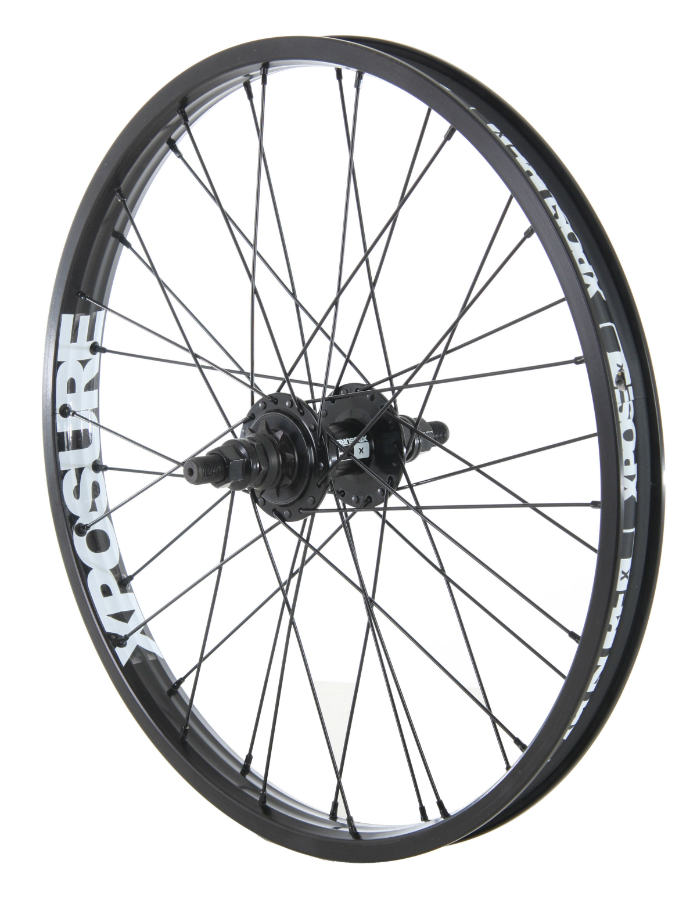 Buying road bike wheels can seem like a daunting task, particularly to beginners. It is important to ensure that the correct type of wheels are being bought for the type of bike and the style of cycling they will be used for. In the case of buying replacement wheels, it may simply be a case of replacing the old wheels with a new pair of the same kind of wheel. Alternatively, buying wheels for a bike, which is missing the wheels, or simply wanting to upgrade could prove to be more of a challenge


This guide is here to help with finding the right kind of wheels for a specific use. Whatever the type of wheels the cyclist is after, they can usually be found quickly and easily on eBay.
Road Bike Wheels

Road bike wheels are normally thinner and smoother than many types of wheel. They are often aerodynamic and are usually made from either aluminium or carbon fibre.

There are many parts that make up the wheel and so when buying a new wheel set for a bike, take each of these parts in to account and figure out what is needed from each of them before continuing to buy the wheels which will be the best fit

Rims – When it comes to Road bike wheels, there are two main types of rims available. These types are;
· Box section – Box section rims have quite a rectangular shape. They are relatively light which makes cycling at speed easier. Another upside to this type of rim is the level of comfort they provide as they are not as stiff as the alternative aero section rims. Comfort is an important factor to take in to account when considering buying new road bike wheels, particularly if they are intended for heavy use.
· Aero section – Aero section rims have more of a triangular shape. The shape of this type of rim means that the bike is more aerodynamic, reducing the level of wind drag. They are also stronger and stiffer than the box section rims meaning they are more durable and therefore better for long distance cycling. However, due to the stiffness of this type of rim, it makes the cycling less comfortable for the rider.
Tyres – Another thing to look out for when buying replacement wheels is the tyres. Tyres come in several different shapes and sizes; however, with road bikes they are all quite similar in their shape and thickness as they serve a similar purpose. There are however a few differences to look out for which could benefit a particular style of cycling.


An important difference that can be found when it comes to tyres is the width of the tyre. The width of the tyres can have an effect on how much air the tyre can hold, the handling of the bike, and the durability of the tyres. If the tyres are wider, they will have less surface friction meaning that they should last longer. For cyclists who weigh a bit more than average, it may be a good idea to get tyres with a bigger width to make the tyres last longer.

Some options when it comes to tyres may not be as noticeable. There is the option of buying tubeless or tubular tyres. Tubular tyres are lighter and offer a more comfortable ride; however, they are more likely to suffer damage. Tubeless tyres are more durable and they might last longer than tubular tyres. For this reason it depends on the distance and the amount the cyclist will be using the bike.


Size of Tyres
Tyres can come in a range of different sizes however the majority are of the standard measurement of 700C and so getting the right sized wheels to fit your frame should not be a difficult task.

Although this is true it is important to check beforehand that you are buying the correct sized tyres, as well as checking every other aspect, so that the cyclist can be certain that they are getting the tyres they want.


Things to Remember
Whether buying a new set of the same tyres or upgrading to a completely new set, remember to check that the tyres are as expected. Some things may not be mentioned in the online description. Don't be shy, if there is something which is not completely evident, feel free to ask a question, such as: if the tyres are tubular or tubeless, or what the width of the tyres is. Use the 'ask seller a question' function on eBay; the seller should be happy to reply.

Whatever type of replacement road bike wheels they decide upon, the cyclist should be able to find them quickly and easily on eBay. Don't forget to also check out the Deals page.
How to Buy Replacement Road Bike Wheels on eBay


Now that you know what you want out of road bike wheels, you can find them quickly and easily on eBay. While you shop, give thought to goggles and helmets. To start shopping, go to the sporting goods category, followed by cycling then bicycle components & parts then wheels and wheelsets.

Categories
The categories list on the left side of each page will help you narrow down your listings by item type.

Product Finder
Use the replacement road bike wheel Finder to quickly narrow down item listings by brand and condition (new or used).

Keyword Search
Search eBay listing titles for specific words. For example, if you want to find new road bike wheels, type the keywords "road bike wheels new" (without quotation marks) into the search box. Click, "Search title and description" to expand your results. Visit eBay's Search Tips for more tips on searching with keywords.

If you can't find exactly what you want, try browsing eBay Stores or tell the eBay Community what you're looking for by creating a post on Want It Now. Alternatively, use the save a search option on My eBay and eBay will email you when a matching item becomes available.



Buy Replacement Road Bike Wheels with Confidence
Make sure that you know exactly what you're buying and understand how eBay and PayPal protect you.
Know Your Item
Read the details in the item listing carefully.
Remember to add delivery costs to your final price. If you're buying a high value item, check that the seller will insure it until it is delivered to you.
If you want more information, click the "Ask seller a question" button on the seller's profile or the "Ask a question" link at the bottom of the item listing page.

Know Your Seller

Research your seller so that you feel safe and positive about every transaction.

· What is the seller's feedback rating?

· How many transactions have they completed?

· How many positive responses do they have?

· What do buyers say in their feedback?

· Do they offer a money-back guarantee?

· What are the terms and conditions?

· Are buyers positive about the seller?

· Most top eBay sellers operate like retail shops and have a returns policy.