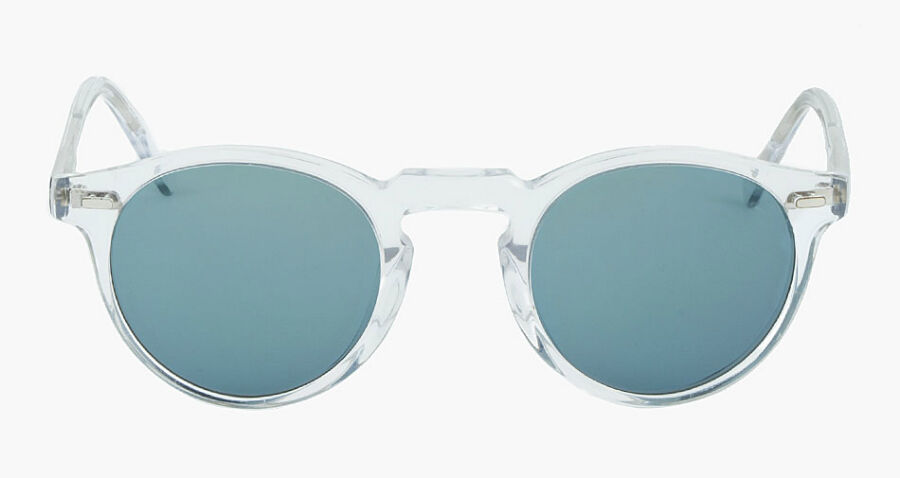 Sunglasses have been the most stylish way of protecting people's eyes from the sun's harmful ultraviolet rays since the 1900s. Sixty years later, round sunglasses would come into prominence after rock stars and celebrities adopted the look. Round sunglasses now retain a vintage allure, and have become a fashionable addition to the sunglasses collections of men and women. This guide will go through eBay's large range of round sunglasses, the types that are available, and how to buy them.
What Are Sunglasses?
One of the first uses of sunglasses was by the American military. They used the then new technology for the protection of the eyes of their servicemen and women. Sam Foster in 1929 began to sell sunglasses on the commercial level at the beaches of Atlantic City, New Jersey.
They were then adopted by celebrities as a way of disguising themselves from the public. Soon, the popularity of sunglasses increased to include everyone from beach-goers, sports-lovers, music-lovers and the fashion-conscious to stylishly protect their eyes.
Construction and Materials
Sunglasses are made of three main parts: the lenses which rest in front of the eyes and manipulate the viewer's vision, the frame which spans from each eye up to the ear, and the bridge which connects both sides of the glasses. The curved earpiece, or the part that rests on the ear to prevent the glasses from falling, is called the resting hook.
The frame is often made of metal, metal alloys, nylon or plastic. Whilst metal is strong, it is quite rigid and involves quite thin arms (the section from the eyes to the ears), which can become bent out of shape or even break. Nylon frames tend to be more lightweight and more flexible, making it ideal for sport sunglasses. Nylon frames are often thicker and offer better grip. Plastic frames are also lightweight, strong and flexible and tend to be the most inexpensive material to make sunglasses from. It is also easier to customise plastic frames, with some having a textured finish or a rubber coating on the bridge and the earpieces to ensure the sunglasses do not slip during use.
What Are Round Sunglasses?
Round sunglasses can be distinguished from other types of sunglasses due to their rounded lenses and frames. Prescription round sunglasses are also available for those with vision problems, whilst a variety of protective lens coatings and decorative tints are available for a versatile round sunglasses look.
Since first becoming popular in the 1960s, round sunglasses have achieved an iconic status having been seen as the choices of prominent members of the music business of the era. Rock stars sporting the round sunglasses look include heavy metal star Ozzy Osbourne, the Beatles member John Lennon, and more recently Noel and Liam Gallagher of Oasis. Whilst more recent celebrities such as Mary-Kate Olsen, Miley Cyrus and Taylor Momsen have all been seen wearing round sunglasses, it has become apparent that the classic look of round sunglasses remains a firm fashion favourite. Many of the round sunglasses brands worn by celebrities are available to buy on eBay, and it may even be difficult to find similar pairs in brick-and-mortar stores.
Types of Round Sunglasses
Whilst round sunglasses naturally have a vintage feel to them, their popularity has ensured that manufacturers come up with a wide variety of round sunglasses, frames and lens coatings. The round sunglasses available on eBay are listed below, along with their particular characteristics:
Frames
The following are all types of frames associated with round sunglasses:
Vintage Round frame: Thevintage round frame is usually a thin metal or plastic frame, surrounding fully circular lenses. Whilst dark black lenses are the most classic look, different tints are often added, particularly amber, blue, pink and green.
Cat Eye Frames:Cat-eye frames end in a point at the top of each eye, in the unmistakable shape of a cat's eye. A feminine look and can come with embellishments such as pearls, glitter and diamonds along the front of the frame.
Printed Frames: Printed frames such as animal print, speckled prints, geometric prints and a variety of other patterns added to the arms, around the lenses or both. They are generally considered more playful, expressive and versatile.
Half-Rim Frames:Half-rim frames only cover the top half of the lenses, leaving the bottom half rim-less.
Embellished Arms:A slightly thicker version of a classic round frame is used to make embellished arms. This may include completely changing the shape of the arms into a pattern, such as butterfly clouds, rococo curls, swirls and arrows.
Flip-Up Glasses:Flip-up glasses, often called 'steampunk' glasses, are shades hat have a hinge that can be used to flip up a darker lens to reveal a different, lighter lens underneath.
Lens Coatings
Round sunglasses are often enhanced with a range of lens coatings for the protection of the wearer's eyes, and for a difference of style. Often, the buyer undertakes the costs of any extra enhancements, as it is usually the buyer's prerogative to choose their particular enhancements. Some models have particular coatings as standard, whilst good round sunglasses must always have a UV-coating. The following is a list of the various lens coatings that may be available, however, not all sellers on eBay will offer all available lens coatings:
UV Coated: The main medical reason for sunglasses is to protect the eyes from excessive exposure to the sun's harmful UVA and UVB light rays. Australia was the first country to introduce a national standard for sunglasses, and all sunglasses sold in Australia must comply with the AS/NZS 1067 standard, which defines five categories of lenses. It may be worthwhile paying for extra UV-coating when buying fashion sunglasses.
Polarised: Reduces the glare caused when light reflects from flat surfaces, such as a road or when a body of water travels in a horizontal direction instead of scattering in all directions. They are therefore more intense and can be dangerous. Special polarised filters can block these high intensity rays.
Mirrored:Mirrored coatings, also called flash coatings, are thin layers of metallic coatings are designed to reduce the amount of visible light entering the eyes. There are a large variety of colours available for mirror coatings, and unlike tinted lenses, which will be discussed in a later section, they do not affect the wearer's colour perception.
Scratch-Resistant: Lenses that are made of naturally scratch resistant glass do not need this coating, whilst plastic and polycarbonate lenses may be more durable than untreated lenses with a scratch-resistant coating.
High Contrast:High-contrast lenses that come in orange and yellow offer contrast filtering aiding in depth perception. It allows the eye to react naturally to light, but distorts colour, making it unsuitable for driving.
Tints
There is a range of cosmetic tints that can be applied to round sunglasses. Look for a uniform tint to ensure quality in each case:
· Full tints colour the entire lens in a range of colours, with the most popular colour being dark black.
· Half-tints or gradient tints colour the top part of the lens in a dark colour whilst the bottom is left clear, or vice versa.
· Double-gradient or bi-gradient lenses are dark on the top and the bottom with a lighter middle.
· Coloured tints can change the wearer's colour perception, whilst others are purely cosmetic. Available colours include blue, amber, grey, brown, green, red and yellow.
How to Buy Round Sunglasses on eBay
There are two options for buying round sunglasses on eBay:
· Simply type in 'round sunglasses' in the search bar at the top of the page, including any relevant brand/model details.
· Or, from the homepage, go to the 'Shop By Category' drop down menu or the left-most sidebar and choose Fashion. This will lead to the 'Clothes, Shoes & Accessories' section, and choose Women's Sunglasses. Type in 'round sunglasses' on the search bar from here for a targeted search.
· Buyers can choose to display the listings according to 'Format', 'Condition', 'Price' and 'Item Location'.
· There are also special eBay deals for round sunglasses that can be accessed near the eBay logo on the home page. Go to Fashion & Beauty, then Accessories, and then scroll all the way down to the 'Deals Directory' for Eyewear to find round sunglasses listings.
· It must be noted that the price of round sunglasses should never be used to gauge the quality of the UV protection, as low cost sunglasses can comply better with the sunglass standard than high-end brands.
Conclusion
With this eBay guide and the extensive range of round sunglasses offered by eBay, being a fashion-conscious sunglasses wearer can be made easy and straightforward. Own the perfect pair of round sunglasses by using the wide range of styles, brands and lens and frame customisation options that are available.
With the help of eBay's listings and their deals, everyone can achieve the retro sunglasses look with ease. Plus, the versatile range of round sunglasses means easy personalisation of this long-stay fashion trend to really show off a personal fashion style.