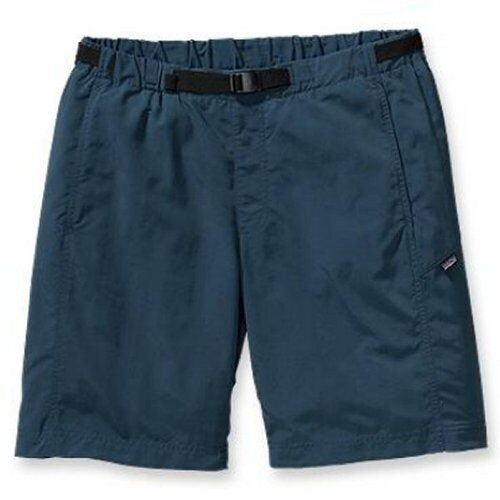 To compete in regular sporting activities, suitable shorts are needed in order to move around freely and comfortably without restriction. The leading sporting brands, such as Nike, Adidas, and Reebok, all produce men's sportswear shorts at competitive prices.
The high participation of sport in Australia means that there are plenty of shorts on the market in a number of sizes and designs. Before coming to buy, one must first consider how shopping on eBay can provide a buyer with an extensive selection and the potential to find some great deals, especially if utilising the auction facility.
Why Buy Shorts?
Although Australians are accustomed to wearing shorts for large parts of the year anyway, lightweight versions are preferable for most sporting games. Indeed, shorts are compulsory pieces of kit for the majority of sports. Football, rugby, soccer and basketball all require players to wear shorts both at a professional and amateur level.
Sports shorts can be made from various materials. The most commonly found will include polyester and cotton due to their softer characteristics.
Due to their light and nimble nature, sports shorts can also be worn around the home to lounge around in. Buying pre-owned versions may be more suitable for this purpose, so look out for such items on eBay.
Shorts for Specific Sports
If buying the shorts for a certain sport then the table below will look at some of them to provide further help for potential consumers.
| | |
| --- | --- |
| Sport | Short Type |
| Basketball | Basketball shorts are longer than other types of sports short pairs. They usually have a high waist with a looser and extended length falling down toward the knee. |
| Cycling | Constructed from spandex so that a cyclist's constant leg movement is not restricted, the stretchy material clings to the leg and has aerodynamic/performance advantages over other types of shorts. |
| Running | Running shorts are designed with comfort and looseness in mind, but still fitting securely around the waist. They should also have wide legs, so as not to disturb the running pattern. |
| Football | For Aussie Rules players, shorts are generally short and quite tight around the legs. There is no real practical reason for this, although the high temperatures in the summer can be account for this. |
| Rugby | Again, rugby shorts are on the small side compared to regular sports shorts. They should have a wide leg width in order to fit comfortably around more muscular legs of rugby players. |

Buying Considerations for Sportswear Shorts
Although shorts can appear to be a basic purchase for some people, there are certain aspects to think about before committing to buy, especially online. Below are a few considerations that can assist with this:
Size
· The most important aspect to consider for buying shorts is their size. Although they are supposed to be comfortable and provide unrestricted movements for athletes, being too big either around the waist or in length can affect sporting performance.
· Consider which sport or activity the shorts will be used for too, and whether longer or shorter versions will be preferable.
· For those undertaking more general activities, such as soccer, running or gym workouts, shorts should generally not fall a couple of inches above the knee.
· Consider the individual frame also when looking at short sizes; for example, larger men may require stiffer and wider shorts to feel more comfortable and promote a more natural look.
· Sellers will list their shorts on eBay as small, medium, large, extra large or extra, extra large items. Some may also advertise the actual waist size in inches, from a general minimum of around 15 inches to a maximum of around 50 inches. Average sized men will usually only need shorts sized between 28 and 38 inches, however.
Design
· As well as being designed for use in sports activities, the appearance of the shorts is another primary concern for manufacturers and consumers alike. Many shorts will come with a plain, one-colour design, but many more have appealing patterns and styles to tie in with fashion conscious nature of some sports.
· Certain sporting teams will require shorts to be of a particular colour to match their kit. eBay allows users to specify exactly which predominant colour the shorts need to be when performing a search. Blacks, whites and blues are popular along with multi-coloured shorts.
· The elasticity of the shorts is an important part of the design also. This is basically the mechanism used to keep the shorts fitted comfortably around the waist. It should keep the shorts in a suitable position, despite constant movement during sport activities.
· Some shorts will have an adjustable drawstring; this is a cord that can be pulled to provide tightness around the waist.
· Also look out for shorts that provide good ventilation to the legs when moving around constantly. Shorts that do not retain moisture in the form of sweat or any rainfall are also recommended to maintain their flexibility for as long as possible.
Price
· Shorts are generally inexpensive items to buy, especially if only buying for recreational use. Remember not to breach the budget set out for buying a suitable pair.
· Although some sportswear shorts can reach prices of around $100 or higher, this figure needn't be paid as the majority can be found for much less. At the lower-end of the market, look for pairs under $20 if on a budget. Remember, some auction items on eBay can be purchased for much less than the general average price.
· If worried about overspending, check out eBay deals. This is a section of the site where additional discounts can be found on items that come with free postage costs also; check out Men's Sportswear and then Men's Sports Bottoms for the best deals.
Buying Sportswear Shorts on eBay
As noted in this guide, eBay can provide a fantastic platform in both displaying many styles of shorts on the same website whilst also offering them at low-cost prices.
To bring up all the relevant listings on the site then using the keyword search bar will provide the quickest route into doing so. Enter specific phrases such as 'men's sports shorts', 'blue men's shorts', or 'rugby shorts', according to preference.
Alternatively, to browse a larger and more general list of shorts then search by category. Select the 'Men's Clothing' from the Fashion section on the eBay home page. Then select the 'Shorts' category and review the results. Due to the extensive selection, use the refinements menu on the left-hand side of the page to narrow down the results.
Differentiate between such aspects as the short's size, main colour and brand as well as their condition and price range. Bringing up items available via the auction or buy it now formats is also possible. Stay safe on eBay by reviewing the purchase as carefully as possible, asking the seller any questions if applicable.
Conclusion
There are plenty of sportswear shorts available on the current market to suit any sport, and also for general use at home. Getting the size correct is imperative so that the shorts feel tight around the waist, but allow fluent movements of the hips and legs.
Buying on eBay is recommended if care is taken over the purchase. Read the advice in this guide on what aspects to look out for and how to use eBay effectively to secure the most fitting sportswear shorts within the budget.