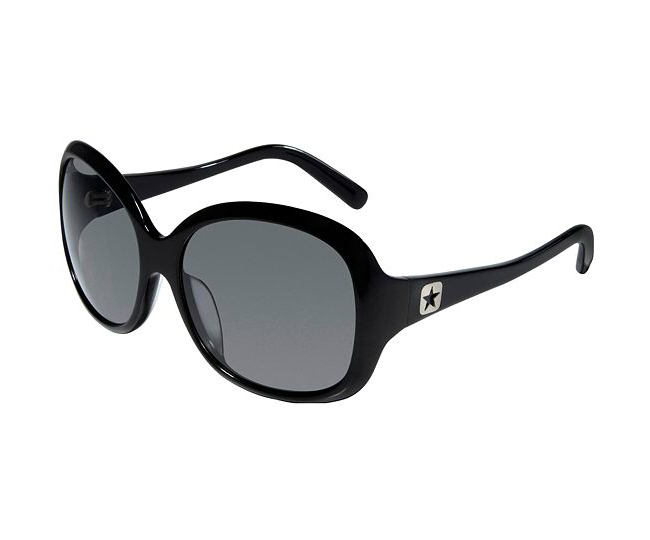 Whether relaxing on the beach, soaking up the sun at an outdoor cafe, or hanging with friends at a barbie, the right eyewear can make you look great. Sunglasses not only protect eyes from harmful UV rays, but they also lend style. Choosing a pair of sunglasses that looks good, however, can be challenging. However, one can greatly improve the chances of finding the perfect pair of sunglasses by taking one's face shape into account when making a selection.
Buying sunglasses for a round face can be particularly difficult. You can learn which shades to look for by following a few guidelines on shopping for sunglasses for a round face and learning which types of sunglasses are appropriate for this shape of face.
General Tips on Buying Sunglasses for a Round Face
Learning about the distinguishing features of a round face, following a few shopping guidelines, and taking heed of a couple additional suggestions can help a consumer find the right pair of sunglasses for himself.
Distinguishing Features of a Round Face
Full cheekbones sloping upwards to a relatively narrow forehead and downwards to a relatively narrow jaw characterise a round face. The chin on a round face is also usually round, and the face has few angles around its perimeter. Overall, the length of a round face is roughly the same as the width. The goal of sunglass frames is to accentuate facial features.
Shopping Guidelines to Follow
The soft contours of a round face become more distinguishable when a pair of sunglasses has sharp angles. This counterbalances the roundness of a face, giving it more definition. More specifically, the goals of sunglasses should be to lengthen the face and slim the cheeks. A few frame and lens features can help you accomplish this.
Frames
The first rule-of-thumb when shopping for sunglasses for a round face is to choose frames with a right angle on at least one point of the eye frame. Round eye frames tend to emphasise the roundness of the face instead of counterbalancing it. Rectangular frames lengthen and thin a round face.
Upswept frames can also lengthen a round face by making the forehead more prominent. Dark frames also tend to make a round face appear thinner, and frames with embellishments or prominent branding can make a round face seem smaller. As a general rule, larger frames are better suited to a round face than smaller frames since large frames make a round face seem smaller by comparison.
Lenses
While dark frames help thin a round face, dark lenses can have the opposite effect. Dark lenses often make round cheekbones more noticeable. Light-coloured lenses are therefore a better choice for a round face. They keep the attention on the frame and its sharp angles rather than on the round centre of the face. Amber lenses are a good choice, and gradient lenses are even better since they call attention to the top of the sunglass frames where the angles of the eye frames are usually sharper.
Temple Pieces
Temple pieces that join to the top corners of eye frames is another desirable design element. This calls attention to the top of the sunglass frames, which helps lengthen a round face.
Types of Sunglasses for a Round Face
Once you understand the features of sunglasses that can make a round face look good, you can begin consider the types of shades to buy. Being familiar with recommended styles, taking utility into account, and looking out for models from well-known brands can help you make the right decision.
Recommended Styles
The table below lists the various styles that look good on a round face. While there are several options to consider, it is important to keep in mind that the ultimate choice depends on personal preferences.
| | |
| --- | --- |
| Style | Description |
| | Frames flat at top and slightly rounded at bottom; longer than higher; temple-piece hinge often at top corner of eye frame |
| | Frames flat at top and slightly rounded at bottom; roughly equal length and height temple-piece hinge often at top corner of eye frame |
| | Bigger version of rectangle frame; temple-piece hinge may be at a midway point along side of eye frame; temple pieces sometimes quite wide |
| | Ray-Ban's original design; trapezoidal frame; very little to no curve along front; traditionally well-suited to men's faces, but women can wear them as well |
| | Rectangular frames with exaggerated length; sides wrap slightly around face towards ears for extended coverage |
The styles above all have square angles at the top outer corner of the eye frame. This angle provides the desired contrast to the roundness of the face.
Utility
The look of a pair of sunglasses is not its only critical element. You should also consider whether or not a pair is suitable for the activities you want to use them for. Some sunglasses are designed for sport use, while others are more fashion-oriented. If you are buying a pair of sport sunglasses, make sure the frames sit firmly on the face and have the features you want, such as interchangeable lenses, before narrowing the selection to the frames that look good on you. The same rules as to which sunglasses look good on a round face apply to both sport sunglasses and fashion frames, but these rules matter little if you buy a pair of sunglasses that are not suited to your activities.
Some Brands to Consider
Many manufacturers produce frames that are well suited to round faces. Brands such as Ray-Ban, Oakley, and Prada are a few names to be familiar with, but by no means should one limit the search to them.
Ray-Ban
Ray-Ban has been producing eyewear for over seven decades and built its credentials by designing the iconic aviator sunglasses for the United States Army Air Corps. The company's trapezoidal wayfarer models are a great fit for a round face. Marilyn Monroe and James Dean are among the Hollywood luminaries who popularised this style of shades.
Oakley
Oakley is another American sunglass brand, and it is known for producing high-quality frames and lenses for sport use. The company's half-jacket models are rimless along the bottom of the frames, enabling quick interchanging of lenses for shifting light conditions. Oakley also produces numerous fashionable models.
Prada
Prada is a world-renowned Italian luxury brand that has made a successful foray into eyewear. Its fashionable sunglasses with the distinct Prada logo on the temple pieces have become popular amongst women, and the oversized frames generally suit round faces quite well.
Buying Sunglasses for a Round Face on eBay
You can buy sunglasses for a round face from local and online sunglasses shops. You can also find a large selection of these sunglasses on eBay. You can begin your search for sunglasses from any eBay page with the search bar. Enter a general term, such as "sunglasses", if you want to browse the selection. You can choose from men's models specifically as well. It is also a good idea to use a more targeted term, such as "wayfarer", if you have identified a specific type of sunglasses that can look good on a round face.
One way to save money on sunglasses is by checking the eBay Deals page. You may find a great bargain on a pair that looks perfect on a round face by looking for deals on eyewear.
Conclusion
Buying sunglasses for a round face requires an understanding of how to balance the distinct features of this facial shape with specific sunglass features. It helps to know the distinguishing features of a round face and the characteristics of sunglasses that can counteract these facial features. Being familiar with a few types of sunglasses that go well with a round face helps you search more efficiently and shop for sunglasses with confidence.
You can find oversized sunglasses and those with sharp angles on eBay. Once you know how to search the site and where to look for deals, you should be able to quickly find and save money on sunglasses that look great on a round face. The many products and sellers on eBay can help immensely in this search.