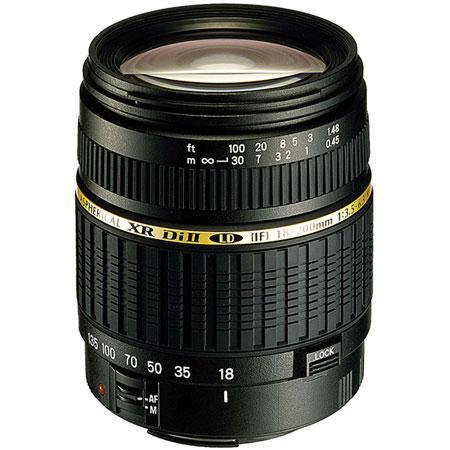 Tamron camera lenses are an excellent choice for your Nikon camera at a fraction of the cost of top brand products. The fact the quality is just as high says a lot for the company's wide range of photographic lenses available on the market. Founded in 1952, Tamron supply high quality photographic lenses such as Fixed Focal Wide angled lens, telephoto and macro lenses. On the majority of their lenses they have included the new high-tech Vibration Compensation (VC) system.
Tamron Lenses Suitable for Nikon Cameras
Below is a selection of Tamron lenses suitable for Nikon cameras:
Model A20 Di – Suitable for the Nikon II, this excellent lens has a 28-300mm focal length, assuring razor sharp images. Includes the VC system.
Model G005 Di II – A high speed macro lens with an F2 aperture, perfect for those duller days. The ideal choice for portrait photography.
Model B001 Di II – A lightweight, high performance, wide-angled zoom lens. Also suitable for the Nikon II.
Model A16 Di II – Probably the most compact and lightest telephoto lens in its class. Gives excellent results in all kinds of light.
Model B01 Di – A superb example of a high performance telephoto, macro lens.
Tamron lenses come in three different coded styles, the Di, the Di II and the Di III. Each style is intended to be used with a different style of camera so it is important that you ensure the lens you buy is compatible with the camera. It sounds obvious but mistakes can be made.
· The Di is made for use with full-frame cameras, like the Nikon D600 and D800 and crop-frame cameras.
· The Di II can only be used for crop frame cameras such as the Nikon D3200 and the D5200.
· The Di III is designed for compact cameras like the Nikon 1 V2 or the 1 S1.
Camera Mounts
The model number of a Tamron lens is specific to that lens, regardless of what camera it is intended to fit on. It is therefore extremely important to ensure the lens you purchase has the correct mount. The description will tell you if it has a Nikon mount, if it doesn't – beware! Just buy yourself an incompatible fit, which may leave you frustrated and out of pocket. Items displayed on eBay are usually clearly defined. If the item you require is not, it is best to query this with the seller via his or her profile listing.
Which Tamron Lens Should I Buy?
The answer largely depends on what type of photography you wish to do. The amateur snapper will take mainly family shots in the park or on the beach, for example, and a good all-rounder is the short or standard zoom lens such as the Tamron AF 70-300 f4-5.6 Di Macro. Often found for sale at under £100, it is the ideal starter for the budding photographer.
For the more advanced photographer, the Tamron 18-270 f3.5- 6.3 VC lens is ideal. This lens incorporates the Vibration Compensation system giving excellent hand – held results. Priced towards the middle of market this lens is of extremely high quality and great value for money.
The professional photographer or sports journalist may well head straight for the top. The high end lenses, although obviously far more expensive, will give the best results every time. The SP 70-200 f2.8 Di VC, for example, is high performance zoom lens and is perfect for those long range sports close-ups or the wildlife pictures we love to see.
Buying Tamron Lenses on Ebay
Purchasing a Tamron lens on eBay couldn't be simpler. Just click on the Electronics section of the home page and then select Cameras and Photography.
One further click on the Lenses and Filters category will reveal a wide range of items for sale. You can narrow down your search by typing 'Tamron Lenses' in the search box.
There are two ways to buy items on eBay, either on a 'Buy Now' basis or by entering a bid on an item up for auction.
Each item will be displayed for a limited period. Just enter your bid and keep watching. As the bid increases you can up your own bid right up to the expiry time of the sale. As mentioned before, please ensure the Tamron lens you have chosen has a Nikon mount to avoid disappointment.
Conclusion
This guide should have provided you with enough information to aid your purchase of aTamron Lens, suitable for your Nikon camera. Please refer to the Terms and Conditions of eBay before making any bids or purchases. Never be afraid to ask the seller any questions you have about the product for sale. Any genuine seller will be happy to answer them.