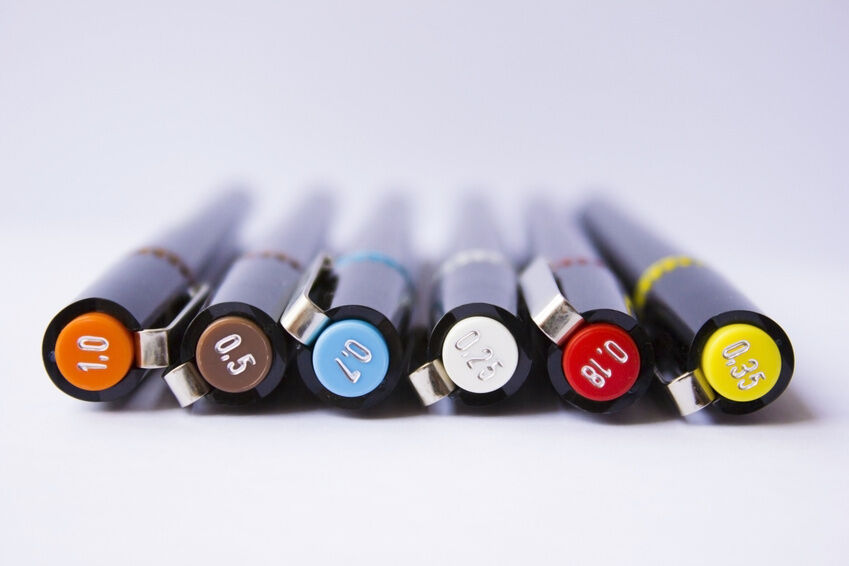 A specialised writing instrument used by architects, artists, engineers, and other professionals, a technical pen is valued for its ability to make accurate, predictable lines. Technical pens are professional-grade pens meant for serious users who want to convey visual information in a clear, concise way. Technical pens differ from graphic drawing pens in that they're refillable, offer more control and work best if perpendicular to the writing surface (making a 90-degree angle). These pens are more consistent than other types of pens, and hence a much better option for projects that require flawless precision.
Use of Technical Pens
Technical pens serve a valuable role in architectural plan drafting, machine schematic drawing, making flow-charts and other projects that require exhaustive detail. Many projects, from designing a bridge to creating a pointillist portrait, can benefit from use of a technical pen. Even though CAD software (computer aided design), electronic drawing tablets and other devices now are the main tools used for such work, technical pens are still widely used in the early stages of the design process to brainstorm and capture ideas, while computer software comes in handy for polishing the work afterwards. Technical pens remain an integral piece of equipment in drawing and sketching, despite the rise in use of the Wacom tablet. This is because they give artists the desired accuracy for illustrating comics, creating web designs, drawing product logos and other work.
For those that do any of these types of tasks, a technical pen can be a very useful tool to own. Note that, if a pen is just needed for journal writing, signatures or taking notes, a fountain pen is more suitable, there's no need to spend the extra money on a technical pen.
Construction of Technical Pens
It's important to understand the build of technical pens prior to buying. The original anatomy consisted of a small pair of callipers (that were dipped in ink). Nowadays, the construction of technical pens is much like other pens. A barrel functions as the holding point. A pressure bar inside the barrel feeds ink to the nib (or tip) when pressure is applied. Since the 1960's (when ink tubes became commonly used), technical pens have carried their own ink.
Types of Technical Pens
There are three main types of technical pens. Consider budget, needs and preferences when selecting one.
Steel-Nibbed Technical Pens
Durable and refillable, steel-nibbed technical pens are great for those who need exceptional accuracy and predictability from their pens. Writing width is very consistent with these. Steel-nibbed pens do cost more money and require more maintenance (periodical cleaning).
Disposable Technical Pens
Disposable pens are a cheaper option and can be thrown away once the ink is out. Though they are accurate, these pens aren't as consistent as steel-nibbed pens and thus are great for those who aren't doing highly specialised work.
Refillable Technical Pens
Refillable pens look and function just like a steel-nibbed pen, but the tip doesn't have the same precision. The ink can be refilled, so these do last a long time if not lost.
Nib Sizes for Technical Pens
Nib size is one of the most important specifications to consider when buying a technical pen. It's indicative of drawing width. Choose according to use and preferences. Nib sizes range from 0.10 millimetres to 2.0 millimetres. Increasingly more manufacturers in Australia and abroad now conform to International Organization of Standards (ISO), though many manufacturers still don't. Be aware that pens with smaller nib sizes are going to offer more precision, but certain tasks may require wider lines for clarity. Often times, sets are sold with various nib sizes, which is convenient option for those that require several drawing widths.
Filling Mechanism for Technical Pens
Choosing a filling mechanism (either cartridge refills or a refillable ink reservoir) is really a matter of preference. What's vital is making sure the ink flows consistently to the tip -- without interruption. Inconsistent ink flow can slow down work and even create problems. So, check to ensure smooth and constant ink flow before buying.