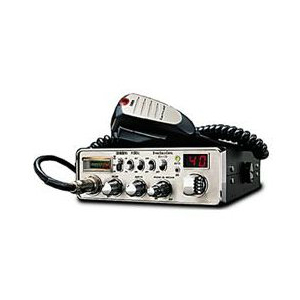 A Citizen's Band radio, or CB radio, can be a helpful tool of communication. Whether you are a truck driver, a motorhome user, a motorcyclist, a 4x4 driver or simply an enthusiastic radio collector, eBay hosts a large range of used and new CB radios. It is a cost-effective method of communication and can be very useful in high-alert travel situations, such as reporting an accident, informing drivers of traffic and congestion or providing directions. For those who are frequently on the road, a CB radio can be an essential accessory. This guide will outline what CB radios are and how to buy used CB radios on eBay.
What Are CB Radios?
A CB radio is device that allows for a system of short-distance radio communications between individuals. Each radio can tune into a selection of 40 channels within the 27 MHz band. Unlike other types of radio, it does not require a license in many countries, making it suitable for both business and personal communication.
CB radios are often categorised as a Personal Radio Service – it allows individuals to operate radio transmitters and receivers for personal purposes without the need for licenses, license fees or individual authorisation. It also has no age restriction, meaning anyone who knows how to use one is allowed to do so. A personal radio service in the UHF band is the European PMR446 and the Australian UHF CB.
The UHF CB is authorised by the governments of Australia and New Zealand in the UHF 477 MHz band, providing 77 channels, including 32 channels (16 input/16 output) allocated to repeater stations – stations which retransmit weak or low level signals at a higher level or power so it can cover longer distances without degradation. The United States' HF CB allocation is also available in Australia.
History of CB Radios
As of 2nd November 2011, CB radio was 30 years old. Before CB Radios were authorised in Australia, hand-held 'walkie-talkies' were used. By the mid-1970s, hobbyists were experimenting with handheld radios and unauthorised American CB radios. A number of CB clubs had formed which, among other things, lobbied for the legalisation of CB radios.
It was legalised in 1977, with an 18-channel band plan, and in 1980, the American 40-channel band plan was adopted. A band plan is a plan for using a particular band of radio frequencies, defining the frequency range, how the channels are to be defined and what will be carried on those channels. Although the government initially wanted to regulate the use of CB radios, it has since abandoned this approach – everyone can now use CB radios freely.
Benefits of CB Radios
Despite the various methods of communication available in the modern world, CB radio enthusiasts are thriving to this day. Some of the benefits they cite for their continuing interest include:
Low costs
Unlike a mobile phone, which has a cumulative cost each time the user communicates, CB radios incur a one-off purchase charge. Once the radio system itself has been purchased, there are no further costs for using the radio. CB radios can be bought from a brick and motor store, such as an electronics store, automotive store or specialist car audio store or from an online source, like eBay, which sells a large selection of new and used CB radios.
Quick Updates About Road Conditions
CB radio users regularly share and learn about current road conditions – it can often be the most up-to-date source of information regarding road accidents, traffic jams, delays or road closures. A CB radio in the car can help to plan ahead of time to avoid these areas.
Getting Directions
It can be a useful way of getting accurate directions in unfamiliar areas. Simply asking another user within range using the CB radio can help to get to a particular destination in the quickest way possible – a regular user of the road can, at times, be a better guide than a road map or a GPS.
Safety and Companionship
Many users have noticed that having a CB radio on in the car can help keep them alert while driving. When tuned in to the shared frequency, they can listen to other users and participate in conversations to keep them awake. It is also a popular hobby, and a fun way of expanding one's social circles and connecting to others in a unique way.
Features of CB Radios
The following are the most popular features available to buy with a CB radio. Whilst many features come as standard with good quality used CB radios, some of the extra features do incur an additional cost. As a general rule, the cost of the unit tends to increase with each extra feature. However, as they may prove very useful for specific purposes, it can be worth the expense.
Buying Considerations for Buying Used CB Radios
Buying a used CB radio can save you money, but it is useful to consider the following factors before buying, so to help make an informed decision:
· Understand and familiarise yourself with the basic technical specifications of CB radios to buy the best radio for your needs.
· Decide on how you will be using the CB radio to choose the right features for specific needs.
· Ensure the CB radio body is of good quality. Good quality CB radio bodies are either made of strong, durable plastic or a metal like chrome. However, chrome-based CB radios tend to be more expensive.
· Carefully inspect the pictures provided to check the features available and, more importantly, to check for damage. Signs of damage include rust, dents, scratches and cracks. Check the cables to ensure they are intact and not frayed.
· When buying from eBay, it is difficult to check the sound quality of the CB radio. However, as it's important to be able to hear what is being said on the other end, it is best to ask the seller to test the product and report back.
· Ensure the seller is trustworthy by checking their feedback rating.
· Check the transmitting power of the CB radio. Whilst all types of CB radios have a maximum transmitting power output of four Watts, some can be expanded to increase the transmitting power using a CB radio antenna (more information in the Features section).
· Ask the seller about the condition of the used CB radio after having tested it, and ask for more pictures and close-up images if needed before buying. In most cases, sellers on eBay will be quite accommodating and will answer any queries.
How to Buy Used CB Radios on eBay
Following these simple steps to buying used CB radios on eBay:
· Use the 'Shop By Category' drop-down menu to navigate towards CB radios. Find Electronics, then Radio Equipment from the categories listed on the left-most column and finally CB Radios from the further sub-categories. Once there, refine the search further using the series of options, including 'Format, Band', 'Features', 'Brand', 'Product Type', 'Condition', 'Price' and 'Item Location'.
· You may find CB radios in the Electronics section of eBay's recommended deals at the eBay deals page, which can be found at the top of the screen. However, deals will vary according to available listings, and used CB radios are unlikely to be offered in the eBay deal's section.
· If buying a specific used CB radio, enter keywords such as 'used CB radio' or '[brand] + used CB radio' into the search bar at the top of the screen, and then use the refining options available to narrow down the listings.
· It is important when buying used equipment of any type to assess the pictures, product descriptions and the seller's feedback ratings to ensure a genuine, good quality product. To this end, check the seller's returns policy for easy returns should any problems arise.
Conclusion
A CB radio is one of the easiest tools to use for automotive and on-the-road communication and is a popular hobbyist's item. With eBay's large range of used and new CB radios, and the guidelines and information provided in this guide, it is easier to make an informed online purchase and find a good quality used CB radio in great working condition on eBay. It is also a good idea to pay for the radio by way of PayPal, as the transaction will be covered by eBay's buyer protection programme.