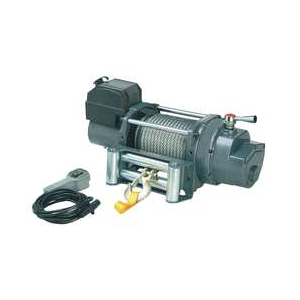 Anyone who is looking for a lift or hoist can consider a used option as a cheaper alternative to a new purchase. Used hoists might be more affordable, might offer more quality for the money, and might also be a good way to get a brand or model that is no longer in production. Buyers can also choose to purchase used lifts and hoists as an alternative to driving to a store, which might be far away or expensive to go to.
Purchasing used lifts and hoists is a great way to save money on either item, but there are more considerations than if buying new accessories for a vehicle. For example, anyone purchasing a used lift or hoist should consider the condition, original value, quality, brand, and probably the location of the hoist in addition to simply considering weight capacity and the type of lift or hoist. Despite this, purchasing a used lift or hoist can be quite easy for buyers who take the time to research the exact lift or hoist that they need before purchasing.
Electric vs. Hydraulic Lifts and Hoists
Lifts and hoists are typically available with an electric or hydraulic suspension system although some might also be available with both. Both power options have their pros and cons, depending to their usage. In general, buyers can easily choose between the two based on budget, weight capacity, durability, and intended use.
Electric Lifts and Hoists
Electric lifts and hoists are usually the most affordable and most common option for anyone looking for either. Buyers can often choose electric as a standard for non-professional use because they are more affordable and easier to purchase. Electric lifts and hoists are likely to be readily available used. However, electric hoists are less powerful, might not perform well under very hot or very cold conditions, and also have a shorter lifespan than hydraulic lifts and hoists.
Hydraulic Lifts and Hoists
Hydraulic lifts are also very popular and can be hand or electric activated. Hydraulic lifts and hoists are typically a great deal more expensive than electric options but do offer more lift and weight capacity. However, not all lifts and hoists are available with hydraulic suspension systems as some, such as truck bed hoists, cannot be created with electric suspensions. The advantage of lifts and hoists with hydraulic systems is that they can lift more weight and can be operated anywhere.
| | | | |
| --- | --- | --- | --- |
| Lift or Hoist Type | Weight Capacity | Cost | Operation |
| Hydraulic | High | High | Medium Difficulty |
| Electric | Mid-Range | Low to High | Easy |
While part of choosing between electric and hydraulic lifts and hoists is to find the model for sale, it is also important to consider the weight capacity as well. Some people consider electric options to be safer than hydraulic options, and electric lifts and hoists are typically a great deal easier to operate as well. However, a hydraulic hoist can lift heavier weights and can do so without electricity, such as on the side of the road during a vehicle repair. This is why buyers should factor into their decision where they plan to use the lift or hoist.
Most hoists are electric because the design is more feasible; however, many lifts and some hoists are sold as electric. It is also possible to find a combination of the two with a hydraulic design that operates with electricity rather than with a hand pump or crank. Choosing a model is usually a personal decision based on preference, individual needs, and the situation where the lift or hoist is being used.
Used Lifts and Hoists Condition
The condition of the lift or hoist should play a major role in the purchase decision. A used lift or hoist might be damaged in some way, might suffer cosmetic damage, and might have impaired function. Some sellers might try to sell 'for parts' items, so it is always important to pay attention to the quality and condition of the item being purchased. Things to look out for include rust, bent or misshapen parts, missing parts or pieces, scratches, dents, and pretty much anything that changes the appearance or function of the lift or hoist.
Some sellers prefer like-new hoists, even when purchasing used. However, the more damaged or the less new that the lift or hoist looks, the less it is worth. This means that it may be possible to get a very affordable lift or hoist by purchasing one that needs paint or maybe that needs a small part replaced. However, it is always important to compare multiple options before purchasing one in poor condition in order to ensure that there is not a better deal available.
Used Lifts and Hoists Brand
The brand is not important to everyone but it should be considered by anyone who is purchasing used lifts and hoists. Some brands offer better quality and more durability than others, so sometimes a good quality brand is worth the extra money. Unbranded options may also be available, but in general, second-hand lifts and hoists are mostly branded options because they are worth more money new. Buyers can choose to research a specific brand to look for and purchase or to simply purchase a well known brand that they know offers the quality they need.
Used Lifts and Hoists Weight Capacity
The weight capacity of the lift or hoist should also be considered before purchase. Depending on what a hoist is intended for, it might be able to lift only a hundred kilogrammes, or it might be able to lift several thousand kilogrammes. The same rules apply to lifts although these usually have a higher lift capacity than hoists because they are typically placed on the ground. Considerations include that the lift or hoist should usually be able to lift at least 1.5 times the weight they are intended to lift on average, and that the lifting capacity of a vehicle-mounted machine does partially depend on the weight of the vehicle.
Buying Used Lifts and Hoists on eBay
Sellers on eBay often list used lifts and hoists in a range of different conditions. Buyers can search the site for individual brands, lifts or hoists with a certain lift capacity, and for lifts and hoists under a certain budget, depending on their needs and preferences. eBay allows buyers to quickly and easily search through options to find and purchase what they are looking for but there are some things to keep in mind as well. Buyers can also look on eBay Deals for great prices on automotive tools in case they would also like to compare affordable new options while shopping.
Sellers on eBay can list from anywhere so it is always a good idea to check the location. Some sellers might not want to ship very heavy items, so it is also a good idea to check if shipping is available and, if so, the estimated cost as well as the estimated time of shipping. It is also a good idea to check the full description before committing to a purchase, and consider asking the seller any questions if information is left out of the description.
Conclusion
Purchasing used lifts and hoists requires that the buyers have some idea of what they are looking including weight capacity, brand, condition, and type. Lifts and hoists can be electric or hydraulic and sometimes a combination of the two. There are pros and cons to both hydraulic and electric lifts and hoists but usually it is up to the buyers to make their own decision based on weight capacity and practicality of the hoists or lifts.
Other considerations include the physical quality and condition of the lift or hoist such as rusting or even scratches. Some options might be priced a great deal lower due to damage or missing parts and while these may be a good deal, they most likely also require additional investment for repairs. Buyers should also decide where they would like to purchase the lift or hoist such as from a used store, an online store like eBay, or from an individual seller.
Used Lift|Used Hoist|Truck Tool|Second-Hand Auto Accessory|Electric Winch Hoist