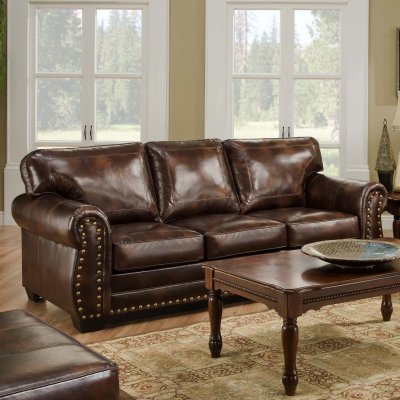 Vintage sofas are available in a variety of styles to suit any taste. They range in condition from those ready to use to those that need a little work, and models that require significant refurbishment. Consider the style of vintage sofa you require and know what key factors to look for to make a confident purchasing decision. Establish whether you want to buy a ready to use vintage sofa or a model that requires refurbishment. Whether you want a functional everyday vintage sofa or a decorative piece, there is a style of vintage sofa to meet your needs.
Types of Vintage Sofas
There are several different types of vintage sofas available from a variety of time periods. It is advisable to decide on the style of sofa required before shopping. Buyers should consider shape, style, size, and comfort level. Among the most popular is the Chesterfield sofa, covered in tufted leather with high back and arms and a low seat. Other popular styles include the camel-back sofa and the chaise longue.
Camel-Back Sofa
The camel-back sofa was first made in the 18th century. Also known as the hump-back sofa, it is easily recognisable due to the single or double rise on the back of the sofa. Still popular today, the camel-back sofa usually has scrolled arms. The feet of a vintage camel-back sofa vary according to the exact period the sofa was made, but cabriole legs are commonly found on camel-back sofas made in the early 18th century.
Chesterfield
Named after the Earl of Chesterfield in the 18th century, the Chesterfield sofa is one of the most instantly recognisable vintage sofas. It is upholstered in leather and has buttons covering the sofa. The back and the arms of this sofa are the same height and the seat is generally low.
Chaise Longue
Originally from Egypt, the chaise longue is an upholstered sofa in the shape of a chair but long enough to lie on. Having gained popularity in the 19th century, it is an informal piece of furniture with no arms. Easily a focal point in any home, one can purchase it with either a straight or a curved back.
Canape a Confidante
The canape a confidante is a long three-seater sofa developed in France in the 18th century. The sofa has triangular seats at either end facing away from the main seat. The centre seat is longer than the separate triangular seats at the end. The sofa sometimes has detachable end seats enabling them to be used as individual chairs.
What to Look for in a Vintage Sofa
Make sure the vintage sofa is both functional and aesthetically pleasing. However, some visible signs of wear are to be expected, given that vintage sofas were used on a daily basis as a functional piece of furniture. It is uncommon to find original vintage sofas in immaculate condition.
Upholstery
Original upholstery may show signs of wear in areas of heavy use, such as the arms, seat cushions, and backrests. If you want a vintage sofa that is ready to use with no maintenance it is important to check the integrity of the fabric. It is also possible to purchase a vintage sofa and re-upholster it or have a professional do it. Alternatively, use an attractive throw or slipcover to cover their sofa. It is also feasible to find vintage sofas re-upholstered in modern or new vintage-style fabric.
Filling
Many vintage sofas have a feather or down cushion filling. Other fillings in later vintage models include polyester fibre and polyurethane foam. With extended use, all filling materials flatten, even with regular plumping and care. Therefore, it is often necessary to re-stuff vintage sofas. While this is a fairly inexpensive job, this should be factored into the budget.
Frame
While the overall appearance of the sofa is an important factor, choosing a sofa with a robust frame is essential. Check all visible joints to make sure they are intact and not showing excessive signs of wear. The sofa should be steady and should not wobble or creak.
Legs
Ensuring the legs are original and of the same quality limits the risk of a replacement leg being of inferior quality and breaking with strain. Check wooden legs for signs of woodworm. Woodworm presents as tiny holes throughout. While woodworm infestations can be treated, large infestations weaken the structure and compromise the integrity of the wood.
Refurbishing a Vintage Sofa
For shoppers who want to take on a project and make even greater savings it is possible to refurbish a vintage sofa. Refurbishing a vintage sofa allows buyers to personalise their piece, adding their chosen fabric or tufting if desired. For beginners it is advisable to choose a vintage sofa with a simple shape that is easier to reupholster and fill. Many shoppers choose to refurbish their vintage sofa in a style and design that fits with the original period of the sofa, while others mix and match themes and styles. For a quick and simple option it is possible to make a throw or slipcover for a vintage sofa using a sewing machine. Exterior woodwork can be sanded and refinished with varnish, or left unfinished for a distressed look.
How to Buy
Buying a vintage sofa on eBay is a simple process even for novice online shoppers. The user-friendly interface allows you to quickly identify the vintage sofa you want by searching from the search bars on every page. eBay also allow you to refine your search using filters including price range, item condition, and item location. Additionally, you can shop eBay deals for some of the best offers. For large items such as vintage sofas, some sellers offer free delivery. You may also find a vintage sofa you can collect directly from the seller yourself after the transaction is complete. Buying a vintage sofa allows you to express your personality and style while recapturing a touch of times gone by.