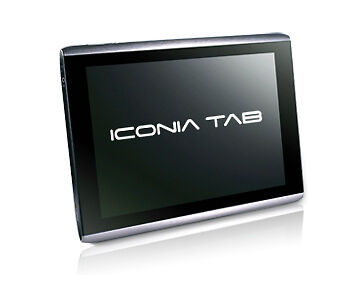 The Acer ICONIA Tab A101 is a tablet computer device designed and manufactured by the Acer Corporation. The device is quite reasonably priced especially when compared to other tablets and as a result is notably popular. The following guide shall examine the various aspects and features of the Acer ICONIA Tab A101, and will explain how to find a suitable model on eBay.
Acer ICONIA Tab A101
Aver are renowned for manufacturing reliable and easy to use electronic devices including desktops, laptops and tablet computers. The ICONIA Tab A101 is one of their more recent releases, and has become quite popular thanks to its affordability and accessibility.
Specs
The following section will highlight the specifications of the product:
· The dimensions of the Acer ICONIA Tab A101 are 195 x 117 x 13.1mm and the device weighs a total of 470g.
· The display is 7" and has a pixel resolution of approximately 600 x 1024.
· This device is equipped with a multi-touch feature and possesses a 3.5mm jack for headphones.
· The Acer ICONIA Tab A101 is available with 8GB or 16GB of internal memory, but more can be acquired through used of a microSD card.
· There is a microUSB port and two cameras. The rear camera has an image quality of 5-megapixels while the front camera has an image quality of 2-megapixels. The cameras on this device are quite good considering the low price.
· The Acer ICONIA Tab A101 uses Google's Android operating systems and runs on a Nvidia Tegra 2 processor.
· The tablet has three sensors, an accelerometer, gyro and a compass. It supports HTML and Flash web browsing, and email, Push Email and instant messaging.
· The Acer ICONIA Tab A101 can be bought in a black and red colour design, or a black and blue design.
Features
One of the best features of this tablet is its easy to use interface, which is something that all Acer products are known for. It supports a large variety of media files including MP3 and XviD, making it extremely suitable for buyers looking for a media device for entertainment purposes. However, it also comes equipped with a document viewer program so it is also suitable for those who need a tablet for organisational activities and reviewing work.
The document viewer allows users to view files from a range of programs and formats including Microsoft Word, Office, Excel, PowerPoint and PDF files. It should be noted though that this program can only be used to view documents and editing said documents is not possible.
Used ICONIA Tabs
The Acer ICONIA Tab A101 line is no longer in production, which means that nearly all models sold online will be used. The extent to which these devices have been used will vary from device to device, but it's important for buyers to ensure that the tablet is in fairly good condition.
To do this, buyers should inspect any photographs of the tablet for cracks or scratches, or other signs of physical damage. Buyers are also advised to check the description box on the item page of a listing, as sellers will often post information here regarding the product's current condition. Additional photographs and details can be request via the Ask a Question feature located beneath the description box. Buyers need to be diligent when investigating the condition of a tablet.
Buying a Acer ICONIA Tab A101 on eBay
It's a good idea to shop for tablet computers and other electronic devices on eBay as the site has a much larger selection of products than any retailer or specialist website. Products are generally sold on eBay for lower prices than those in stores so buyers will be guaranteed good value for their money. To start a search for a suitable Acer ICONIA Tab A101 tablet computer, head to eBay.com.au and take the following simple steps.
· When the homepage has loaded move the cursor over to the Electronics title on the left hand side of the page, and when the drop down menu opens click on the Computers & Tablets link.
· On the following page, scroll down the click on the iPads, Tablets & eReaders link found halfway down the list. This will bring up the relevant listings page.
Click on the Android filter found under the Operating Systems heading in the Categories table. Type Acer ICONIA Tab A101 into the search bar and press enter. Remember to inspect photographs for signs of damage and check the description box for details relating to condition.
All buyers should visit eBay Deals, which is a section of the website that sells products at a reduced price, including tablet devices. To access the relevant page buyers should click on theDeals link found at the top of every page, followed by the Tablet title under the Computers heading in the Electronics tab.
Conclusion
The Acer ICONIA Tab A101 tablet computer is a decent and very well priced tablet device that offers buyers excellent value for money. As the line is no longer being manufactured, buyers need to remember that nearly every device sold today will be a used model, and as a result diligence is required when investigating the device's condition.