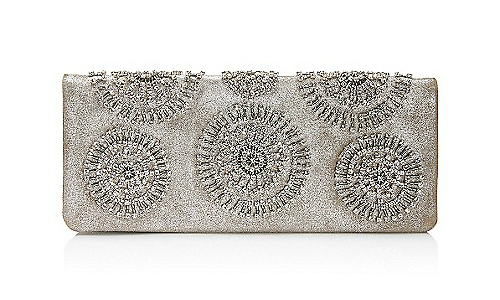 Getting ready for a formal dance can be an exciting time. Choosing the dress and shoes for an event can make one feel special and excited about the special day. The finishing touch on one of these ensembles is the right formal bag. Evening and formal handbags give women a pragmatic way to tote their essentials while also providing an additional style accent. Since formal attire is not an everyday thing, many women may have questions regarding how to select the right bag for a formal event. Learning about the different styles as well as some styling tips can help make a formal dance ensemble work as a whole and be very helpful for the purchasing process.
Consumers may also wish to know about their retail options. For example, traditional vendors carry a limited selection of formal bags, but large online retailers, especially aggregator sites like eBay, may be able to provide a much wider selection. Learning how to navigate this type of retail space can also be valuable to a consumer's purchasing experience.
Types of Evening Bags
Evening bags come in a range of designs, each of which can provide a unique style accent to an evening ensemble. By learning about the different styles, women can prepare themselves for the search for the perfect bag.
Handbags vs. Clutches
Evening handbags are smaller versions of regular handbags. These bags are designed to carry only essentials and to deliver a more refined look and form factor. They can be fitted with long chain straps or wristlet bands that allow a woman to secure the bag to her wrist. Evening handbags incorporate everything from large, slender, rectangular bags to very small and delicate pieces with a soft structure.
An evening clutch is a version of an evening handbag that is designed to fit discreetly in a woman's hand. It has no strap, handle, or wristlet and is usually not much wider than twice the length of the average woman's hand. Only the barest essentials can fit in one of these bags. Clutches can also double as wallets and be carried on a daily basis. Some clutches come with attachable straps that transform them into shoulder bags.
Beaded Bags
A beaded bag is a softly structured bag that has been covered in detailed beading across the entire surface of the bag. These bags often have metallic edges at the top and a clasp element that holds the bag closed. Beaded bags are often paired with metal chains to complete their dressy look.
Envelope Clutches and Bags
An envelope bag is a larger evening bag similar in design to a portfolio wallet with a rectangular form factor. A large flap folds over the front of the bag and snaps to keep the bag shut. Despite the larger size, it is still quite elegant and typically has a slender design that is feminine and dressy. Envelope bags often come with removable straps so that they can be carried under the arm or in the hand as a clutch.
Baguettes
A baguette is a small rectangular bag with a short rounded handle and curvilinear lines. Baguettes are designed to wear under the shoulder and were inspired by the way the Parisians traditionally carry a baguette loaf of bread. Baguettes come in casual varieties, but there are many that can pass for a formal look. Baguettes give formal ensembles a fresh, contemporary vibe.
Hard Case Clutches
A hard case clutch, sometimes referred to as a pillbox clutch, works like a clamshell with two hard halves hinged together at the bottom. It can have a chain strap that is usually quite long so that the bag dangles near the hip. Hard case clutches can be square, rectangular, circular, or oval in design.
Decorations and Embellishments on Formal Bags
Bags designed for evening use can have a range of embellishments that make them appropriate for dressy attire. One of the most popular decorations on a formal bag is sequins. Many bags also feature crystal designs. Metallic sheen on leather creates a formal bag that has a little edge to it. Pleated clutches are clutches that have multiple, pleated layers of fabric around the bodies of the clutches. These pleats are often embellished further with crystals set in jewellery settings or floral designs.
Tips for Picking the Best Bag for a Formal Dance
Certain style tips and pragmatic hints can help consumers choose the ideal bags for their formal ensembles. These considerations range from sizing needs to matching bags to dresses.
Toting the Essentials
While a very petite clutch can be an elegant addition to an outfit, it may not be the most practical choice in every scenario. When shopping for an evening bag, consumers should determine what essential items they need to take with them to the event. Items such as money, credit cards, identification, and makeup may all be must-haves during events. Consumers should factor in the amount of space they need before making purchases.
Creating Balance in an Outfit
When selecting a bag for formal attire, the old rules that demanded a bag match a pair of shoes no longer apply. It is a good idea to have some agreement between a bag and shoes, but the more important focus when adding a bag to an ensemble is to create balance in the overall look. As with a piece of jewellery, the idea is to create a subtle effect that balances the whole look. Too many bright points can make an evening ensemble seem garish and tacky. It is a better idea to counterbalance louder, flashier pieces with minimal ones for a better overall effect.
Matching the Bag to the Occasion
Not all formal dances or events are equal. Some may be semi-formal or have a theme that makes them a bit edgier than traditional dances. Satin choices are very dressy and formal and great for top-of-the-line affairs. Semi-formal and edgier formal dances might demand a slightly more contemporary look, such as the look consumers can get from sequined bags or patent leather bags. Consumers should carefully consider the tenor of the dances they will be attending and match their bag choices accordingly.
Choosing the Right Size and Shape Bag for a Formal Dance
The size and shape of a handbag can work as a plus or a minus with certain builds and body types. In general, tall, full-figured women should look for mid-sized or larger options. For clutches, tall women might want to go for an envelope clutch with a long form factor. An evening handbag should have some volume and weight to it to maintain proportion in a woman's overall look.
Petite women are typically overwhelmed by large bags and should turn to small clutches or more compact handbags. It is also a good idea to contrast a body type with the shape of a bag. Curvy women might want to contrast their figures with an angular bag, while women with more boyish or straight builds can add some curves with a rounder bag. When considering length for a handbag with a strap, consumers should remember that a bag emphasises the region of the body that it rests against. Bags that fall to the middle of the torso or the natural waist complement most figures.
Buying Evening Bags and Clutches on eBay
One of the largest catalogues of evening bags and clutches is available through the online retail site eBay. This site brings together many different vendors to give you many different styles and looks to consider. There is no need to be overwhelmed by the idea of sorting through all these listings. In fact, eBay provides you with a helpful search interface to streamline the shopping process. Search for items using a description of the bag you want, or click directly to eBay deals on bags and clutches. You can also run a search with a general term, such as 'evening bag' or 'formal clutch', and then take advantage of the search suggestions and selections that eBay provides.
Getting to Know the Sellers on eBay
It can really help you when making a decision about a bag on eBay if you take a moment to get to know the seller of an item. You may want to communicate with the seller in general to confirm any questions you have about a bag or the payment and shipping methods utilised by the seller. It is also a good idea to review a seller's feedback from other customers before making a decision.
Conclusion
Finding the right evening bag for a formal dance is easy when you approach the process with the right information. Factors such as understanding the different types of bags and knowing which shape of bag goes with certain body types can make shopping for a bag a much more satisfying experience.
Once a consumer is ready to begin reviewing bags for purchase, she can take advantage of the diverse range of options on the Web on sites like eBay. This type of site gives consumers a fast and easy way to search for a particular type of bag, and it even makes helpful suggestions of its own to help refine searches. It may also be possible to find everything from beaded clutches to leather envelope evening bags in local retail shops. The choice in shopping style is up to the consumer.