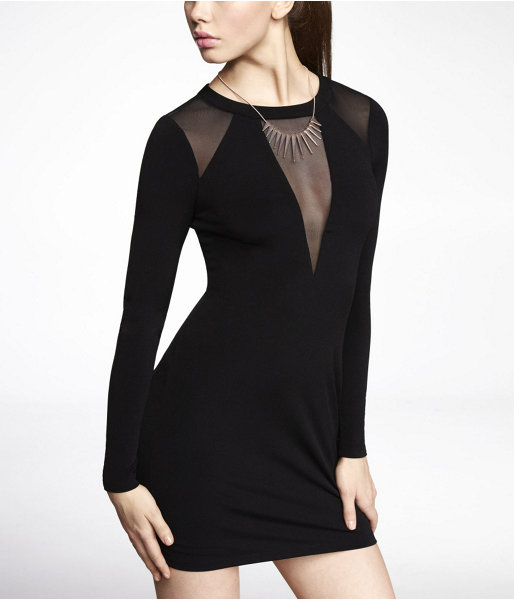 Clothing styles change frequently. However, one trend that returns each summer issheer clothing.Sheer tops,sheer skirts, and sheer dresses allow women some coverage while still providing plenty of airflow and relief from the heat. Some women may decide to sport sheer black material from head to toe, choosing alace,tulle, or mesh dress that shows off their body. In addition, women need to invest in appropriate undergarments or a second layer to make the sheer dress work for the events they want to attend. Black sheer dresses are typically sold in a number of brick and mortar clothing shops. Buyers can also find a broad selection of black sheer dresses in various styles online through websites such as eBay.
Select a Flattering Style
A black sheer dress is attention-getting and draws the viewer's eye to the clothing. If women select the wrong dress style, the overall effect could be awkward or unflattering rather than appealing and sexy. Some sheer black dresses may be form-fitting and knee-length, making them ideal for women who are comfortable with their curves. Other dresses fall loosely, skimming the body and ending around mid-thigh. This style works for a woman with a straight, slim figure or a curvy woman with amazing legs. Still other black sheer dresses are long and flowing, rippling around the wearer and creating constant movement that is flattering for many body types. Ultimately, women should remember that sheer dresses are revealing and work best for women who are confident and comfortable with their bodies.
Mix Opaque with Sheer
Some black sheer dresses are transparent all the way through. However, this style gives the impression of bedroom attire rather than daring, chic elegance. Instead of choosing an all-sheer dress, select one that incorporates strategically placed opaque panels. Some sheer black dresses feature embroidery, lace, or other embellishments over parts of the body. Swirls of black lace over the bust area or around the waist and thighs provide extra coverage. In some cases, the dress may have blocked design, with crisply defined opaque sections. Women should remember that these decorations and designs do not provide the same coverage as undergarments. Unless the embellishments are deeply opaque and the dress is tight-fitting and secure, women should still plan to wear undergarments with their new sheer black dress.
Choosing the Right Undergarments
If the entire top portion of the dress is sheer, owners should ensure they have the right type of undergarments to layer beneath it. Going nude is not generally acceptable in society outside of the fashion or modelling industry. As buyers select the layer of clothing to wear beneath the sheer dress, they should consider the setting in which they plan to wear the garment and ensure that they are appropriately dressed.
For a Dress with a Sheer Top
An old-fashioned or ill-fitting bra can damage the fashion-forward impact wearers may wish to have. Some women want the bra to attract attention, in which case a brightly coloured or bold-patterned bandeau bra could achieve the desired effect without appearing tacky. For a more subtle and elegant look, women should choose a black bra or bandeau. Nude-coloured undergarments entice the eye and add to the seductive appeal of the ensemble. Women should pair their dress with a nude bra only if they are comfortable with more intense stares the look may generate. In general, white bras do not blend well with a black sheer dress.
For a Dress with a Sheer Skirt
For a dress with a sheer skirt, wearers need to ensure they have plenty of coverage for their private areas. Panties in the bikini style or a high-cut brief style usually work well, as do tight, body-shaping undergarments. Thongs, on the other hand, appear tacky and inappropriate. High-waisted panties in white or pastel colours generally fail as well, since they appear old-fashioned and unattractive. Black is the hue of choice for black dresses with sheer skirts.
Other Layering Options
If women would rather not show their underwear at all, they can layer something else under the black dress. A second dress that is slightly shorter than the outer layer, with thin straps, often provides the needed coverage without detracting from the seductive style of the sheer black dress. The underlying layer may be black, red, blue, or some other colour, depending on the overall look the wearer is trying to achieve.
Consider New and Used Options
Many women choose to purchase new clothing whenever they can. However, others enjoy exploring pre-owned options in order to save money. If buyers plan to purchase a used black sheer dress, they should take time to examine it thoroughly first. In-person inspections are ideal, so prospective buyers can see any flaws, stains, or other problems up close. However, if shoppers are purchasing online, they can simply request that the seller takes some high-quality digital photos to showcase the dress from all angles. Sheer material is often easier to snag than other materials, so shoppers should review every inch of the dress to make sure it has no runs, rips, or other flaws.
How to Buy
You can conduct a search for ablack sheer dress from anyeBay webpage. If you cannot find the correct size or style right away, be sure to save your search so eBay can let you know of any new listings for sheer black dresses. Read the product details of each listing carefully, taking note of special advantages such as bundles, package deals, or free shipping. Check eBay Stores and eBay Deals to find additional listings for the dresses you want. If you see listings that boast a Top-rated Plus seller seal, give these listings a higher priority. Top-rated Plus sellers have a reputation for superior products and swift customer service.