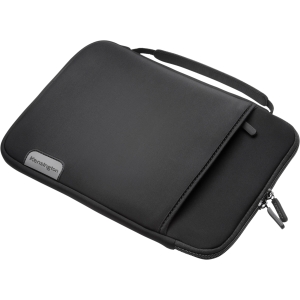 Whilst tablets can look sturdy, they are prone to scratches and knocks during use, particularly if transported. The portability of tablets mean they are easy to carry around, but protecting the tablet during use is key to ensuring it remains in good working condition for as long as possible. This guide looks at the types of tablet covers and cases available, with instructions on how to buy cases on eBay.
Key Checklist for Buying Tablet Cases
The following are a few things to consider when buying a case for a tablet:
Durability
Important in order to provide a stable, protective barrier for the tablet, the durability of a case is often determined by the type of material they are made from. Hard and soft rubbers offer protection by allowing a softer impact in the event of drops or falls:
· Hard cases are less flexible than soft cases, which can make its shock absorption slightly lower.
· Metal cases feel sturdier but may dent when dropped, damaging the tablet.
· Plastics lie between rubber and metal in terms of impact resistance but are prone to cracking or breaking, which can often mean it can become destroyed in the process of protecting the tablet.
· Fabric cases are designed to look stylish whilst providing sufficient protection.
· Leather cases often have a softer inside shell that acts like a sponge when dropped.
· Quilted cases have a soft outside and inside for even more protection.
Price
Due to the large range of cases available, there is a large price range for tablet cases. Higher-end cases may have more functionality or be styled to look better than cheaper models, whilst branded and officially licensed covers are likely to cost more. It has to be remembered that protection may sometimes be compromised in favour of aesthetics in some cases, whilst some more expensive cases can have special 'Smart' features that offer more than simple protection for the tablet.
Snugness
Ensure the tablet tightly fits the case to avoid dust and dirt from entering electronic ports or the cover and potentially scratching the tablet, and to avoid the tablet accidentally slipping out during use. A point also to consider is that many tablet covers are designed for a specific tablet in mind and often have cut-outs and special features to accommodate any buttons on the tablet body.
Types of Tablet Cases
The following are a rundown of a few of the different types of tablet cases that may be available:
Flip Cover : These covers are built with an extra front flap that closes in on the front of the tablet, protecting it when not in use. The flap easily folds back when in use.
Standing Cover : This cover features a stand up function allowing for hands-free viewing on the go or for placing the tablet on the table during work. A magnetic closing ensures it stays securely closed when not in use.
Bumper Case : these simple bumpers are usually made from silicone and wrap around the edges of the tablet. Thicker bumpers provide more protection when dropped, but all bumpers only protect the edges of the tablet.
Portfolio Case : these cases have a built-in stand function due to particular bends in the design. Suitable for travelling or watching movies, it features a flip cover and is made with a soft inner and outer lining.
Sleeve Case : these cases are made from materials such as neoprene (soft and shock-absorbing) and are made like a pouch for the tablet to slip into. The iLuv Belgique iPad neoprene sleeve uses Memory Foam for extra protection.
Universal Case : these cases are made as a one-size-fits-all model which can mean they don't completely fit all tablets. The Exspect case is fully padded on all sides to provide cushioning and protection against impacts, bumps and scratches.
How to Buy Tablet Cases on eBay
Having chosen a tablet case, buying on eBay requires a few simple steps:
· Type in the type of case or its brand name along with the tablet in question (e.g. 'iPad') in the search bar and browse listings.
· Search by category by using the drop-down menu next to the eBay logo. Go to Electronics, thenMobile Phones & Accessories, thenMobile Accessories and finally go to Cases, Covers, Skins to browse listings.
· It is also possible to use the categories on the left hand side to narrow down listings by 'Format', 'Product Type', 'Compatible Brand', 'Colour', 'Condition', and 'Price'.
· It may also be possible to buy covers for a tablet using eBay's recommended deals. Go to the section at the top of the screen, then go to Electronics, Phones and scroll down to Accessories to browse the deals.
Conclusion
Whether preserving the tablet to resell later on, or for years of continuous use, investing in a good case can be an important aspect of tablet ownership. Learning about the different things to look out for when buying a case, and the different types of cases available, is instrumental in making an informed decision when buying from the large range of tablet cases on eBay.