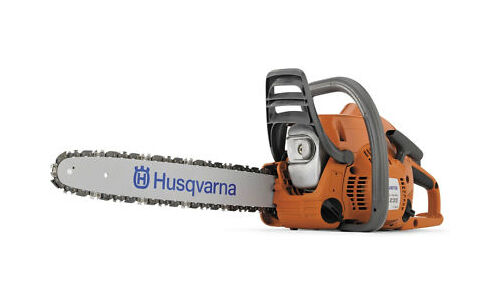 Homeowners who perform their own garden maintenance often need a variety of outdoor power tools to complete tasks easily. When homeowners need to cut trees or shrubs, having a chainsaw allows them to cut wood with minimal effort in a shorter time frame than using a traditional hand saw. Chainsaws are also handy when homeowners must clear dense underbrush. Buyers can find a range of chainsaws available on eBay as well as accessory items that help homeowners use their chainsaws safely. Knowing how a chainsaw is constructed, which types of chainsaws are produced, and the special features available for chainsaws, permits buyers to narrow down their potential purchases so they can quickly locate the best models for their purposes on eBay.
Chainsaw Construction
Before shopping on eBay for chainsaws, buyers should become familiar with the different components that comprise a chainsaw. Knowing how chainsaws are constructed helps buyers differentiate between the models available on eBay and increases the likelihood of purchasing a chainsaw that can match a buyer's needs. Each chainsaw contains an engine that is rated by its power output, with higher rating numbers equalling a more powerful chainsaw. The drive mechanism of a chainsaw creates the movement for a chainsaw's chain to rotate along the guide bar of a saw. The guide bar is generally composed of alloy steel and can be between 40 cm to 90 cm long.
Buyers searching for chainsaws on eBay should choose a chainsaw guide bar based on the widths of wood pieces that they need to cut. A 90 cm guide bar is appropriate for cutting down full-sized tree trunks, but may be difficult for many buyers to manage because of the guide bar's increased length. Additionally, a chainsaw with a long guide bar may be too large to fit into tight areas when buyers need to perform precision cuts on smaller trees and bushes.
Types of Chainsaws
Chainsaws can be classified into a number of different categories based on certain criteria. The first classification buyers can consider when shopping on eBay is the type of power a chainsaw needs to operate.
Chainsaw Power Types

Description

Electric

Must be plugged into a power outlet to operate

Powerful enough for cutting small trees and pruning bushes

More lightweight than some other chainsaws because the power is supplied externally

Inconvenient for buyers who own large lots unless a power generator is used to supply the chainsaw with power

Contains a fuel tank that allows users to fill the tank with petrol to power the chainsaw's engine

Highly portable

Heavier than other chainsaws because of the addition of the fuel and fuel tank

More powerful than other chainsaw types

Cordless

Includes a battery pack that allows users to charge the chainsaw

Highly portable

Typically contains an engine that is not as powerful as electric and petrol-powered chainsaws

Are often quieter than other chainsaw types
Safety is an issue that buyers may consider when choosing their chainsaw power options on eBay. Because an electric chainsaw must be plugged into a power outlet to operate, they are considered safer than petrol-powered or cordless chainsaws.
Chainsaw Shape Types
Traditionally, chainsaws were designed in a shape that included an engine compartment with handles and a guide bar that projected from the front of the chainsaw's engine compartment. This shape was appropriate for a majority of tasks but required that a user was positioned directly in front of any objects they were cutting. Cutting tasks, such as trimming high tree branches, were difficult to achieve with a traditional chainsaw because of the chainsaw's limited reach. To solve the problem, manufacturers developed pole chainsaws. These saws have the same cutting capacities of a traditional chainsaw, but also include a pole so users can access hard-to-reach objects for cutting. Buyers searching on eBay for a pole-type chainsaw can look for models that include the adaptability to extend their reach. In general, a pole chainsaw can have a reach between 3 m and 4.5 m, including the length of a user's arms.
Chainsaw Chain Options
The last distinguishing factor when choosing different types of chainsaws on eBay is the chain that is used on a model. Chainsaw chains can be composed of round- or square-shaped links to handle a variety of cutting challenges. The pitch of a chain determines how closely the links are grouped together along a chainsaw's guide bar. Smaller chain pitches are better for precision cutting, while larger chain pitches are most appropriate for cutting wide objects, like tree trunks. A chain's gauge is determined by the thickness of its links. Thicker links can tackle heavy-duty jobs easily and are best suited for eBay buyers who need to clear trees or large branches often.
Chainsaw Features
To increase the safety and effectiveness of chainsaw models, manufacturers offer buyers a range of special features. When shopping on eBay, buyers should read a chainsaw's product listing to assess the benefits of any special chainsaw features before making a purchase.
Cooling Features
As a chain on a chainsaw rotates along its guide bar, a significant amount of heat is generated from the friction of the chain's movement. If the internal temperature level rises sufficiently, the chainsaw's engine can overheat, causing the engine to stop or sustain damage. Buyers who want to avoid this problem can look for chainsaw models on eBay that feature air-cooling capacities to control the heat produced by the chainsaw's cutting action.
Low Vibration Chains
Vibrating tools like chainsaws can cause users to experience hand and arm problems that can include pain and numbness. To combat this problem, chainsaw manufacturers have developed low vibration chains that significantly reduce the amount of vibration a user feels as they are operating a chainsaw. If eBay buyers plan to work with their chainsaws frequently, purchasing models with low vibration features can minimise any health-related problems in the future.
Buying Chainsaws on eBay
Buyers engaged in landscape maintenance can use eBay to find a range of chainsaw purchasing options. To locate chainsaws made from specific manufacturers, buyers can utilise eBay's convenient search function. For example, typing "Husqvarna chainsaw" into eBay's search field results in a selected listing of every chainsaw available on the site that was created for the Husqvarna brand name. Buyers can shop for new or used chainsaws on eBay or check out eBay Deals' Gardening Tools category for discounted or limited quantity chainsaw offerings. When evaluating chainsaws, buyers should note a model's power type, blade length, and special features that are listed by sellers in eBay product listings. Buyers should also read a product listing to see if any additional items are included in a purchase.
Conclusion
Because there are a number of chainsaw purchasing options available, buyers should do some research before visiting eBay so that they can ensure that they purchase a chainsaw model that is suitable for each buyer's particular circumstances. Knowing how a chainsaw is constructed aids buyers when comparing a chainsaw model's capacities and convenience. Buyers with general needs can purchase traditional chainsaws, but eBay users who must cut objects in inaccessible areas may opt to purchase a pole chainsaw instead. The chain that is placed on a saw can impact which types of cuts a buyer can perform. Additionally, special features can be essential for buyers who operate their chainsaws frequently to ensure that the chainsaw does not cause any health-related problems for a user.