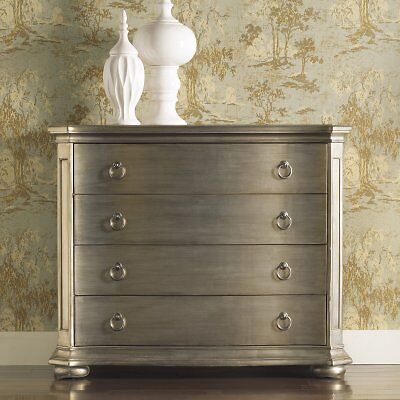 Mankind has used clothing for thousands of years. Some large, heavy clothing is hung in wardrobes, but not all clothes are bulky enough to warrant this. A chest of drawers is a practical solution to this problem; it is a piece of furniture designed to hold these items, which include t-shirts, underwear, and socks. There are extremely large numbers of chests of drawers available in today's markets, which can make choosing one a difficult process.
It is the intention of this guide to make that process easier for the reader, by providing them with extensive information about the subject. In addition, the consumer auctioning website eBay will be examined, and its usefulness when buying a chest of drawers online explained.
History
The first recorded use of chests of drawers was in medieval Europe. Before long the chests were in widespread use. Early chests were simply wooden boxes with hinged lids. Soon, drawers began to be included in the design, which eventually lead to the designs seen worldwide today. Some of the oldest examples still in existence date back to the 16th and 17th centuries.
What to Look for in a Chest of Drawers
This section of the guide will highlight the most important factors for any prospective buyer of a chest of drawers to consider. This guide has identified six main factors, each of which will be looked at in detail. These are:
Size/capacity
Material
Style
Historical value
Price/condition
Additional features
Size/Capacity
The most immediate and practical consideration that should be factored into the decision making process is size. There are two important implications of the size of a chest of drawers. These are:
Capacity – the larger a chest of drawers is, the more items of clothing it will be able to store. As such, it is advisable to take the amount of clothes that require storage into account when choosing a chest of drawers; buying too small will result in a lack of space to store clothes, whereas buying too big is wasteful and impractical.
Available Space – the other way in which size matters is the amount of space the buyer has in which to place their chest of drawers. Most homeowners have a finite amount of space; buying a chest of drawers that does not fit in the house is a clear mistake. To this end, it is highly advisable to measure out an area of the house for the chest to go in; this way, the buyer can be sure that they are getting the right size.
Material
Traditionally, chests of drawers are made from wood, as it is cheap, long-lasting, strong and visually pleasing. The quality, finish and type of the wood all have direct effects on the value of the chest. Most chests of drawers are still made from wood today, although some plastic or metal ones are available, which fit with certain aesthetics.
Style
As chests of drawers have been in use for centuries, there are many available styles. Older pieces will have elaborate and intricate ornamentation. Modern pieces tend to be minimalist and efficient in design. Style is an important consideration; a chest of drawers has a very noticeable impact on the overall look of a room, and one that breaks the colour scheme, or doesn't fit the overall aesthetic of the room, will have a prominently jarring effect on the eye.
Historical Value
There are numerous antique chests of drawers available, valued for their historical and cultural significance. Whilst these may not be able to achieve the same levels of practical functionality that many modern chests are capable of, their background, or story, and their period and place of origin, can imbue them with worth.
Price/Condition
Both the price and condition of an item are imperative considerations for any buyer. The relationship between these two factors is directly proportional; the worse the condition of the item, the lower its price, and vice versa. This means that buyers willing to have older, used products are able to acquire those products for much lower prices than otherwise. However, they sacrifice some of the item's longevity and quality in the process. The needs of each buyer are different, and the balance between required condition and desired price needs to be found by the individual. There are many examples of both new and used chests of drawers available on eBay.
Additional Features
There are numerous additional features that can be included in chests of drawers. Some of these are listed below:
Wheels – wheels allow for easy transportation within the home.
Mirror – some chests of drawers will sport a mirror, allowing the owner to examine their reflection.
Changing Table – some chests of drawers are specifically designed to allow the changing of babies.
Child Locks – child locks prevent young children from accessing the drawers.
How to Buy a Chest of Drawers on eBay
The online auctioning platform eBay is the perfect means of buying a chest of drawers online. It combines a truly enormous and diverse selection of items with an intuitive, easy-to-use interface and a streamlined, simple design, to create the ultimate consumer experience. This section of the guide will provide information about how to use eBay to buy a chest of drawers.
Navigating the website is a simple matter. There are two main ways in which it can be done. The first of these is by using hyperlinks. The first step is to travel to the eBay homepage. A list of links to the broadest product categories can be found on this page, towards the left hand side. From this list, select the Home & Garden category, followed by the Furniture and then Dressers & Chests of Drawers sub-categories. Alternatively, the second method can be used: the search bar allows instantaneous navigation of the site; simply type the phrase 'chest of drawers' into it, and press enter.
The page should now display a list of items, represented by thumbnail images and brief descriptions. This is known as the item listings. The items displayed in the listings can be filtered and customised using various 'filtering options'. These options, found towards the left of the page, allow the user to refine the search by excluding items which do not fit certain descriptions. Searches can be filtered according to price, condition, and seller's location, as well as by whether the product is up for auction or being sold for a fixed price (by using the 'auction' and 'buy it now' options respectively).
Each entry in the listings acts as a link to the represented item's area of the website. These individual pages contain detailed information about the product. They also allow the user to take the seller's reputation into account, thanks to the user ratings and feedback systems. The seller can be contacted with questions directly from this page.
There are huge numbers of special offers and bargain prices to be had in the eBay Deals section of the website. These offers update regularly, so frequently checking this section for great deals is an advisable strategy.
Conclusion
A chest of drawers is an essential item of furniture for any bedroom. There are many variations on the chest of drawers; this guide set out with the intention of helping prospective buyers to understand these variations, so that they can make a well-informed choice. Six main factors were identified for consideration. These were:
Size/capacity
Material
Style
Historical value
Price/condition
Additional features
This guide concludes that, owing to its massive range of available products and various user-oriented design features, eBay is the perfect means of buying a chest of drawers online.