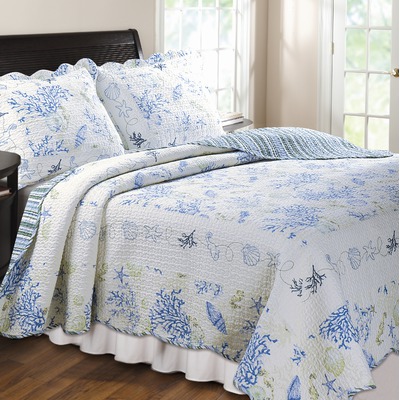 Because quilts are often difficult to clean, buyers may consider purchasing a cotton quilt cover. This type of cover slips over a quilt, much like a pillowcase contains a pillow, and helps protect the quilt from wear and spills. Buyers may also be motivated to purchase a quilt cover to inexpensively camouflage a quilt in poor condition or change their bedroom decor quickly. Cotton quilt covers are available at local mass retail and home furnishing shops as well as online at retail sites like eBay. Because cotton quilt covers are useful and decorative products, buyers have a number of decisions to make when choosing a quilt cover. Before shopping, buyers should research the types of cotton used to make quilt covers and the sizes of the covers available.
Types of Cotton Used in Quilt Covers
Buyers have a number of options available when choosing the types of cotton used for their quilt covers. Which type is more preferable relies on the cotton's convenience and care.
Cotton Quilt Cover Options

Features

Made exclusively of 100 per cent Pima or American Upland cotton fibres

Can be woven in different ways to produce various textile surfaces or sheens

Susceptible to wrinkling

Generally takes longer to dry than cotton blends

Created by weaving Pima or American Upland cotton fibres with synthetic fibres like polyester

Resistance to wrinkling

Faster to dry than 100 per cent cotton quilt covers

A high-quality cotton that produces a tighter, finer weave

The weave used on Egyptian cotton sheets is possible because of this type of cotton's increased strength

Susceptible to wrinkling
Because pure cotton wrinkles easily, buyers who prefer a low-maintenance quilt cover should choose a cotton blend over pure cotton alternatives. Unfortunately, the use of synthetic fibres can cause skin irritations for buyers with sensitive skin.
Cotton Weaves
In addition to the type of cotton used to produce a quilt cover, buyers can opt to purchase covers that feature specific cotton weaves. The weave of cotton is determined by the methods applied to cross vertical and horizontal threads together to create a length of cotton fabric. In the textile industry, vertical threads are referred to as weft threads, while horizontal threads are called warp threads. By altering the weave, cloth makers can produce cotton fabrics that have various weights and textures. An Oxford weave, which is a traditional material to create men's shirts, is soft and thick. Percale weave is the most frequently found type of cotton weave used for quilt covers. Considered a plain weave, percale cotton is made by crossing weft and warp cotton threads on a loom one after the other and can be referred to as percalais or percalcos cotton depending on its point of origin. Cotton sateen quilt covers include a shiny, smooth surface that mimics the look of satin.
Cotton Thread Counts
Another important element in choosing cotton is a cotton fabric's thread count. Before beginning the cotton weaving process, cotton manufacturers must determine how many weft and warp threads should be used to produce one square centimetre of fabric. In general, higher threads counts create a softer cotton fabric. Threads counts of 180 are considered to produce good-quality cotton fabric, while 200 thread count cottons can be classified as fine cotton.
When choosing thread counts, buyers must be wary of any counts that exceed 400 threads per centimetre. Since thread counts have been advertised to denote the quality of a length of cotton fabric, some manufacturers have applied dubious counting methods to describe their quilt covers and other bedding products. A thread is often assumed by consumers to mean the strands of threads that are woven together to produce a sheet of fabric, but some manufacturers include every individual fibre contained within a thread to establish their thread counts. Since one strand of thread contains multiple cotton fibres, manufacturers can boost the thread counts they advertise significantly.
The Ply of Cotton Quilt Covers
The last aspect of cotton that buyers should assess before purchasing their quilt covers is ply. In the textile industry, ply is used to describe how many times a thread running vertically or horizontally is wrapped around an opposite thread to create thickness. Weft or warp threads can be chosen as the wrapping thread based on the fabric surface a textile manufacturer aims to create. Fabrics can be either one-ply ort wo-ply depending on the fabric's thickness. When shopping for cotton quilt covers, buyers should determine which ply they prefer and may need to purchase both one-ply and two-ply covers to match the seasonal extremes in a buyer's local area. For example, one-ply cotton quilt covers may provide enough warmth in moderate temperatures, but can be insufficient during the colder temperatures associated with winter.
The ply of cotton also affects its durability and capacity to protect a quilt. Because it is thinner, one-ply cotton is more susceptible to wear. Additionally, one-ply cotton is thin enough that any spills can quickly seep through its fibres, allowing moisture to reach the surface of the quilt contained within a cover. Because of this, buyers who need to protect their quilts adequately should purchase two-ply cotton quilt covers to provide the highest amount of protection for their quilts.
Cotton Quilt Cover Sizes
Before shopping for cotton quilt covers, buyers should know the size of their beds to purchase a cover that fits properly. Quilts are generally made to allow sufficient overhang to keep people covered in their beds without too much excess coverage. A quilt that is too large could be a safety hazard if it drapes onto the floor and causes people to trip when walking around a bed. Single cotton quilt covers are made to fit the smaller dimensions of a single mattress. Three-quarter cotton quilt covers are slightly larger and can accommodate a three-quarter mattress. For owners of double beds, a double cotton quilt cover is an appropriate purchasing choice. Lastly, queen and king cotton quilt covers are large to match the wider dimensions of queen or king mattresses.
Buying Cotton Quilt Covers on eBay
eBay carries a wide assortment of cotton quilt covers that may match the preferences of any buyer. On eBay, buyers can find decorative quilt covers or licensed quilt covers that feature famous logos or images from brands like Disney. Buyers looking for inexpensive cotton quilt cover offerings can also check out eBay Deals' Bedroom section for purchasing alternatives. Before choosing a cotton quilt cover, buyers should check the specification provided by eBay sellers in a quilt cover's product listing. These listings should contain important information like the width and length of a cover and the type of cotton used to construct the cover. Since many cotton quilt covers are sold as part of a bedding set, buyers should also check to see if an eBay purchase includes matching pillowcases.
Conclusion
Cotton quilt covers allow buyers a number of benefits. In some cases, buyers are motivated to purchase a quilt cover to protect their quilts from damage. Alternatively, buyers can be prompted to purchase a quilt cover to hide imperfections on their quilts or change their bedroom decor quickly. Before purchasing a quilt cover, buyers should learn about their options when choosing covers made from different types of cotton. Cotton can be made using distinct weaves that produce a certain appearance. Additionally, cotton fabric contains various thread counts and plies that affect a quilt cover's quality. Once buyers know which types of cotton they prefer for their quilt covers, they can visit eBay to find quilts in an array of sizes and styles to match their bedrooms.