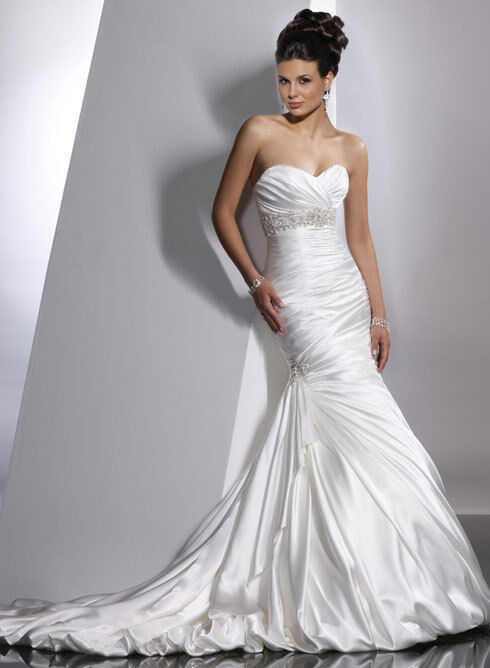 A couture garment is usually part of the top tier of fashionable attire. Often, a seller designs and fits a couture dress or other piece of clothing specifically for a buyer. Custom-made wedding dresses are quite expensive, but they ensure that women have exactly what they want on their wedding day. Women who do not want to pay top dollar for a couture wedding dress from a designer should be able to find a pre-owned couture wedding dress. Buyers may want to look at eBay and other retailers for more variety and better pricing on couture wedding dresses. Before purchasing a couture wedding dress, consumers may want to know how to find the perfect silhouette, neckline, and the ideal fit.
Find the Perfect Silhouette
Couture garments, such as wedding dresses, come from high-end designers that meet certain standards of luxury and quality. These dresses are available in many different styles and silhouettes, each bearing unique details or rich embellishments that represent both the designer and the client.
Brides should not rely on photos of couture wedding gowns that they see in magazines. The models that wear these dresses have figures that represent a particular ideal of beauty, but they do not reflect the reality of the feminine figure. Real women have all sorts of shapes, often classified into categories, such as the pear shape, apple shape, banana shape, or hourglass shape. Some styles of couture wedding dresses look better on certain body types than others. While the number of wedding dress styles is endless, a few of the most popular silhouettes include the A-line, ball gown, sheath, and empire waist.
A-Line Wedding Dress
An A-line wedding dress features a skirt that flares out gradually. The bodice fits snugly around the upper body, often subtly accentuating the bust. An A-line gown works well for most body types. If brides have aspects of their figure that they want to conceal, such as wide hips or thick legs, the A-line wedding dress is ideal.
Ball Gown Wedding Dress
A ball gown wedding dress is similar to an A-line gown. However, the ball gown is much fuller, standing out further from the waist instead of flaring gradually. Brides usually need a slip or crinoline under the ball gown to make it stand out as the designer intended. Some couture wedding dresses in the ball gown style have the crinoline built into the dress. Ball gown wedding dresses can make a bride feel like a princess. However, so much fabric may overwhelm a short or petite bride. In general, small brides should select a different dress style for their wedding gown. Also, if brides plan to dance and move about at the reception, they should be aware that a ball gown style can be heavy and difficult to move in while dancing.
Sheath Wedding Dress
A sheath wedding dress hugs the bride's entire figure. Women who are comfortable with their bodies and proud of their shape can show it off in a tight-fitting couture wedding dress in the sheath style. Brides should ensure that they still have plenty of room to move easily, sit down, and dance without fear of straining the seams of the dress. Slim women, or those with hourglass shapes, should look stunning in a sheath wedding dress.
Empire Waist Wedding Dress
Couture wedding dresses with empire waists work well for women who want to conceal wide hips or give the illusion of longer legs. For an empire waist wedding gown, the waist is just below the bust. Designers usually include some intricate details, lace, sequins, embroidery, or other embellishments to add definition. From the empire waist, the dress falls straight to the ground, imitating the more casual maxi dress style. Often, the skirt portion of the dress is made of lightweight material that flows easily, such as chiffon. Beach weddings or tropical weddings sometimes feature this gown style. Brides who are pregnant may also favour the empire waist design, since it provides ample room for their baby bump.
Choose a Flattering Neckline
The bodice and neckline of the dress are the portions that draw the most attention, especially in wedding photos. Brides should make sure that they choose a neckline that makes the most of their bust, collarbones, neck, and shoulders. Many couture wedding dresses aresleeveless and strapless, allowing brides to bare their shoulders.
Ensure an Ideal Fit
The dress should also have enough room in the seat and thigh area to allow the bride to sit down, kneel, crouch, or dance, depending on the activities planned for the occasion. The length also needs to be right. A floor-length wedding dress needs to cover the bride down to the top of the shoe, halfway between the ankle and the toes. It must not be so long that the bride trips over it constantly during her aisle walk. Shorter dresses, such as sheaths or tea-length wedding gowns, need to fall at precisely the right place, or they may look awkward instead of attractive.
How to Buy a Couture Wedding Dress
eBay is a vast online marketplace with multiple areas for shopping, including eBay Stores and eBay Deals. When eBay sellers receive high praise from their former customers, they have the opportunity to become an eBay Top-Rated Plus seller. Top-Rated Plus sellers commit to certain standards of quality and customer service.
In addition to looking for Top-Rated Plus sellers, watch for listings that include free shipping, bundles, package deals, and other special incentives. If you do not immediately locate your dream couture wedding dress, save your search. This allows eBay to email you every time a seller puts up a new product listing for a couture wedding dress. Once you receive the notification, you can go on eBay and check out the new product.