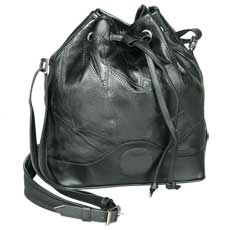 A great handbag can be the crown jewel of a woman's accessory collection, providing style to her everyday look and giving her a way to appear polished any time of the day. While leather bags traditionally dominated the market for quality bags, more and more women are looking for faux leather bags as an alternative. Whether for financial or ethical reasons, the faux leather bag has become a very appealing fashion choice, and with the improvements in the manufacturing techniques used to create these leather alternatives, they often closely mimic the look and feel of real leather.
Women shopping for bags may have questions as to the differences between faux leather and real leather bags. They may also have questions regarding the best retail choices for finding these bags. Certain traditional brick-and-mortar retailers offer a range of choices, but online retailers such as eBay give consumers looking for leather or leather-style bags a much wider range of options.
Understanding the Difference Between Faux and Real Leather
As consumers begin their searches for bags, they may wish to understand more about faux leather and the features and types of genuine leather. Both products have their own unique features and advantages that may appeal to consumers.
Faux Leather
Faux leather is a completely synthetic product. It starts with a base of fabric, which is then treated with waxes, dyes, and chemical compounds to give it the look and feel of leather. Despite this seemingly complicated process, creating faux leather is cheaper than creating genuine leather, and it provides fashion houses with a way to create stylish leather bags at a fraction of the cost.
There are several varieties of faux leather. The most common type of faux leather is pleather, a plastic made to look like leather. It is lightweight and easier to work with than real leather. It can also be dyed in a wide range of fashionable colours. Other types of faux leather include leatherette and vegan leather.
Real Leather
Genuine leather bags use fabrics made from the tanned and treated skins of animals, including cows, goats, sheep, and even pigs. Real leather is treated in three ways to get it ready for use in manufacturing. Each technique delivers a different appearance and quality to the leather.
Aniline Leather
Aniline leather is the best quality leather available and the most natural looking. It is not treated with any protective seals or chemicals, leaving the natural qualities of the leather on display. An aniline leather product shows all of the organic visual qualities of a piece of leather. This creates a high-quality luxury piece, but one that requires a high level of maintenance.
Semi-Aniline Leather
Semi-aniline leather was created as a way to balance the aesthetic needs of people who want untouched, natural-feeling leather with the need to create a longer-lasting product. Semi-aniline products are lightly coated with a finish that protects the surface without disturbing too much of the leather's natural qualities. This can also help a product maintain its colour and quality longer.
Pigmented Leather
Pigmented leather is top-grain leather that has been treated with enhanced sealants or coatings. This results in a very durable leather, but one that is very unlike leather in its most 'natural' state. This type of leather also becomes very shiny after treatment, giving it an entirely different aesthetic than higher-grain leathers. The most common uses for pigmented leather are furniture and auto upholstery because of its resilience, but it is sometimes used in bags, as well.
The Advantages of Faux Leather vs. Real Leather
Faux leather extends two main advantages to a consumer: affordability and ethical manufacturing. For many women, the price of genuine leather bags is too exorbitant, especially if the bags are for day-to-day use. Faux leather bags are available at a fraction of the cost of genuine leather bags in the same style. The second advantage of faux leather is that it does not involve the use of animal skin. For more and more consumers, making ethical and environmentally friendly decisions is a high priority, even with fashion items. When purchasing a faux leather bag, a consumer can rest assured that no animal has been used to make the product.
Another consideration to keep in mind is the durability of faux leather. A faux leather bag does not require the care that a genuine leather bag does. While genuine leather has a certain cache, it is high maintenance and must be carefully handled at all times. A faux leather bag, on the other hand, delivers much of the style of real leather while being much easier to maintain.
Understanding the Different Styles of Leather Bags
When shopping for bags, women may also want to familiarise themselves with some of the most popular bag styles available today. These styles can be found in both genuine and faux leathers, but due to its pragmatic and affordable qualities, faux leather now tends to dominate the market.
The Shoulder Strap Bag
Shoulder strap bags are the most common bags in the marketplace and can be found in most women's closets. Shoulder strap bags may have rounded or squared-off bodies, and they typically have two straps looping up from the body. These straps are rounded and semi-stiff, giving a woman a solid way to tote a bag all day long.
The Satchel Bag
The satchel is a slouchier variety of the shoulder bag with a loosely formed body. It typically features a long, single strap that women can wear on one shoulder or across the body. These bags are meant to be worn at the hip or lower back, making them casual items that are still quite hip and stylish. Satchel bags usually deliver a lot of storage space, making them pragmatic bags, too. The cross body bag is a variant on the satchel. It has the same strap design, but a more structured body to the purse. A cross body often has a series of internal pouches and pockets, too, making it a very organised bag.
The Hobo Bag
The hobo bag is a slouchy, half moon-shaped bag that can have a slightly hippy aesthetic. Many hobo bags come in faux leather and may feature a decorative faux leather fringe, as well. These bags are often decorated with embellishments and embroidery. A large, thick strap is usually attached to the bag, although many hobos now feature two straps in the classic shoulder bag style.
Laptop Shoulder Bag
A laptop shoulder bag is a bag that resembles a fashion bag, but it also delivers the very useful function of providing a safe space for a laptop or tablet computer. Laptop bags are most often found in faux leather or with faux leather accents. A central compartment provides the nook for the computer. The rest of the bag is designed like a regular handbag with features for holding mobile phones and coins.
Clutches
Clutches are small bags that can be held in one hand. They often do not have long straps, but they may have small wristlet straps that women can wear looped around their wrists. Some clutches do come with optional shoulder straps. Envelope clutches in faux leather are a popular subset of this category. These bags have larger form factors than other clutches, rectangular designs, and a very stylised look.
Buying Faux Leather or Leather Bags on eBay
The online retail site eBay is a great resource for finding faux leather and genuine leather bags in almost any style. This site creates its catalogue by aggregating sellers in order to provide consumers with a truly diverse marketplace. To begin searching through this catalogue, find the search bar on any page and enter a keyword term that describes your ideal bag. You can run a general search with a term such as 'faux leather bag' or a more specific search describing the style of faux leather bag you want. Alternatively, you can browse deals on bags before making your next purchase.
Getting to Know Sellers on eBay
When shopping on eBay, you should take advantage of the tools the site gives you that can help you find the right seller. Once you have found an appealing listing, click on the seller's highlighted name in the listing. This takes you to the seller's page, where you can find a message interface and feedback left by previous customers.
Conclusion
A faux leather bag is a chic and useful accessory for a woman to leverage on a daily basis. Delivering much of the fashion value of a genuine leather bag, a faux leather bag comes in a range of styles that can complement almost any way of life. Everything from a small clutch to a classic shoulder bag is available today in faux leather. Consumers considering one of these bags only need to learn about some of the advantages of faux leather and the styles of bags that dominate the marketplace today.
Once ladies have primed themselves to go shopping, they can search in local department stores for appealing bags. Alternatively, they may appreciate the extremely large catalogue of options available on the retail site eBay. With its search interface and user-friendly features, eBay can be a great resource for any woman in search of a faux or genuine leather bag for use on a daily basis or for special occasions.