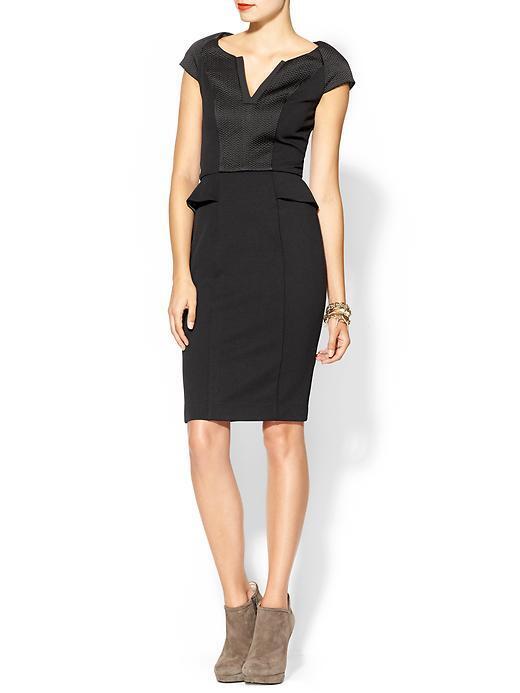 Most women have at least one or two dresses in their wardrobe for special occasions. Others may prefer the style to pants, accumulating a broad range of unique, beautiful dresses to wear to the office, to class, or to parties. When it comes to sleek, crisp style, the French Connection brand is an ideal choice. French Connection offers beautifully designed dresses for spring, summer, fall, and winter, with sizes and styles to suit all types of women. Shoppers should be able to find numerous French Connection dress styles in local clothing boutiques. They can also search for them through online retailers such as eBay.
French Connection Dress Styles
Designers at French Connection develop new dress styles every year, for every season. Their creations reflect an understanding of the modern woman and her daily life. Some dresses fit with a business environment, some are slightly bolder and more luxurious for events such as cocktail parties, dinners, and evenings out on the town. Still, other styles supply the comfortable yet stylish look buyers need for weekends and vacations.
For the Office
The French Connection Marie stretch dress features a simple silhouette with short sleeves and a high, rounded neckline. Carefully placed seaming guides the eye over the wearer's shape, offering the illusion of additional curves. At the front of the hem is a shorter section that shows off an extra inch of leg. This stretch dress comes in sizes 0 through 12. It is available in two different shades, Tribal Teal and Electric Blue. The entire dress is form-fitting, with a discreet hidden zipper at the back.
The French Connection Spotlight Sprint dress is a unique take on the original French Connection Spotlight style. It boasts unique colour-blocking in a bandage style and dramatises the wearer's shape with bold white seaming on a black background. The material has a luxurious sheen and transitions well from the office to the evening. The zipper runs all the way up the back from the nape of the neck to the hemline. The hem falls just above the knee, providing enough coverage for a work environment while still allowing women to show off their legs.
For the Evening
Women looking for a party dress can try the Vienna Lace Jersey dress from French Connection. The dress is an elegant yet flirtatious combination of black jersey material and black lace. The short A-line skirt and most of the bodice are made of jersey, while the three-quarter length sleeves are black lace. In addition, the dress features two cut-out panels at the waist, one on either side. These cut-outs feature the same Vienna lace. With its flexible crew neck, the dress is easy to pull over the wearer's head and requires no zippers or other fastenings.
Another party dress is the short-sleeved French Connection dress with solar pleating in the faux leather skirt. The faux leather creates a chic, edgy effect, while the soft material of the bodice ensures comfort. Like other French Connection dresses, the dress is sold in sizes 0 through 12. The mid-thigh length, ample skirt, V-neck, and cap sleeves are flattering for women of many different body types.
For Casual Occasions
For weekend and casual outings, try a French Connection maxi dress. One of the top styles is the maxi dress in in Electra Jersey. The bold pattern features hues of salmon pink, black, white, and lavender. Thin spaghetti straps allow wearers to bare most of their shoulders, while the low V-neck shows off some decolletage. The dress has a loose fit and is floor-length for a regal yet relaxed look.
Once the summer months transition into the coolness of fall, pull out the Autumn Spells maxi dress from French Connection. It comes in either black or a vivid orange hue called Sierra. At the waist, a lace panel adds definition. The skirt is full and pleated, with a hemline that comes to the middle of the wearer's calf. Made of chiffon, this dress works well for days between summer and fall, when mornings are cool and afternoons are warm.
Ensuring the Correct Fit
When buying clothing in a store, one can try items on, however, when shopping online, one cannot usually rely on an item fitting perfectly. Fortunately, French Connection supplies detailed sizing information to which shoppers can refer. Users who are shopping online should consult a French Connection size guide before they buy a dress. They may also need to have a professional measure them to make sure that their dimensions match those of the dress. If shoppers take the time to identify their correct size, they should be able to trust that their new French Connection dress fits.
Finding Budget-Friendly Options
Buyers should not limit themselves to brand-new French Connection dresses. They may be able to find used dresses. These dresses are typically priced much lower than new ones, but still boast the same eye-catching silhouettes and excellent materials. Buying a lightly used dress allows women to enjoy their favourite French Connection styles without breaking the budget.
How to Buy
Purchasing a French Connection dress on eBay is easy. Simply locate the search bar on any eBay web page and type in " French Connection dress" or a specific dress style. As you shop, examine the listing pages for free shipping offers, eBay deals, bundles, and Top-rated Plus seller seals. Top-rated Plus sellers have plenty of positive customer feedback to back up their claims of excellence. They are known for swift shipping, good products, and helpful service. To ensure you have seen all available options for French Connection dresses, searcheBay Stores or save your search to find out about future deals on French Connection products.