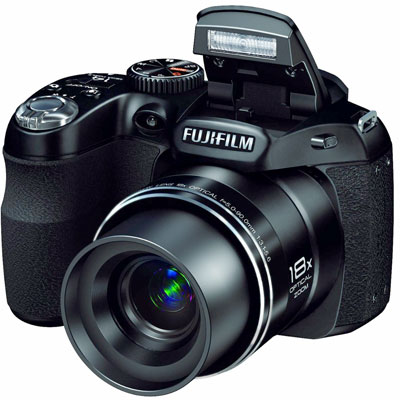 The S2980 comes with 18x Fujinon optical zoom and this is equivalent to a 28-504 mm lens on a full frame digital camera. This 14 megapixel camera is supported by wide angle focal lengths that help when shooting landscapes. JPEG images are produced that can create larger than A3 prints and allows for a wide variety of PC editing. There are a many types of SLR camera available on eBay.
Buying Considerations of the Fujifilm FinePix S2980
When considering what SLR camera to purchase, certain factors must be researched. The lens type, number of pixels, image size, frame coverage, compatible lenses are just a small sample of the variables in question. The cost of an SLR camera is important as this varies with brand, model and lens type. If you are purchasing a camera on eBay, filtering the results page according to price can provide a more specific range of device. Before searching, having an idea of what is required from the camera and with what the budget constraint is.
Key Specification Points
14 megapixel CCD sensor
18x optical zoom lens (35mm equiv: 28-504mm)
Sensor shift image stabilisation
3 inch, 230k dot, LCD screen
Full manual controls
720p HD movie recording
ISO 100-6400
2cm minimum focusing distance
1.2 fps continuous shooting at full resolution
Motion panorama
S2980 Handling
This camera has a plastic body and a rubberized hand grip. The 3inch LCD screen is coupled with a bright Electronic Viewfinder (EVF) setting that is designed to help in low light situations. The flash is raised manually and the menu system of the FinePix S2980 is suitable for beginners and the more advanced user. It runs on four AA batteries with the alkaline ones providing a CIPA rating of 300 shots. There is the option of Ni-MH rechargeable batteries which have a CIPA rating of 500 shots and also Lithium batteries which have a rating of 700 shots
Lens Specification
The electric powered 18x Fujinon zoom lens sports a 28mm-504mm range. This bridge cameras zoom function is lever controlled and is available during video capture. Further lens detail includes:
Focal Length: f=5.0 - 90.0 mm, equivalent to 28 - 504mm on a 35 mm camera
Full-Aperture: F3.1 (Wide) - F5.6 (Telephoto)
Constitution: 11 groups 14 lenses
Digital Zoom: Approx. 6.7x (up to approx. 120.6x, with 18x optical zoom)
Image Quality
The Fujifilm FinePix s2890 provides 14 megapixels and ISO positions from 60-6400. Its sensor-shift image stabilizer works in conjunction with the 18x zoom to remove blurriness in long distance shots and any distortion caused by hand shaking. The 3" TFT colour LCD monitor comes with 97% coverage and approximately 230,000 dots. Dual Image Stabilisation is combined with high ISO sensitivity and the sensor-shift image stabilisation to provide high quality shots. This camera enables three shots to be taken at any one time and seamlessly stitches the images together internally.
Interactive Access
This camera comes with Fujifilm's Easy Web Upload function that allows the user to tag pictures and video or direct upload to social networking sites once connected to a PC using MyFinePix Studio. Moreover, the S2980 allows instant Photobook creation, the user can favorite their special images and regularly add to it until it is completed and ready to order.
Other Features
This camera comes filled with various other features not mentioned in the key specification. Audio Recording, Blink Detection technology, Smile Detection technology and in-camera red-eye removal are a few examples of what the S2980 has to offer the user on top of the other features.
How to Buy a Fujifilm FinePix S2980 on eBay
eBay offers a wide variety of SLR cameras; it is a great place to begin any camera search. The S2980 is available in different packages and in varying physical condition. To begin, enter the keywords " Fujifilm FinePix S2980" in the search bar and a vast results page will be generated. Within eBay is a category system that enables you to sort and filter the results according to criteria selected by the consumer – price and condition are two examples. The rating system on eBay enables the user to select which supplier to purchase from and can be taken into consideration before buying. eBay offers a wide variety of cameras and can provide an ideal solution for anyone looking to purchase an SLR camera. Accessories for the camera including batteries and cases can also be found on eBay and again these can be categorized and filtered to suit the user's desires.
Conclusion
Aesthetics, lens type, price, screen size, image quality all need to be researched when selecting what camera to purchase. Details about the Fujifilm FinePix s2980 have been discussed in this guide and eBay is the perfect place to start searching for the ideal SLR. It can provide you with all the information needed to make the correct and well informed choice.