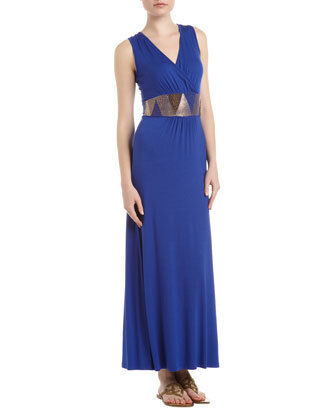 Though the term Grecian, as in ancient Greece, may have you thinking about vintage looks and classical styling, designers filled the runways of 2009 with a Greek-inspired trend that has since taken over women's formal wear. Beginning with names like Valentino and Elie Saab and continuing into more affordable formal wear, the Grecian dress is here to stay. That is because the style of this dress offers women a uniquely feminine and flattering cut that is highly versatile and especially well suited to plus sizes.
A woman interested in buying a Grecian dress has a lot to consider. This includes the style benefits and sizing of the dress as well as design options. There is also the question of where and how to purchase such a trendy frock.
The Style Benefits of a Grecian Dress
The most important style benefit of a Grecian dress is its versatility. As such, designers have introduced Grecian dresses that suit a variety of needs since 2009. They began with a focus on formal and semi-formal wear, as evidenced by the appearance of Grecian dresses on the red carpet and catwalk in 2008 for the 2009 season. Recently, more casual Grecian dresses have become available as well.
The hallmark of the Grecian dress is the ethereal and flowing nature of its skirt which emphasises curves without hugging them and makes the style perfect for just about every body type. Grecian dresses of varying styles are appropriate for day and nighttime wear, indoors and out. In addition, the light fabrics and airy nature of the Grecian styling make this type of frock perfect for spring and summer events, as such, they are a popular look for summer weddings, dances, and garden parties.
Many women choose to pair Grecian dresses with the appropriately named ' gladiator sandals'. However, a Grecian dress goes along just as well with platform heels, especially for shorter women who need to elongate their silhouettes to compliment the flowing nature of this style.
Plus-Size Grecian Dresses
The ability of a Grecian dress to hug a woman's curves in the right way, emphasising femininity and grace and camouflaging problem areas, makes it the ideal choice for plus-size women. In Australia, a plus-size woman wears sizes 16 and up. The table below displays the common measurements for these so-called 'plus' sizes.
| | | | | |
| --- | --- | --- | --- | --- |
| Australian Size | 16 to 18 | 20 to 22 | 24 to 26 | 28 to 30 |
| XL Size | XL | 2XL | 3XL | 4XL |
| Bust Measurement | 106 cm to 111 cm | 117 cm to 122 cm | 127 cm to 132 cm | 137 cm to 143 cm |
| Waist Measurement | 94 cm to 99 cm | 105 cm to 110 cm | 115 cm to 120 cm | 125 cm to 130 cm |
| Hip Measurement | 113 cm to 118 cm | 124 cm to 129 cm | 134 cm to 139 cm | 145 cm to 150 cm |
As a plus-size woman buying a Grecian dress is a great way to feel feminine and pretty without the self-consciousness normally associated with hip-hugging formal wear. Indeed, the trend of the plus-size Grecian dress is a welcome departure from other women's fashion choices such as skinny jeans which limit their audience to those with the measurements to properly wear them. But this look is not limited to plus-size women alone. Grecian dresses flatter every figure in a different way, which is what makes them such a popular choice for bridesmaids' dresses.
Popular Grecian Dress Designs
Regardless of whether or not you want to buy a plus-size Grecian dress, there are several stylistic trends within this fashion category that are worth noting. Indeed, the variety of styles offered by this trend only adds to its versatility. What is more, each slight alteration allows women to highlight their favourite body parts and de-emphasise the others.
Grecian Goddess Gown
The design of the Grecian goddess gown has its roots in images of the goddesses of ancient Greece, and has become increasingly popular in formal wear as a result. In fact, it frequently appears in wedding and bridesmaids' dress styles. The basic design of a Grecian dress is always the same: It features an empire waist and flowing, draped fabric.
In addition, the cut of formal Grecian goddess gowns varies in order to flatter different upper body figures. These options include the popular one-shoulder cut most reminiscent of ancient goddesses as well as V-necks and strapless styles which lend a more modern feel to the dress.
Vintage-Look Grecian Dress
Another really great way that women wear Grecian-style dresses on formal occasions involves incorporating the basic Grecian style with vintage looks. This is particularly powerful when a Grecian-style dress, complete with empire waist and draped body includes cap sleeves and/or lace.
When looking at Grecian-style wedding dresses, these same short sleeves , combined with fine beading, add the detail and texture appropriate for such formal gowns. These elements, which are closely associated with the vintage look, make the dresses more than simply Grecian and pair nicely with an overall vintage wedding, which has become increasingly popular over the years.
Casual Grecian Dress
The final design style typically used on Grecian dresses makes the look more casual and therefore more appropriate for women attending a wedding as a guest or hosting an outdoor garden party. A casual Grecian dress cuts shorter than a formal dress and gown, generally hitting mid-thigh or knee length. In addition, spaghetti straps or a strapless look in the upper portion of the body add a more casual element through simplicity and lack of detail.
How to Buy a Grecian Dress on eBay
Using eBay to buy a Grecian dress is a great way to make sure that the dress you buy meets your needs. Searching eBay is simple. Start on any page of the site using keywords to describe the dress, and do not forget to include the size. There are even daily deals to check out which save additional money and constantly change.
So much more than the clothing of ancient goddesses, the hot trend of Grecian-style dresses meets a lot of needs. Whether you are big or small, are looking for formal wear for your wedding or a simple outdoor party, the Grecian dress style works. In addition, a buyer who knows how to search for a Grecian dress on eBay saves on time and money.