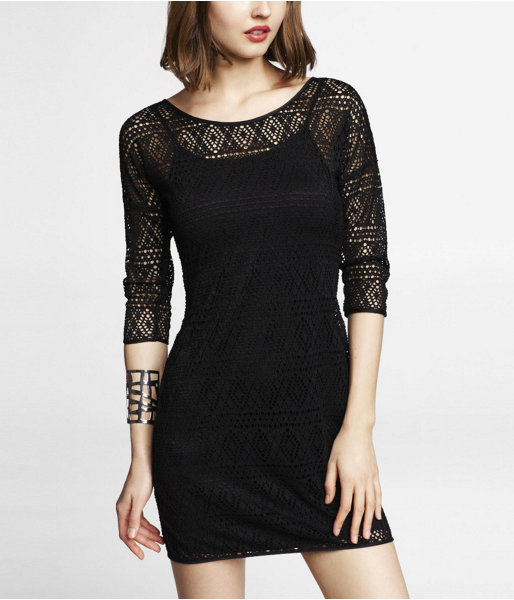 Lace is an elegant and luxurious material that dressmakers use to create stylish and feminine dresses. It is suitable both for a casual workday or a night out, depending on the style of the particular dress as well as its length and decorative details. You can pair a lace dress with jewellery, shoes, and makeup to create the best combination for your specific occasion. If you buy a black lace dress, you can use it as a basic black dress to fit many occasions. Measure yourself to find the correct size. In high street clothing stores, you can try the dress on, but you need know your measurements if purchasing the dress from an sites such as eBay.
Lace Dress Materials
A lace dress does not necessarily contain only lace, because this is quite a see-through fabric that requires pairing with other fabrics. Polyester, elastane, and cotton are the common materials for lace dresses.
Lace
Lace is an openwork fabric with lots of holes in it. Lace items feature many intricate designs and patterns, and the variety is endless because crocheting, knotting, weaving, and knitting processes all create different lace patterns. Thread material for lace varies, with nylon being a popular choice.
Polyester
Polyester is a synthetic fiber that is resilient, strong, resists abrasion, and dries quickly. Different forms of polyester feature in most man-made dresses, as polyester can be of any colour, and as slight changes in the fabric formula result in different properties.
Elastane
Elastane is a synthetic fiber that combines well with other fabrics and makes for a stretchy material. After stretching, the fabric returns to its original shape. You can find elastane in bodycon dresses, for instance.
Cotton
Cotton is a natural fiber from the cotton plant. People value it for its breathability. In a lace dress it mainly constitutes the lining, the part closest to the skin. Different weaves are available, and from this variety, satin is a favourite.
Lace Dress Features
When you are choosing a lace dress, you should pay attention to all the same details that you would with any kind of dress. It is important to consider the style of the dress, as well as the type of neckline, waistline, sleeves, and overall length.
Lace Dress Neckline
The type of the neckline determines how much of your neck and bust are exposed. For a conservative occasion, choose a lace dress with a more or less closed neckline, such as a high neck. Straight square, U-shaped scoop, V-neck, and boat neck necklines can have varying depths. Strapless necklines include strapless sweetheart, straight or curved strapless, and off-the-shoulder necklines. These are common on evening and summer dresses.
Lace Dress Sleeves
Your lace dress can be sleeveless or not, and can come with or without straps. It can bare lots of skin, or it can cover your arms fully. For summer and parties, opt for sleeveless and even strapless dresses, but go to the office in a casual lace dress that has sleeves, which can cover your arms to the shoulders, elbows, or all the way to the wrist. In winter, you can also wear a lace dress if it has a warm lining material and long sleeves.
Lace Dress Waistline
The waistline of a dress is close to your natural waist and may feature a seam where the bodice and skirt of the dress join. A dress with a natural waistline emphasises your natural shape. A dropped waist is below the natural waist at your mid hip, and it tends to make your upper body look longer. An empire waist is a raised waistline just below the bust, which helps to hides your stomach and generally goes with a flaring skirt that gives the dress a flowing feel. A princess waistline is an A-line cut that features vertical seams, lengthening the appearance of your body. A basque waist comes with a low V- or U-shape.
Lace Dress Length
Longer lace dresses have an air of elegance, while you can opt for a mini lace dress if you wish to achieve a playful look. Mini or above knee, midi, and maxi or full-length are the descriptive terms that refer to the dress lengths of short, medium length, and long, respectively.
Lace Dress Size
Dress sizes vary from country to country, as different standards are in use all over the world. The following chart lists dress sizes and gives their equivalents in different countries. The chart includes AU, US, and European dress sizes. UK sizes are the same as AU sizes.
| | | |
| --- | --- | --- |
| AU Size | US Size | European Size |
| | 1 | 32 |
| 6 | 2 | 34 |
| 8 | 4 | 36 |
| 10 | 6 | 38 |
| 12 | 8 | 40 |
| 14 | 10 | 42 |
| 16 | 12 | 44 |
| 18 | 14 | 46 |
| 20 | 16 | 48 |
| 22 | 18 | 50 |
| 24 | 20 | 52 |
| 26 | 22 | 54 |
The dress sizes may also vary by company, and thus they depend on the manufacturer and its standards. Rather than sticking to the size number, focus on the measurements, the widths around the hips, waist, and bust, as well as the dress length.
How to Buy a Lace Dress on eBay
If you decide to buy a lace dress on eBay, start searching by using the search box at the top of any eBay page. To get results, and deals, that best match your requirements, try to make the keywords as descriptive as possible, but do not overdo it, because search terms that are too specific may yield no results. After receiving the initial results, click on related searches to find your perfect dress. In the detailed item listing of a dress, you can browse the photos to see the style and decide whether it suits your needs and tastes. Read about the material and determine the size, paying attention to where the dress comes from, so that you can be sure of choosing the correct size, no matter what standards are in use.