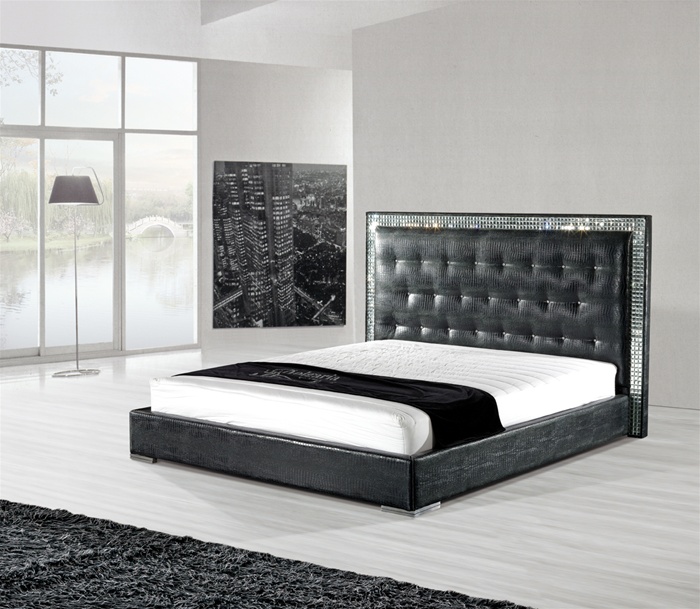 Leather bed frames are a luxurious choice for buyers hoping to change the decor of their bedrooms. Although a leather bed frame performs like any other frame, buyers have a number of specific concerns when choosing leather as a covering for a frame. Since leather is a natural material, it requires distinct care and changes subtly as time passes. Buyers can purchase leather beds from local furniture shops and bedroom specialty shops. Conversely, buyers who value the extensive offerings of online retailers can visit eBay to source a wide selection of leather bed frames. Before shopping, buyers should know which type of leather is applied to a bed frame, how a bed frame is sectioned, and which special features are commonly available to choose the best frame for their plans.
Leather Choices for Bed Frames
Fans of leather often believe that only natural leather products should be referred to as leather. Within the fashion and furniture industries, however, leather can include both real and synthetic materials.
| | |
| --- | --- |
| Types of Leather Used in Bed Frames | Features |
| | Made from real hide; typically has a smooth surface when used on bed frames |
| | A specific type of real leather that has a soft, napped surface |
| | An artificially-created leather-like fabric that is coated with solutions to simulate the look of real leather |
| | Made of polyester threads that are woven to create a surface that closely resembles the nap of real suede |
When deciding which type of leather to choose for a bed frame, buyers must frequently use price as a major determinant. Both genuine leather and suede are significantly more expensive than faux versions of these same materials. Additionally, real leathers age differently than faux leathers and require special handling.
Leather Aging Considerations
Buyers generally plan to have a leather bed frame for many years after purchasing a model. Because of this, they should know how real leather can change as it is used and exposed to the elements. In some cases, leather is valued for the patina that is created as it ages. The patina of leather is the dull sheen that develops over time on the leather's surface and the delicate variations in a leather's colouring that form when leather is handled. In addition, the texture of leather becomes softer as time passes. The malleability of real leather allows the seams used to sew it together to adjust to wear better than faux versions of leather, making it last longer before ripping.
Faux leathers do not change over time the way real leathers do but can experience age-related problems. Because the look of faux leather is created by a treatment that forms a hard exterior surface, it is prone to brittleness and cracking as it ages. As it experiences wear, faux leather can begin to lose its leather-like coating, which often flakes off in tiny pieces exposing the weave of its underlying fabric.
Leather Care Considerations
Buyers must use different care methods for real and faux leathers. Faux leather is easy to clean and generally only needs to be dusted off or wiped down with a moist cloth. Real leathers, on the other hand, need to be cleaned using special cleaners and treated periodically with a leather protector or conditioning oil to keep the leather in pristine condition.
Sections of a Leather Bed Frame
Manufacturers use a number of different sectional components to create a leather bed frame. Before shopping for a frame, buyers should become familiar with the section names and various features they can contain.
Headboards
The headboard of a leather bed frame stands at the top of a bed and is typically made using wood panels that are covered with leather. Manufacturers can use expensive hardwoods, especially on fine genuine leather bed frames, or softwoods, to construct a headboard. Padding is frequently layered over the wood panels to act as a barrier between the wood and the leather that covers it. To create a highly decorative finish, manufacturers often add extra padding to the face of a headboard and quilt the surface with stitching to form distinct shapes. Additionally, buttons made from leather can be added to a headboard for visual interest.
Footboards
The footboard of a leather bed frame can be tall like the frame's headboard or short, depending on the style of a bed. If the footboard is tall, it is padded and covered like a headboard.
Side Rails
The side rails of a leather bed frame run along the bottom of the frame's sides and connect to the frame's headboard and footboard. Although generally containing a plain finish, the side rails are often lined with a thin layer of padding to protect the leather. On the lower interior of the side rails, manufacturers can place metal or wood side railings to support a bed's mattress. Additional stability for the side rails can be provided by metal or wood support feet. Crossing from the left to right side rails are support beams that carry the weight of a bed's mattress.
Leather Bed Features
To increase the usability of a leather bed, manufacturers offer buyers some special features that can be beneficial. Bed frame drawers are popular because they afford buyers extra storage options within their bedrooms. These drawers are accessed from the sides or bottom of a leather bed frame. To give buyers access to the hard-to-reach floorspace under a bed, some leather bed frames are outfitted with a hydraulic bed lift. This lift is formed by separating the rails and support beams from the sides of a bed frame and creating an independent support structure. The support structure is then attached to hidden gas-filled struts at the top of the bed frame. When buyers want to access the area under the bed, they simply lift the bottom of the support structure and the gas-filled struts raise the bed's mattress upward from the bottom to the top.
Buying a Leather Bed Frame on eBay
Buyers shopping on eBay have an assortment of leather bed frame styles from which to choose that can match the decor of their established bedroom sets or help them to change the appearance of their bedrooms dramatically. Because eBay offers leather bed frames in a range of sizes, buyers should check a frame's product listing before making a purchase to ensure that they opt for the correct frame dimensions. Buyers looking for affordable leather bed frames can choose used frames or visit eBay Deals' Bedroom category for discounted models. If buyers select a used leather bed frame as a potential purchase, they should check the condition of the frame for evidence of wear, like rips or rough spots on the surface of the leather, before committing to a sale.
Conclusion
To create a stylish and lavish bedroom decorating scheme, buyers can purchase leather bed frames from eBay. These frames feature wood and metal support components that are covered with padded leather. Before shopping for a leather bed frame, buyers should be able to identify the types of leathers that can be applied to a bed frame. Genuine leather products are the most luxurious, but require special care to stay in optimal condition. Conversely, faux leather products are easier to afford and clean, but lack the unique properties that make leather desirable. Leather bed frames are composed of individual sections that can be designed in a number of ways depending on a frame's styling, and may also contain special features that increase a frame's convenience.