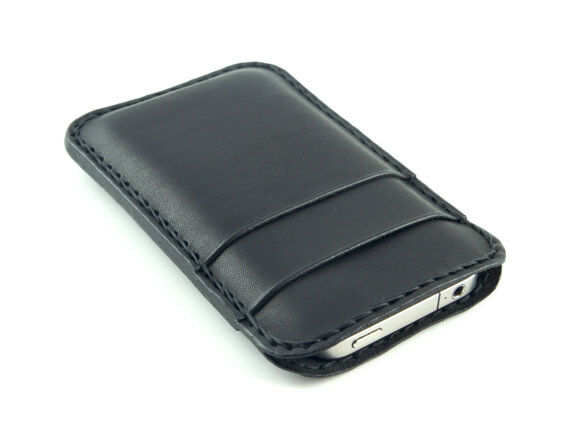 Buying a leather case for an iPhone 4 is a very good idea. A leather case will help keep the device safe from scratches, cracks and other forms of damage, as well as keeping the screen clean and free of dirt. There are a number of different types of leather case that can be bought for the iPhone 4, and this guide will examine the most popular. This guide will also detail how to find a desired case on eBay.
iPhone 4 Leather Case
People buy cases for their smartphone mainly for one of two reasons. Some are looking to protect the device from damage while others wish to increase the aesthetic value of the phone. Most cases are manufactured to do one or the other, but leather cases have the advantage of being able to fulfil both needs. Leather cases are extremely popular with iPhone 4 owners of all ages, and as a result there is a large market of products to choose from. Buyers can choose between real and faux leather, and there are a multitude of colours, designs and finishes to pick. The following are among the most popular types of iPhone 4 leather cases sold today.
| | |
| --- | --- |
| Flip Cases | Flip cases are probably the most common type of leather case bought for iPhone 4's. A flip case features a two-panel design, where the device is kept in one side while the other closes over the phone to protect it, much like a book. The flip side can close horizontally or vertically, and such cases are generally available for very low prices. The flip cover is kept in place by use of a latch or a magnet, and this design helps keep the device clean. Many flip cases incorporate hard panels to offer maximum protection against the damage that can occur if the device is dropped. Flip cases also tend to have a small opening for the rear camera so users can take a picture without having to remove the device from the case. |
| Wallet Cases | Wallet cases are also extremely popular, and are available in designs for men and women. A wallet case is similar in design to a traditional leather wallet, but is larger in size. One side of the wallet is used to hold cards, identification and money, whilst the other is used to store the user's iPhone. This is very handy, as it allows the user to keep all their valuables in one place. The only disadvantage that may arise from using a wallet case is if the user is pick-pocketed they will lose their phone as well as their money. Wallet cases for women are available in larger styles that resemble a woman's clutch. |
| Holster Cases | Leather holster cases are very practical and are favoured by those who work in manual sectors and building professions. A leather holster case is attached to the user's belt and allows for easy access whilst keeping the phone secure and safe from damage. |
Buying Leather iPhone 4 Cases on eBay
There are numerous places where buyers can find leather cases for their iPhone 4, but no store or website has as many to choose from as eBay. Buyers will also find that the cases sold on eBay are done so for very reasonable prices, often much lower than those found elsewhere. To start a search for a suitable leather iPhone 4 case, head to eBay.com.au and take the following steps.
· Once the homepage has loaded, drag the cursor down to the Electronics title on the left hand side of the page, and click on the Mobile Phones & Accessories link in the drop down menu.
· On the following page, click on the Cases, Covers, Skins link found in the Mobile Accessories tab. This will load the relevant listings page.
Scroll down and click on the For Apple filter found under the Compatible Brand heading in the Categories table on the left hand side of the page.
· Type the name of the desired case into the search bar and press enter e.g. iPhone 4 Leather Flip Case.
· Buyers can use the Condition filter in the Categories table to browse through used leather cases.
Buyers should also visit eBay Deals, which is a section of the website that sells stock at a reduced price. New content is constantly being added, and this includes smartphones and smartphones accessories. To find the appropriate page, first click on the Deals link found at the top of every page, followed by the Mobile Phone Accessories title in the Electronics tab.
Conclusion
Buyers looking for a case for their iPhone 4 are strongly advised to consider purchasing one made from leather. There are different types of leather case that can be bought, each offering a relatively good amount of protection, whilst also remaining quite aesthetically pleasing. Buyers should decide which of the three types of leather case would be most suitable for them, and they should also visit eBay Deals as they might find their desired case for sale here at a reduced price.