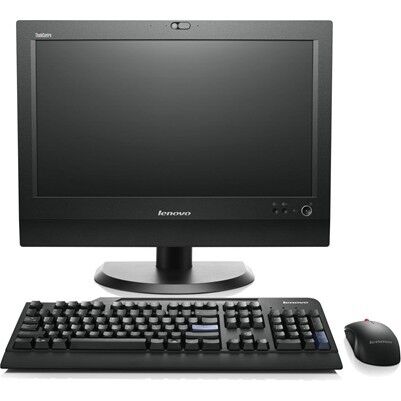 These days a desktop is more than just a device to send a few emails and write a couple of documents on. A desktop is often the hub of the household and where the family go to connect to their friends, find out the latest news, shop, watch television and to work.
Lenovo is a reputable manufacturer of desktops and there are many different types of Lenovo desktops available on eBay. This guide will help buyers choose the perfect affordable desktop to suit their needs and give advice on how to buy one safely and securely through eBay.
Different Types of Lenovo Desktops
When buying a Lenovo desktop on eBay, the first thing buyers have to consider is what sort of desktop they want and there are a large number of different styles to choose from.
The table below describes the different forms that Lenovo desktops are available in:
Form Factor

Description

All-in-one

· The computer's components are in the same case as the display.

· This means the computer can be easily moved.

· Some all-in-one computers have a touch screen.

Compact

· The compact has all the power and performance of larger desktops but in a smaller box.

· They're energy efficient and able to be moved around easily.

· Can fit into small spaces and are ideal when space is at a premium.

Small Form Factor

· The small form factor is ideal for an office.

· Lighter and smaller than traditional larger desktops.

· Can be stored either horizontally or vertically.

Tower

· Tower PCs are the most powerful type of computer and contain a variety of components.

· Most will have slots that allow expansion and to add extra memory at a later date.

· Ideal for a home office where there is a lot of space.
Lenovo Desktop Specifications
When buying any type of desktop it's essential to understand the different components that make it up. The table below explains each component in detail.
Specification

Description

Processor

· The processor controls the computer's processes and is essential to a computing working at speed.

· Each processor is measured by the speed at which it can process data.

· Processor speeds are given in gigahertz (GHz).

Operating system (OS)

· An operating system is the main piece of software that manages a computer.

· All computers require an OS as programs need it to function.

· All Lenovo desktops run on the Windows OS. Which version it is running depends on how old the computer is.

· Expect to find Lenovo desktops running the following versions of Windows: XP, Vista, 7, and 8.

· Research the various OS versions to see which fits your needs.

Memory (RAM)

· RAM is measured in either megabytes (MB) or gigabytes (GB).

· It is the amount of memory available for real time processes.

· The more programs or files open on a computer the slower it will run and extra RAM should be bought to negotiate this problem.

Storage

· The amount of space available for programs to be stored on a computer.

· Usually given as hard drive size and measured in either megabytes (MB), gigabytes (GB) or even terabytes (TB).

· Desktops with smaller hard drives can be upgraded by buying an external hard drive.

Graphics

· Most computers come with a graphics processing unit (GPU) known as a video card.

· This is an essential item as it controls what users see on the monitor.

· For buyers that plan to watch numerous films and play games on their computer, make sure that the desktop has a high performance graphics card.

Ports

· Ports are used to connect external devices to the computer.

· Most computers come with a USB, VGA and DVI with some featuring an HDMI port.

Optical drive

· Optical drives are used to insert disks such as DVDs.
Lenovo Models
Lenovo offers a variety of different models with each one catering to a different type of user. The table below will help buyers decide the series that is best for them.
| | | |
| --- | --- | --- |
| Series | Form Factors Available | Best for |
| Think Centre | | · Small businesses or an IT department. |
| Idea Centre | | · Families, at home and small spaces. |
| Essential | | · Best for families and those on a budget. |
| Erazer | | |
How to Buy a Lenovo Desktop on eBay
There are many Lenovo desktops used and new available on eBay waiting to be bid on. It's always a good idea to check a seller's feedback rating before bidding on any item. Generally eBay sellers are always on hand to offer advice and answer any questions concerning their items:
· To find a Lenovo desktop start off on the eBay home page by clicking on 'Electronics' and then choosing 'Computers & Tablets'.
· Buyers will see a list of categories under the heading 'Computers' and from here should select 'Desktop PCs'
· A wide variety of parameters will appear on the left hand side of the next page and underneath 'Brand' buyers should select 'Lenovo' to see all of the Lenovo desktop computers for sale on eBay.
Some of the best deals on computers can be found on the eBay deals section of the site with some big discounts on Lenovo desktops. Everything in this section also benefits from free postage.
Conclusion
Buyers that are looking for their first computer, a family friendly device or a professional model, will find that Lenovo desktops are a good place to start. There are many devices available on eBay so be sure to closely read the seller's description and triple check the specifications listed.
There are pros and cons to most devices so always check with the seller if any questions come up. Once you have chosen your perfect desktop complete the transaction using PayPal as it's the safest method to use when it comes to online transactions.