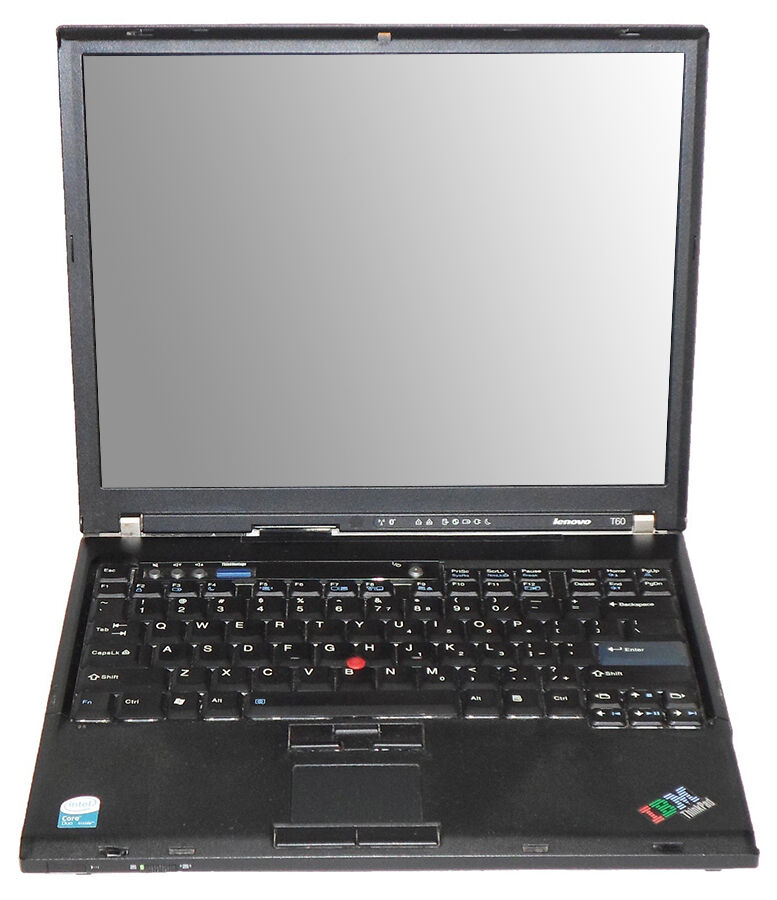 The ThinkPad line of computers was an original product of IBM's hardware division, however in 2005 Lenovo acquired the range. Since then the product line has been taken in a new direction, while still respecting IBM's stable hardware traditions. TheLenovo T60 currently leads the ThinkPad model line and is a laptop that shoppers should consider when looking for a new mobile computing device.
Design
When it comes to the ThinkPad range, the T60 is classed as the premium option. In design it sticks to the traditional all-black layout that IBM favoured and Lenovo has furthered. It has a shell-like structure, meaning that it is highly durable and has workhorse qualities. Users can be assured that the Lenovo T60 will stand up well against heavy use.
In appearance it looks no different to any of its ThinkPad predecessors, as it uses the same hardened plastic that has made the series so recognisable. This includes the incorporation of a magnesium reinforced lid and a spill proof keyboard. The spill proof keyboard is a unique feature that helps drain liquid away from the machines key components in the event of a spill.
The most unique feature of the Lenovo T60 is its incorporation of APS (Active Protection System), which detects when the laptop is dropped or in free fall. When this occurs APS will stop all HDD activity prior to impact, meaning that vital data remains protected.
Specifications
The Lenovo T60 was one of the first Intel Core Duo processor based laptops to hit the market, and it is that 2.0GHz basis that makes it perfect for multi-tasking. The model features an ATI X14000 128MB graphics card (meaning that it can handle high-end applications with ease) that compliments a T2500 processor. The inbuilt storage is 100GB, which means there is plenty of room for software and media.
Video and Audio
Laptop screens and their quality are a hotly debated topic; with companies each having a different opinion on what makes a screen great. Lenovo have opted for a creation all of their own, it incorporates SXGA+ and FlexView technology. When these two technologies work in unison it means that users can view the screen from any angle, without suffering any loss in viewing quality. It makes movie viewing easier as a group of people can watch all at the same time without suffering view distortion. The speakers on the T60 are located to the front right of the machine. They deliver stereo sound that maintains its quality even at the highest point of volume.
Connectivity
As mobility and portability become ever important in the world of computing, laptop companies like Lenovo have done all they can to keep up with advancements in PC technology. The Lenovo T60 features 3 USB 2.0 ports, stereo speaker port, headphone output; microphone input, 2 Ethernet LAN ports and a CRT port to allow output to an external monitor. The Lenovo T60 is unique in the sense that it has 2 Ethernet ports; this is so users can use one port for a standard LAN connection and the other for high-speed data transfer.
Software
Prior to purchase, users will need to decide whether they wantWindows XP Home or Windows XP Pro as their operating system, with the later incurring an added expense. Outside of that, users can expect to find a large Google presence on the Lenovo T60 with Google Desktop Search and Google Toolbar both initially installed by default. In general, the machine sticks to IBM's original ideals of not loading the machine with third party software. Upon first start-up, the machine remains in a bare state, which offers more freedom to the user.
Warranty
Lenovo pride themselves on producing hardwearing laptops that stand the test of time. They stand by all their products, including the T60, by offering a minimum of one-year warranty on all units. They also offer a warranty on the battery itself, making sure that all bases are covered in the event of something going wrong. However, shoppers should remember that these warranties only apply to new units, and if a T60 is purchased used; the warranty may have run out or need renewing.
How to Buy a Lenovo T60 on eBay
In the realm of online shopping there is no shortage of retailers selling Lenovo T60 laptops. However when it comes to getting a great deal there is one retailer that should be the first port of call for all shoppers. eBay has become a leader in laptop sales, and shoppers are sure to find the Lenovo T60 at an affordable price. In order to find a Lenovo T60 log-on to eBay's homepage and select theComputers and Tablets portal, and then the Laptops and Notebooks sub-portal.
If you still can't find what you're after via the portals, try searching for it using the keyword search bar found at the top of every eBay page. The user should type in "Lenovo T60" and hit search in order to see more focused search results. After finding a Lenovo T60 opt to put through payment withPayPal to ensure maximum buyer protection.
Conclusion
The Lenovo T60 looks like its ThinkPad predecessors, but underneath it offers much more and stands as a testament to how the ThinkPad series has evolved. With its introduction of new screen technologies, the T60 is the perfect option for those who are looking to either upgrade or replace their current laptop. When looking to acquire a Lenovo T60, the first place anyone should look is eBay, the worldwide leader in electronics and computer sales.