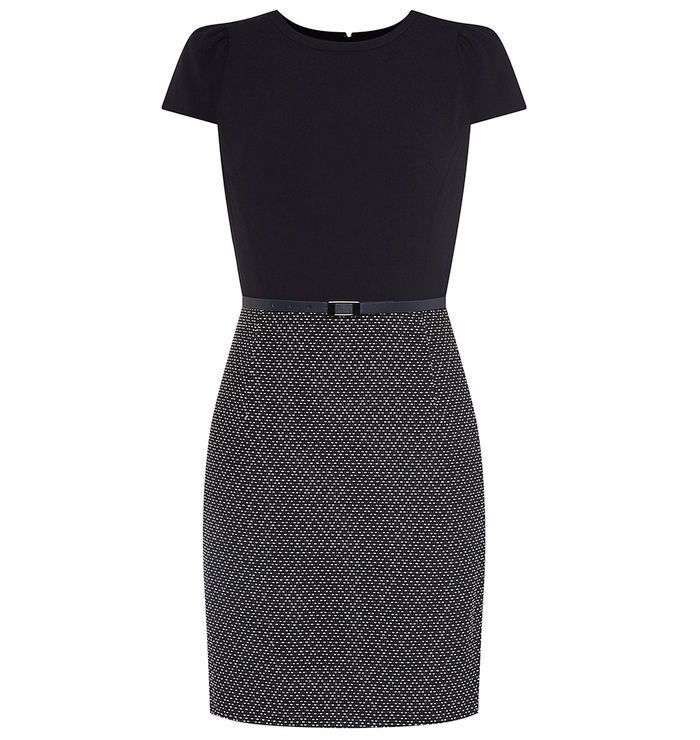 If you are a fan of classic dresses, then consider shopping for a MARCS dress. Started by Mark Keighery back in 1979, MARCS began their business by offering classic men's shirts. Over the years, they have expanded into women's dresses, shorts, bags, shoes, and accessories, among others. MARCS is known for its luxury basics and clean, modern lines. Whether bought from traditional brick-and-mortar shops or on eBay, when buying a MARCS dress, it is vital to take a look at a number of factors including the different styles, length, material, colours, and patterns. Before purchase, you should also know their sizing guide to ensure a great fit. Those who are thinking of buying a pre-owned MARCS dress should also know how to evaluate it.
MARCS Dress Types
MARCS dresses are available in wide variety of styles, ranging from below-the-knee to above-the-knee in length. When it comes to materials, MARCS can come in silk, cotton, nylon, polyester, viscose, rayon, tencell, and lace, among others. As for colours and patterns, the designer brand features navy, lime, floral bloom, indigo,stripes, white, animal jacquard, red, black, orange, chintz bloom, and more. Knowing the different styles that MARCS offers is a great way to discover the one best suited to your body.
Type

Description

Short and simple

Hangs loosely from the shoulders

No defined waistline

Above-the-knee hemline

Sheath

Hugs the silhouette

Defined waist

Usually with a belt

Back slit or pleat on the skirt

Creates an hourglass shape

Above-the-knee or knee length hemline

Flowy and short

High-waisted and flared

Normally pleated and belted

Above-the-knee hemline

Fit and Flare

Above-the-knee or mid-calf hemline

Nipped at the waist

Flatters nearly all body types

A-line skirt
These are just some of the dress styles offered by the brand. At the end of the day, choosing a MARCS dress depends on the shopper's individual style and budget.
MARCS Size Guide
Wearing the right size for your body type makes all the difference. Dresses fit properly when they skim the woman's body and follow her curves. While some women are able to try on the dress before purchase, those who plan to take advantage of online deals must consult a size guide.
| | | | |
| --- | --- | --- | --- |
| Australian Size | Bust | Waist | Hip |
| 4 | 77.5 | 57.5 | 85.5 |
| 6 | 80 | 60 | 88 |
| 8 | 85 | 65 | 93 |
| 10 | 90 | 70 | 98 |
| 12 | 95 | 75 | 103 |
| 14 | 100 | 80 | 108 |
Women can choose from six different sizes for their MARCS dress. If there is no size that perfectly fits your body, buy the larger dress size and get it altered by your tailor. Generally, it is easier to take a dress in than to let it out.
Evaluating a Pre-Owned MARCS Dress
If you are working with a budget, consider buying a pre-owned MARCS dress. Generally, these dresses are gently used and in excellent condition. Not only are most in great shape, but they are also available for a fraction of what they would cost brand new. When buying a pre-owned MARCS dress, there are some things that you must always keep in mind.
Know the Retail Price
Before buying a pre-owned dress, it is important to have some familiarity with the dress styles and retail price. This prevents you from paying for more than you should. For example, MARCS dresses have a retail price that generally ranges from $150 to $400 AUD. After being used, however, they can sell for 20 to 50 per cent lower than the retail price. If the dress is old and damaged, the discount can be as much as 90 per cent off. Buyers who are familiar with MARCS dress styles and designs should be able to tell if they are overpaying for a particular dress.
Inspect for Damages
When shopping for a pre-owned dress, make sure to inspect for tears, holes, snags, and fading. If the design includes embellishments like sequins, beads, and buttons, check for missing pieces. Some of them may not be apparent immediately, especially if the item is being examined based on photos. Women who are buying a MARCS dress online should ask for as many photos as possible, from all angles. You may also want to get close-ups with beads and sequins. When buying pre-owned dresses online, you should know exactly what you are getting.
Ask About the History
Apart from just requesting dress measurements from the seller, another important question to ask is about alterations. To make a dress fit better, previous owners may have gotten the dress altered to their body size. This means that if you buy based on the dress size indicated at the back of the dress, you may end up with something unexpectedly larger or smaller. To avoid surprises, ask the seller about the history of the dress. If you need to use the dress immediately, find out if the dress has already been dry cleaned. Lastly, knowing the number of times that the dress has been used should give you an idea of the dress condition.
How to Buy on eBay
Browsing for MARCS dresses on eBay is convenient and hassle-free. Locate the search field found on all the eBay web pages and type in the particular dress that you want. When you get the search results, you can narrow them down even further based on colour, price, condition, and location, among others. To ensure a positive experience, make sure to transact only with sellers that have a minimum of 99 per cent feedback rating. Those who are looking for pre-owned MARCS dresses should ask the seller as many questions as necessary through the provided link found on the product listing. Lastly, make sure to take a look at eBay deals on Women's Clothing to check for MARCS dresses.