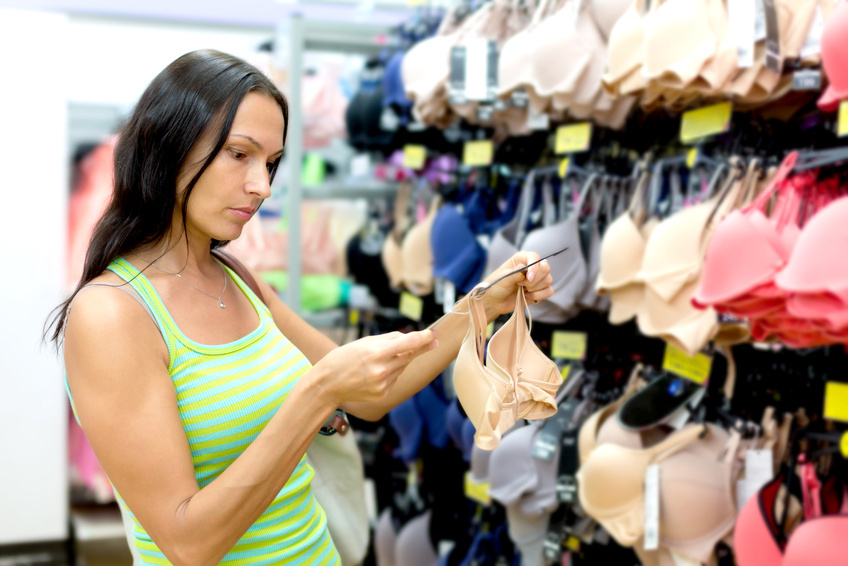 Cancer is an emotional journey for any person, and especially for women who have suffered from breast cancer. The removal of cancerous tissue is a necessary procedure and it can leave many women with uneven breasts. Those who have not undergone reconstructive surgery or those who are in waiting to have surgery have the option of wearing a mastectomy bra.
A prosthetic breast is used in conjunction with a mastectomy bra to recreate the appearance of natural breasts and restore a woman's confidence. This guide will cover the different types of mastectomy bras available and how to look for them on eBay.
What is a Mastectomy Bra?
A mastectomy bra is for those who have had breast tissue removed due to cancer related illness. The bra is similar to normal bras but it has the extra feature of fabric pockets sewn into each cup in the bra. This allows the breast prosthesis to be placed inside the pocket and give the impression of a bust. The mastectomy bra comes in different sizes, designs and some may only have a pocket in one cup where women have only one breast removed.
Fitting a Mastectomy Bra
It is important that the bra is fitted when the healing process has finished; the body shape may still change due to swelling etc. The hospital will typically provide the breast inserts and a basic bra, but if the buyer is wishing to purchase a new one the buyer has two options for fitting a new mastectomy bra:
· They can go to a professional fitter
· They can measure themselves at home.
The process of measuring for a mastectomy bra is no different to measuring for a normal bra. If the buyer has had a double mastectomy the only measurement they will need to take is around their body an inch below the bust. They can choose the cup size they prefer but it is best to take into consideration their height and weight. This will help keep the look natural. If only one breast has been removed the following steps can help measure for a mastectomy bra:
1. Wearing a bra and breast insert on one side, take a tape measure and measure around the body at the base band of the bra. Take this measurement in inches. This is the band size.
| | | | | | | | | | | | | |
| --- | --- | --- | --- | --- | --- | --- | --- | --- | --- | --- | --- | --- |
| Band Measurement (inches) | 27 | 28 | 29 | 30 | 31 | 32 | 33 | 34 | 35 | 36 | 37 | 38 |
| Buyer's Band Size | 30 | 32 | 32 | 32 | 34 | 34 | 34 | 36 | 36 | 38 | 38 | 40 |
2. Take the tape measure and measure from the middle of the back around to the front of the bra, finishing at the fullest part of the natural breast. Double this measurement. To calculate the cup size the buyer needs to subtract the first measurement from the second. This will give a smaller number which will indicate the difference, this is used to find the cup size. The following table shows the cup sizes:
| | |
| --- | --- |
| Difference between two measurements in inches: | Standard Cup size |
| 0"-1/2" | AA |
| ½" 1" | A |
| 2" | B |
| 3" | C |
| 3" | C |
| s4" | D |
| 5" | DD/E |
| 6" | DDD/F |
| 7" | G |
| 8" | H |
| 9" | I |
| 10" | J |
For example, if a buyer measures the band measurement as 33", this is 34" on the bra, and if the bust measurement is 38", their bra size would be 34D. This is however only a guideline; it is recommended that the buyer try several bras in that size to see how they fit and feel. Good fitting bras will give a smooth silhouette.
What to Look For In a Mastectomy Bra
When looking for a mastectomy bra there are some important factors to consider. These will help the buyer decide which bra is best suited to their needs:
· Pre-Surgery Size: if a woman is of small build she may only need a smaller sized bra as anything too large will not look natural on her figure. This will also apply to those who had larger bra sizes before surgery, anything too small will look unbalanced in relation to the rest of the body.
· Balancing the Prosthesis: The size and weight of the prosthesis needs to be taken into account when selecting a mastectomy bra. Women who are small chested may not need a heavy prosthesis (a foam one may suffice), but those who are larger chested will need a more weighted breast prosthesis as this will help physically balance the woman's body.
· Style of Bra: The buyer may want a sports style mastectomy bra, these are generally very comfortable and are good for women who are active. These types will stop the breast inserts from moving around during activity. Mastectomy bras also come in feminine styles features lace and smooth satin like materials.
Different Types of Mastectomy Bra
As every woman's experience with cancer will have been different, so will bust be different to others. Mastectomy bras are therefore available in different types to suit individual needs:
| | |
| --- | --- |
| Post-Surgery Mastectomy Bra | This type of bra is wide and made from supportive soft fabric. Most of these types will unhook at the front to allow easy access to the chest area as the patient may not be able to move their arms after surgery. |
| Front Closing Mastectomy Bra | This bra will open and close at the front and this is down to personal preference of the buyer. |
| Back Closing Mastectomy Bra | Like a typical bra that secures at the back this is also down to personal preference of the buyer. |
| Pocket Mastectomy Bras | All mastectomy bras will have a pocket in one cup or both to allow the buyer to insert their chosen breast prosthesis. |
| Mastectomy Swimwear | This is a typical swimsuit but with pockets in the chest area which allows the user to take part in normal swimming activities. Styles will vary and also come in bikini form. |
| Mastectomy Camisole | These type of camisoles offer the buyer an alternative to having the breast inserts so close to the body or having to wear a mastectomy bra. These camisoles are also used for post-surgery and may have modest lace panels to help cover any scars. |
Buying a Mastectomy Bra on eBay
Mastectomy bras are widely available in shops but for a person recovering from cancer the process of finding one can be exhausting. Looking online is a good solution as it offers the buyer the opportunity to compare styles and prices. eBay is a fantastic buying platform for women looking for the right mastectomy bra.
The following steps will help the buyer get started in their search:
· When looking for a mastectomy bra the buyer can use terms such as 'post-surgery mastectomy bra' if they have a rough idea of what they want. Other searched likes could be done on the size of bra '34A Mastectomy Bra' or by colour of the bra 'Nude Mastectomy Bra'.
· The buyer can also use the categories to further refine their search by selecting the Women's Lingerie, Intimates category and then clicking on the Bras section. This is best used in conjunction with the search word function.
· There are also many handpicked deals that are exclusive to eBay. Deals can offer the buyer fantastic savings and will have features such as free postage. Look out for the latest deals on mastectomy bras.
· To complete a transaction with ease and confidence it is important that the buyer readers the item's description over carefully, especially with mastectomy bras. To keep the payment secure the buyer should only complete the transaction in eBay and use a protected payment method like PayPal.
Conclusion
Dealing with the after effects of cancer is no small matter; a woman's self-confidence can be shattered when her figure is no longer symmetrical. Mastectomy bras and even mastectomy swimwear offer a woman the chance to resume everyday life looking as she did before the surgery. Mastectomy bras are especially designed to hold breast inserts and support what remains of the breast tissue. eBay is the ideal place for a woman to find a good fitting mastectomy bra that will suit all her needs.