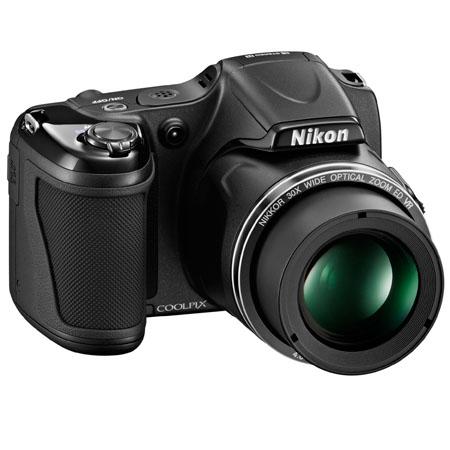 When buying a new camera, there are countless options available to choose from. Knowing the ins and outs of the market, the features available and their relevance can make the buying process much easier. This guide will focus on the Nikon Coolpix L820 in particular, but will also give general advice about features of cameras to look out for when making a purchase. It will also detail how to purchase a camera on eBay.
Key Features of the Nikon Coolpix L820
The most important thing to understand when purchasing any camera is the use to which it is going to be put. There's the world of difference between a simple point-and-shoot camera and a high-quality DSLR with countless functions. Once the key features have been understood, it is much easier to make a decision as to whether the Nikon Coolpix is the right camera for a customer's needs. Below are listed some of this Nikon camera's key features:
16.0 Megapixel
30x Optical Zoom
· 3.0" 921k-dot LCD Screen
· Lens-Shift VR - Vibration Reduction
· Full HD 1080p Video Recording
Side Zoom Lever
HDMI Connectivity
This is quite an impressive spec for a camera in this price bracket, so to understand it better, some of the key features will be examined in greater detail:
Megapixels
Megapixels relate to the number of millions of pixels that an image will display. So for example, this Coolpix L820 takes images using 16 million pixels. The number of pixels determine, to a degree, the sharpness of an image and the amount of detail that can be displayed in certain resolutions on displays and in prints. The table below is a rough guide as to how many megapixels are needed in order to get the best out of any given medium:
| | |
| --- | --- |
| Viewing On | Megapixels Needed |
| Computer Monitor / Online | 1-3 megapixels |
| 6×4 prints | 2 megapixels |
| 10×8 inch prints | 5 megapixels |
| 14×11 inch prints or larger | 7 megapixels |
It may then seem as if anything above 7 megapixels isn't particularly useful, however the beauty of cameras with more than that number is that much more can be done in post-production. There is more freedom to crop an image or zoom into a certain part of it without losing the quality or the image becoming pixilated.
Optical Zoom
Nearly all digital cameras have some sort of zoom function, and the Coolpix L820 offers a fantastic 30x optical zoom. This means that objects can be zoomed in on to get the perfect shot. On more advanced cameras, DSLRs for example, different lenses with different zooms, apertures and focal lengths are used to capture the best possible image, but for a compact such as the L820, a 30x zoom is perfect for most shooting needs.
LCD Screen
The 3 inch LCD screen displays not only the options and settings for the camera, but also the shots that are stored on the memory card. This makes capturing the perfect image easier, as multiple shots can be taken and examined before being improved upon.
Vibration Reduction
Keeping a perfectly steady hand isn't always easy, and any movements are exaggerated when fully zoomed. Vibration Reduction technology helps to reduce noise on images when the user's hand is moving. However, to get perfectly sharp images, a camera tripod would be a better option.
Video Captures
Many people are now looking for digital cameras that can offer a high quality of video captures as well as for photography. The Coolpix L820 has high-definition video recording at 1080p (full HD). This makes it ideal in any situation, where both stills and videos are required. The HDMI connectivity means that displaying the captures images and videos on a high-definition display is easy.
Buying Considerations
Before making a purchase on eBay, there are some points to consider first. These are outlined below:
Price Range
When making any purchase, it is always a good idea to research the market first and come up with a budget. With this in place it is easy to set savings goals and get the best possible deal.
Condition
On eBay it is possible to purchase items that are both new and used. When buying a digital camera, it may be more efficient to purchase a used camera, as quite often the customer can get more camera for their money. However nothing quite beats having a brand new unit to play with.
Purpose
Determining in what conditions a camera will be used is really important. Those looking for a simple point and shoot will have different needs for someone who is obsessed with lens and sensor quality. The Coolpix falls somewhere in between these two needs.
Buying a Nikon Coolpix L820 on eBay
Purchasing a camera on eBay couldn't be easier once a customer has decided on what they want. Cameras can be found in the Cameras & Photography section of the Electronics category. Once here, there are a few site features that help with the buying process:
Left-refines
These are filters that help the customer display only the items that are relevant to them, examples are price range, condition and brand.
Product Pages
Each product listing has its own page where a full list of details and images can be found, along with information about the person or company selling it.
Sellers
Sellers have their own pages too, where new customers can see previous customer'sratings of that seller, as well as options for contacting the seller to ask about an item.
Buying Options
It is possible to bid in an auction or to buy it now, depending on what the item is listed as – it couldn't be simpler.
Conclusion
The Nikon Coolpix L820 is a solid mid-range camera. With a number of great features, it will suit the average user. On eBay it is possible to find the camera, as well as memory cards and cases, with ease. All customers are protected by the buyer protection programme.