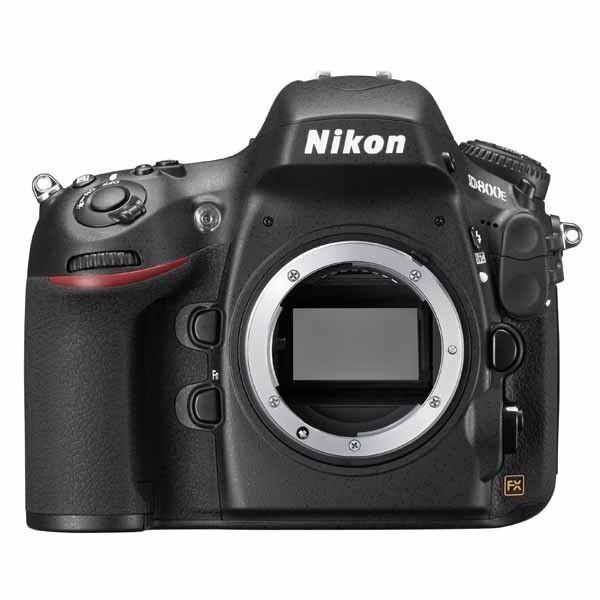 The Nikon D Series D800 Digital Single-Lens Reflex (DSLR) camera was one of the most popular released in 2012. Canon had quite a few tough competitorsthat are comparable to the Nikon D800, but there were still millions of people that chose the Nikon D800 instead after it was released in March. This award-winning camera has a wide variety of features and capabilities that make it one of the most valuable cameras available today.
Basic Specifications
| | |
| --- | --- |
| Megapixel Count | 36.3 megapixels |
| Total Pixel Count | 36.8 megapixels |
| Sensor Size | 35.9 mm x 24 mm |
| Image Sensor Type | CMOS |
| Image Sensor Format | FX |
| File Format Still Images | JPEG, NEF (RAW) and TIFF (RGB) |
| Storage Media | CompactFlash, SD, SDHC and SDXC |
| Picture Control | 7 different modes (Landscape, Portrait, Vivid, etc.) |
| Lens Aperture | Instant-return type |
| Self-Timer | Electronically controlled duration: 2, 5, 10 and 20 sec. |
| Shooting Speed (max) | 4 frames/second (continuous) |
| Exposure Modes | 4 different modes (Aperture-Priority, Shutter, etc.) |
| ISO Sensitivity | ISO 100-6400, Lo-1 (50), Hi-1 (12,800), Hi-2 (25,600) |
| Autofocus Points/Areas | 51 |
Most comparable models that have been released by Nikon's top competitors, such as Canon, do not provide built-in flash units within their top-selling cameras. Nikon's line of leading DSLR models, such as the D800, does have a built-in flash and has a maximum distance of 39 feet. The Viewfinder on the Nikon D800 DSLR is very impressive as well.
· Pentaprism (eye-level) SLR viewfinder
· Magnification: 0.70x (approximate)
· Eyepoint: 19.5 (-1.0)
· Diopter Adjustment: Built-in adjustment (-3 to +1 m)
When most consumers shop for digital single-lens reflex cameras, one of the most significant features that they pay close attention to when shopping is the actual shutter. The Nikon D800 has one of the best shutter types and speeds that are currently available in today's market. For instance, it is programmed with six different release modes, including self-timer, quiet shutter and mirror-up modes.
· Type: vertical-travel focal-plane (electronically controlled)
· Fastest Speed: 1/8000 sec.
· Slowest Speed: 30 sec.
· Flash Sync Speed (max): 1/250 sec.
· Setting for Bulb Shutter: Yes
In addition to its photographic capabilities, the Nikon D800 is also a popular device that is used by digital videographers as well. There are many different capabilities and features that have been programmed within this DSLR that makes it a versatile tool to have for this particular profession as well.
| | |
| --- | --- |
| SPECIFICATION | DETAILS |
| Movie Frame Size | 1280 x 720 & 1920 x 1080 |
| Recording Time (max) | 20 minutes (high-quality); 30 minutes (normal quality) |
| Audio Recording | Monaural microphone (built-in); external mic optional |
| File Format | MOV |
| Metering | TTL exposure metering through main image sensor |
| Video Compression | Advanced Video Coding (H.264/MPEG-4) |
| Movie HD Resolution | 1,280 x 720 (24, 30, 60 fps) /1,920 x 1,080 (24, 30 fps) |
Exploring the Available Accessories
A major selling point of the Nikon D800 DSLR is that it comes as standard with quite a few different accessories that can improve the performance and efficiency of this specific model. These included accessories include:
· camera strap (AN-DC6)
· rechargeable Li-ion battery (EN-EL15)
· battery charger (MH-25)
· USB cable (UC-E14)
· LCD monitor cover (BM-12)
· camera body cap (BF-1B)
· accessory shoe cap (BS-1)
There is also an extensive list of types of optional accessories that can be purchased separately in order to enhance the efficiency of this model even further. These various types of accessories include:
· speedlights and flashes
· stereo microphone
· eyepieces and viewfinders
· releases and remotes
· upgraded NIKKOR lenses
· wireless transmitters and accessories
· GPS units and accessories
· camera cases and straps
· battery packs and AC adapters
· compatible cables and cords
How to Buy a Nikon D800 on eBay
There are quite a few Nikon D800 cameras that are currently available for sale on eBay. In order to access the complete listing of options, go to theeBay homepage and search for relevant keywords and phrases. For example, searching for such phrases as "Nikon D800 camera" or even " Nikon D Series D800 DSLR" will generate an extensive listing of the available models. To explore a general listing of all Nikon D Series cameras available, you can simply search for " Nikon D Series DSLRs" and explore all of the options that appear.
Searching through categories will provide shoppers with a general listing, but using the filtered view allows them to streamline these general lists to focus solely on the models with the requested specifications. These filter options include such factors as the:
· optical zoom
· listing format
Focus on purchasing the Nikon D800 from a top-rated seller that has established a solid reputation of positive feedback, reviews and ratings over the years from past customers. To maximise savings, find deals that offer free shipping and expedited processing schedules. Doing so will make it much easier for the average consumer to find a great deal on the Nikon D800 within just a few minutes by using this website.
Conclusion
Nikon has been able to raise the bar of expectation over time for consumers and critics alike, especially when it comes to their expanding line of high-end quality DSLR cameras. One of their newest models available, the Nikon D800, has impressed millions of people around the world since it was initially released in 2012. There is also an extensive catalog of standard and optional accessories that make it even more of a good investment choice.