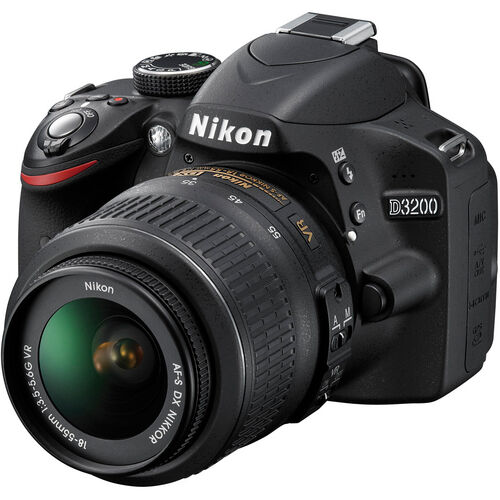 The D3200 is another edition to Nikon's DSLR entry-level catalogue. This Single-lens reflex camera offers the user 24.2 megapixels, a light weight body and high-speed continuous shooting at 4 frames per second. The camera is targeted at both experienced photographers and beginners and is fully HD (1080p). A D3200 has optional WIFI capabilities that enable the user to instantly share their images with family and friends. A wide variety of SLR cameras are available to purchase on eBay.
Buying Considerations of the Nikon D3200
There are several factors that must be taken into consideration when selecting which SLR camera to purchase. The cost of the camera is important; having a budget in mind can help with the selection process. On eBay particularly, filtering the results page according to the price can remove any devices that are out of your budget. Moreover the lens type, number of pixels, image size, frame coverage, compatible lenses among other things must be researched thoroughly.
Image Quality
The image quality of the Nikon D3200 is 24.2 megapixels and contains a high resolution CMOS image sensor paired with an EXPEED 3 image processor. This technology creates rich tonal graduation that helps transfer human skin texture and graduation of sky. Due to the D-SLR D3200's large sensor, images and video can be taken in HD with a blurred background. The EXPEED 3 processes the 24.2 megapixel shots at high speed and it is optimized for D-SLR's. It helps to improve the colour quality of the images and works in conjunction with the cameras noise reduction function.
Scene Recognition and Light Balancing
Using its 420-pixel RGB sensor, the camera is able to acutely detect brightness and colours as well as the background situation before taking the shot. This feature works on the following settings: autofocus, auto exposure, I-TTL flash control and auto white balance for accurate auto control. The D3200 also detects the human face with its Detection System and this can be applied to the following features; autofocus, auto exposure, auto white balance and playback zoom of face. The auto, white balance function detects the light source and then references an internal database and adjusts the focus of the image accordingly.
Lens Specification
This Nikon lens offers Vibration Reduction (VR) and helps reduce any blurriness caused by camera shake or due to the lighting. Other features include:
AF-S lenses with built-in SWM (Silent Wave Motor) – The AF drive converts the moving waves into rotational energy that helps drive optics for the auto focus setting.
Nano Crystal Coat – helps to reduce ghost and flare effects as it helps prevent light entering the lens diagonally.
ED (Extra-low Dispersion) glass – helps to compensate for chromatic aberration and helps to reduce colour fringing.
Aspherical lens- Uses a non spherical surface that helps correct certain forms of lens aberration.
General Specification
· Resolution: 24.2 Megapixels
· Sensor Type: CMOS
· Height: 24,700,000 pixels
· Weight: 24,200,000 pixels
· Optical Sensor Size: 15.4 x 23.2mm
· Field of View Crop Factor: 1.5
· Sensor Dust Reduction: Yes
· Sensor Features: Air flow control system, Self Cleaning Sensor Unit
· Image Processor: EXPEED 3
· Image Stabilizer: Optical
· Auto Focus: TTL contrast and phase detection
· Auto Focus Points (Zones): 11
· Face Detection: face zoom, face-priority AF function, Face Detection AF/AE/FE/WB,
· Digital Video Format: H.264, MOV
· Image Recording Format: JPEG, RAW + JPEG, NEF (RAW)
· Max Video Resolution: 1920 x 1080
· AV Interfaces: Composite video/audio, HDMI
Ease of Operation
This model is installed with a guide mode that is designed to help first time users and provides a step by step guide explaining how to take basic shots and how to effectively use the features held within. The optical viewfinder can help when tracking a moving target during continuous shooting; The D3200 features approx. 95% frame coverage and 0.8x magnification. This camera comes with an 11 point AF system is designed to aid subject acquisition and causes the focus to move with the locked in subject. Various auto focus modes and a wide LCD screen are present to help the functionality and easy usage of the camera.
How to Buy a Nikon D3200 on eBay
There are a wide variety of SLR cameras available on eBay which is great for the consumer. The Nikon D3200 is available with diverse lenses and in different physical conditions. Simply type in the search bar the keywords "Nikon D3200" and a results page will be generated. The eBay category system enables you to sort and filter the results according to price and condition, to name merely a few. Looking for top rated sellers and companies that boast strong reviews can beneficial. eBay offers a wide variety of cameras and can provide an ideal solution.
Conclusion
When selecting which camera to purchase, several factors must be taken into consideration. Aesthetics, lens type, price, screen size, image quality are merely a handful of those that must be researched. This guide has provided details about the Nikon D3200 specifically and eBay is a great place to start your search and will provide all the information needed to make the correct, informed choice.