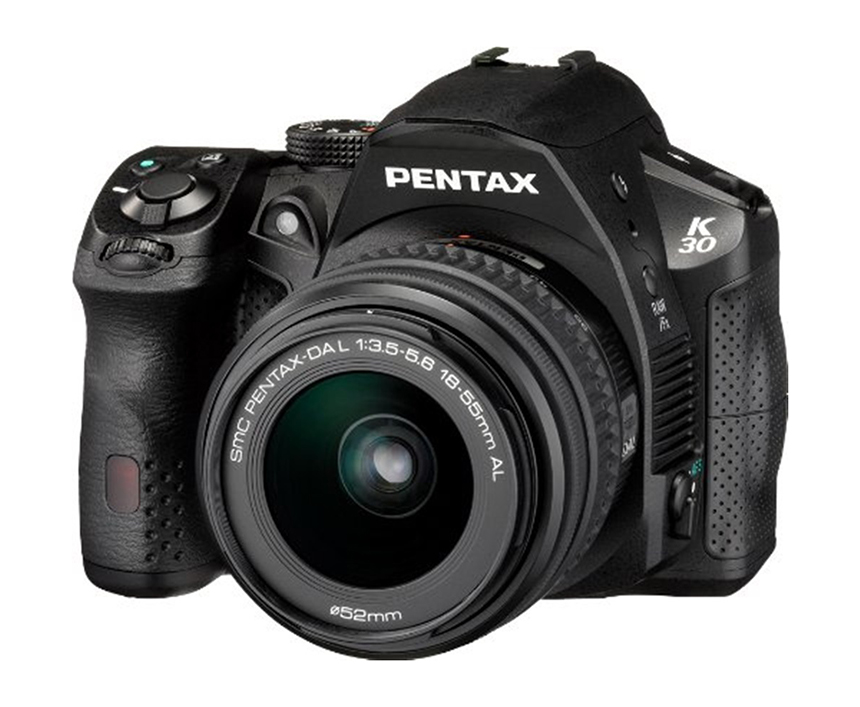 With the inexorable forwards movement of digital technology, devices previously only available to specialised professionals are now available to wider markets. Nowhere is this change more apparent than in the world of digital photography; in recent years top-of-the-range cameras have become easily attainable to enthusiasts. This guide will focus on the strengths and features of the Pentax K-30 DSLR, detailing the advantages of owning one, as well as explaining how to purchase one on eBay.
Main Features
Below is a list of the Pentax K-30's main features, with brief descriptions of how each affects the photographer's experience.
· Reinforced polycarbonate body over stainless steel chassis – the Pentax K-30 is particularly well suited to use in outdoors environments, thanks to its weather-sealed casing, which protects it against the elements. The polycarbonate/stainless steel combination makes it near indestructible, resulting in longevity.
16.1 megapixel CMOS sensor – a sensor is the element of the camera which takes the light being received by the lens and transforms it into a digital signal, arguably making it the most important. With a high resolution of 16.1 megapixels, the K-30 is guaranteed to products a sharp, clear image.
11-point autofocus – an autofocus system enables a camera to identify multiple potential focal points in an area, assisting the photographer with image composition. The K-30's autofocus is able to identify 11 points at once, making it extremely handy.
· 1080p video recording – many modern digital cameras support video recording, and the K-30 is no different, allowing its owner to shoot fully high-definition videos at 24, 25 or 30 frames per second.
3" Liquid Crystal Display – an LCD is a staple of any worthwhile digital camera; this 3" display has 920,000 dots, and is perfect for using as an extended viewfinder, or for viewing captured images in a gallery.
· ISO 100-12800 (25600 by extension) – ISO can be read as a measurement of how well a camera can handle various levels of light. The K-30 has a tremendous range, making it a versatile camera, able to shoot in all kinds of environmental conditions.
Accessories
There are several important accessories, compatible with the Pentax K-30, that are recommended for photography enthusiasts. Below are listed a few of the more useful.
Lenses – with the use of a lens, a digital camera's range can be significantly extended.
Tripods – by using a tripod, an otherwise impossible level of stability can be attained, though usually at the cost of a degree of mobility.
Memory Cards & Readers – a memory card is used to store captured images, and a memory card reader is then used to transfer those images onto a computer.
Straps – using a strap allows photographers to perform other activities while working, and reduces the likelihood of dropping the camera.
Cases – in order to safely transport a camera from one location to the next, the use of a case is highly recommended.
How to Buy a Pentax K-30 DSLR on eBay
There are countless products available on eBay, linked by an elegant and efficient system. The first step is to type "Pentax K-30 DSLR" into the search bar and click "search". This will bring up a list of items which mach that description. To refine the list, use the category links in the page's left margin (in this case follow Electronics,Cameras & Photography and Digital Cameras). The list can be further personalised to suit user requirements with the various "filtering options", which apply new limitations to the search, based on such things as price and condition.
Clicking on an entry in the listings will relocate the user to the item in question's individual page, which contains specifications and details, in conjunction with the seller's ratings and feedback; using this page is essential for making a fully informed purchasing decision.
Whereas some products can be bought on the spot for fixed prices, others must be bid upon against other users, as some buyers prefer to risk getting outbid in the hopes of a lower price, while some wish to sidestep the hassle and pay a fixed price.
View the Deals section of the website frequently to get the best special offers.
Conclusion
The Pentax K-30 DSLR is a powerful machine, with an array of impressive features at the photographer's disposal. It is perfect for stills, specifically outdoors and in variable lighting conditions, making it the perfect landscape camera. Further, its reasonable pricing makes it affordable for amateurs and enthusiasts alike. When purchasing Pentax K-30, using the online bidding powerhouse eBay is strongly recommended, as it has a huge selection and is designed to be intuitive to use.