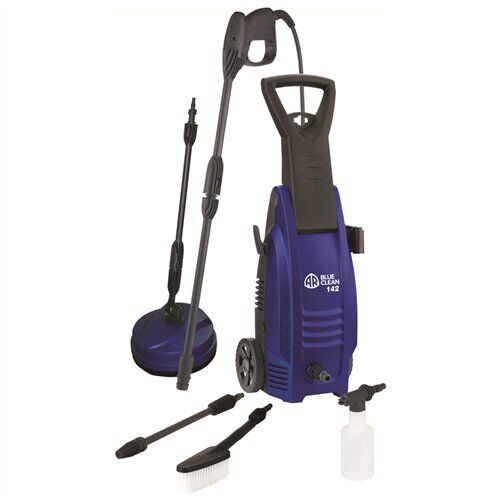 The pressure washer is a powerful and effective solution to wear and tear, as well as the build up of grime and dirt, on outdoor items. Pressure washers can be highly useful for cleaning all kinds of items and areas, including outdoor furnishings, decking, patios, cars and even windows. Different power levels of washers are available which can make them more suited for different uses, while a variety of features are also available which can help to meet any specific needs. Pressure washers are a useful item which can save a great deal of time by removing the need to wash by hand, and a wide range can be found on eBay.
The Types of Pressure Washers
Pressure washers work through the use of a motor which applies a great deal of pressure to the water, which is supplied by a hosepipe that has been attached to the washer and a water source. This pressure allows the pressure washer to dispense the water at high speeds in a fine spray, which can be used to clean items, as well as strip old paint from wood work. The motor can be powered either by gas or electricity.
· Electric powered pressure washers are the more affordable type of pressure washer, and are the most commonly used for typical household tasks such as cleaning outdoor areas and washing cars. These can be simpler to use and maintain, as they only have to be plugged into an outlet to function.
· Petrol powered models are also available. These are often more powerful than similar electric models, and are an ideal choice if the work required takes the pressure washer far from a power source. However, petrol will need to be supplied in order to keep it functioning. Petrol powered pressure washes are often used by professionals, due to the extra power and greater mobility they provide.
Pressure Washer Power
The power of a pressure washer is an important aspect to consider when purchasing a washer.
· The power level of a washer can determine what tasks the particular item is most suited for.
· Buying a washer which is too powerful risks causing damage to some items, while one that is not powerful enough may not satisfactorily complete the task.
· Many pressure washers include the ability to adjust the power level, making the machine more versatile.
· One of the most common methods of measuring the power of a washer is through the PSI, or Pounds per Square Inch, of the stream of water the machine outputs.
| | |
| --- | --- |
| 800-2000 PSI | Pressure washers which offer a PSI of between 800 and 2000 are a great choice for some of the simpler tasks which need to be completed around the home. Use this type of washer to wash cars and clean off patio furniture, as well as to get rid of mould. |
| 2000-3000 PSI | More powerful pressure washers can be used for somewhat more intensive tasks. User pressure washers with a PSI of up to 3000 to more quickly clean cars and vans, as well as clear out guttering and effectively wash decking. |
| 3000-4000 PSI | Pressure washers with this level of PSI are considered heavy duty, and should only be used to wash strong materials. These pressure washers may be suited to cleaning off brickwork and concrete driveways, as well as for stripping paint from some materials. |
Pressure Washer Features
Pressure washers can include a variety of features and accessories which can greatly increase the versatility of the machine, making them more capable with certain tasks, as well as increasing the portability of a pressure washer.
· Variable nozzles are available, which can be purchased separately or included with some pressure washers. These can be used to alter the area the spray from the washer covers, meaning that a washer can switch from washing a larger area to focusing a more intense stream on a particular point.
· Some pressure washers, particular more powerful machines of a larger size, may include tyres. These can be useful, making it easier to move heavier machines, as well as being able to tackle rougher ground.
· Some pressure washers are designed in order to be used with detergent. This can include a tank which can work with cleaning detergent, or even a specifically built injection system. This can make a pressure washer more effective at some cleaning tasks, as some pressure washer tanks may be damaged by stronger detergent.
· Some pressure washers are available which include a telescopic wand, the part of the machine which the user holds. This means that the pressure washer takes up less space when not in use, making it a good choice if the pressure washer will need to be regularly transported, or if storage space is an issue.
· Hot water pressure washers are also available, which can be useful for a particularly stubborn job. It should be noted that pressure washers designed for use with cold water may not be suitable for use with hot water.
Pressure Washer Accessories
A variety of useful additional accessories are also available which can be used with a pressure washer.
· Safety is an important aspect to consider when buying and using a pressure washer, and a number of accessories are available which can help. A pair of safety goggles is a good choice, particularly for models which feature a higher pressure. Any material which rebounds from the spray risks hurting and potentially injuring the sensitive eyes.
· Attachments are also available for use with power washes which can help to make them more effective. A popular type of attachment is a brush, which can help to make a pressure washer more effective at cleaning some surfaces.
How to Buy a Pressure Washer on eBay
A wide variety of pressure washers offering a range of features can be found on eBay, along with a range of different accessories.
· The full listing of available pressure washers can be found under the Pressure Washer section of Outdoor Power Equipment, through the Hand Tools section of the Gardening category.
· Pressure washers can be arranged by categories such as price, condition and item location.
· Key information about a pressure washer, such as they type of washer or any features it offers, will often be prominently displayed in the item listing. This makes it easy to quickly identify if a pressure washer meets any specific needs.
· More detailed information can be found on the item page. This also includes information about the seller, such as item reviews and feedback ratings, which can help to ensure that a purchase is made with confidence.
· If a particular pressure washer is needed, it may be more effective to use the search function which can be found on the top of every page. Searches can be made to return results from within a specific category, or from across the site.
· Look out for any available deals on pressure washers which may be available in the Gardening category.
Conclusion
Pressure washers can greatly speed up a wide variety of tasks, from cleaning patio furniture to washing cars and stripping paint. Pressure washers use petrol or electrically powered motors in order to pressurise water, which is then ejected out of a nozzle held by the user, and are available offering different power levels which can make them more suited for different uses. Pressure washes can also offer a range of features, such as variable pressures and telescopic wands, which can be highly useful. A wide variety of power washers and other gardening equipment can be found on eBay.