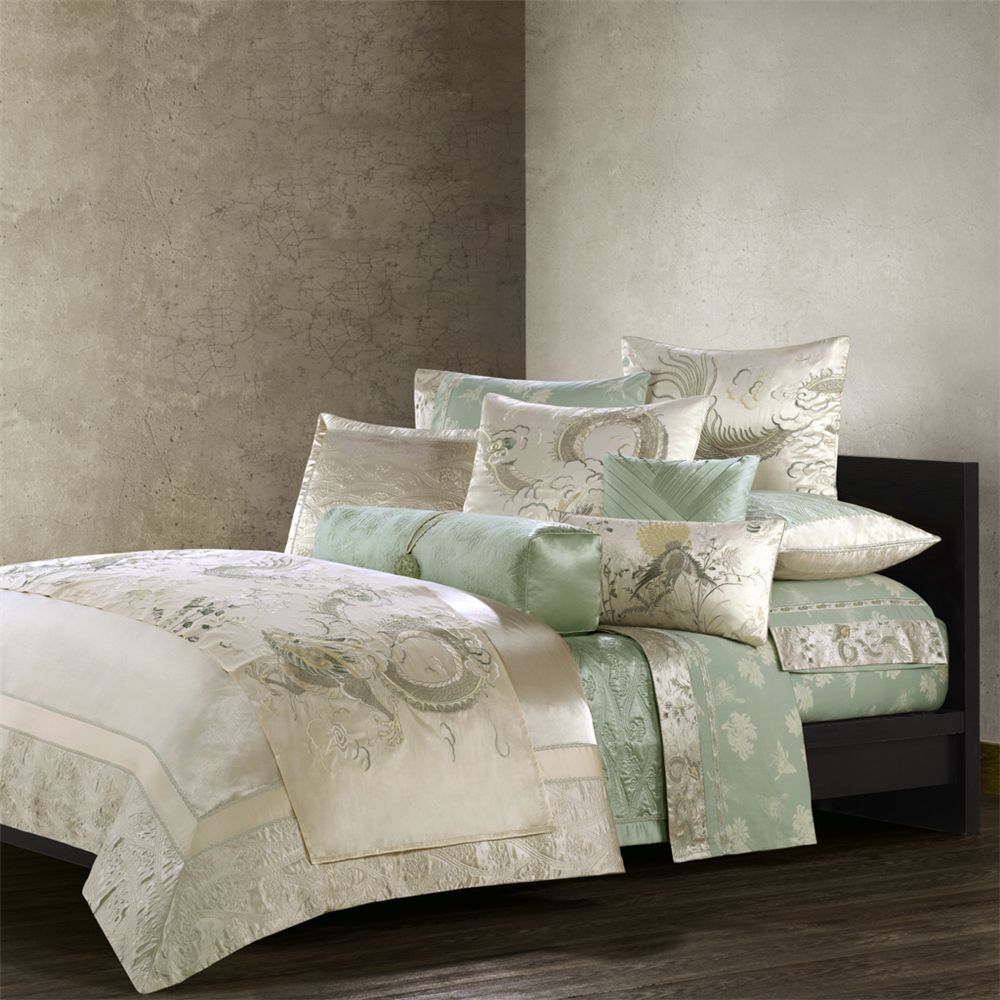 Quilt covers protect quilts and give a new look to the bedroom. Silk quilt covers go one step further and add a level of luxury to the feel of the quilt. Silk is light, incredibly soft, and has been a luxury bedding material for centuries. Since silk quilt covers are fairly expensive, knowing about silk quality is invaluable before shopping. A number of factors like weight, source, and weave go into determining the quality of silk. Learning about these and how to shop for silk quilt covers on eBay allows shoppers to find a deal on this luxurious bedding material.
Silk Weight
Weight, rather than thread count, is the primary indicator of quality of silk bed linens. A special unit of measurement, the momme, expresses the weight of silk cloth. A momme equals the weight in pounds of a piece of cloth 45 inches wide and 100 yards long. The heavier the cloth, the better the quality. A weight of 16 to 19 mm is high-quality silk, with 20 mm being practically the limit. Weights above 20 mm are not necessary for durability. In fact, as low as 12 mm may be enough, but this is the bottom limit for durability and quality. Lighter silk bedding is likely to tear.
Silk Types
Several very different materials come under the name of silk. It is important to distinguish between real silk from silkworms and synthetic materials like polyester silk. There are also various types of real silk.
Faux Silk
Synthetic silk is much more affordable and provides an animal-friendly alternative for those who do not want to use real silk. Thanks to modern technology, synthetic silk also imitates quite closely the look of real silk. However, the insulating properties and feel of synthetic vs. real silk are different. Polyester is a common choice for faux silk. It is machine-washable and less delicate than real silk in terms of maintenance. Fabrics labelled 'satin' are often faux silk, although satin was originally a term for a glossy weave of real silk. Silk manufacturers use the word charmeuse to describe a satin weave in silk.
Real Silk
Real silk also comes from a few different sources, depending on the species of silkworm and its food source. Mulberry silk is extremely smooth, soft, and high quality. It comes from a special species of silkworm that eats only mulberry leaves. Other species of silkworms produce lower quality silk. Tussah silk, for example, comes from wild moths, which eat many different plants. This kind of silk comes from broken cocoons that the wild moths have left, making the silk fibres shorter. The natural colour is a tan or brown and the texture is slightly different from mulberry silk. However, Tussah silk is also a real silk product that is more affordable than mulberry silk. Silk duvets from China often have Tussah silk inside. However, mulberry silk is more common for quilt covers since consumers are looking for a very soft texture.
Silk Weaves
Besides the momme weight, and the source, the weave of the silk is a major factor in quality. Different weaves produce different fabrics. Some silk fabrics include chiffon, charmeuse, and habotai silk. Chiffon is a diaphanous material not suitable for bedding, but charmeuse and habotai are common choices for quilt covers. Charmeuse is the glossy satin weave most people recognise as silk. Habotai is a plain weave without the glossy softness of charmeuse. Very high quality silk quilt covers are charmeuse silk.
Other Features of High-Quality Silk Quilt Covers
Another characteristic of high-quality silk is the length of the fibres. Long-fibre silk comes from complete cocoons with the undeveloped moth still inside whereas short-fibre silk comes from cocoons in which the worm develops and breaks out. Long-fibre silk is stronger and has a smoother texture.
The lack of seams is also a desirable feature in high-quality silk quilt covers. Wide bolts of cloth are much more expensive to weave than narrow bolts of cloth, so cheaper quilt covers may have seams somewhere in the middle. The table below summarises the qualities of high-quality silk quilt covers.
| | |
| --- | --- |
| Quality | Description |
| | High density of threads makes fabric weigh more |
| Mulberry silk | From silkworms that eat only mulberry leaves |
| Charmeuse weave | Glossy on one side and dull on the other |
| Long-fibre silk | Strong thread from whole unbroken cocoons |
| Seamless | From wide bolts of cloth |
Silk quilt covers that meet the standards in the table are, of course, expensive. However, there are also more affordable silk covers that are still a huge improvement over cotton covers. Look for as many of the features above as possible.
How to Buy Silk Quilt Covers on eBay
eBay makes it easy to find silk quilt covers of all sizes from the comfort of your home. A range of prices is always available, making it possible to get excellent quality and still stay within the budget. To find silk quilt covers on eBay, simply enter the term ' silk quilt cover' in the search box on any eBay page. Then refine the search if necessary by price, category, or other criteria eBay provides. Be sure to read the listing carefully and ask the seller any questions you might have before buying. Checking the eBay Deals page is also a great way to get luxurious high-quality silk covers at a low price.