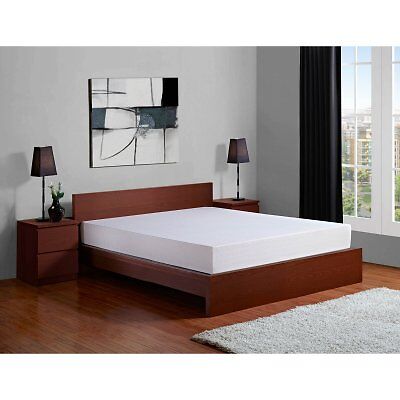 The quality of sleep plays a very important role in health, because it has an effect on your overall energy levels and therefore on your entire life. Besides organising your bedroom as neatly as possible and keeping all the clutter out of there, you should also choose a suitable mattress for your bed. Spring mattresses are less popular than they used to be, because they do not support the back naturally. Foam mattresses contain memory foam, and can mould according to your body. They are thus able to give you the support you need. Memory foam mattresses are available in many sizes. You can find a proper foam mattress for your single bed in stores, as well as on online sites, such as eBay.
Memory Foam Explained
Memory foam is made of polyurethane, a polymer, and some additional chemicals that give the mattress density and viscosity. Memory foam is often also called viscoelastic. Foam with lower density moulds to the body shape of its user, due to the body weight and pressure exerted on the mattress. Foam with higher density reacts to body heat and softens, moulding to the body shape in only a few minutes. Memory foam recovers its original shape quickly once the pressure is removed, and many people consider this to be an advantage and a characteristic of a better type of mattress. As the mattress moulds according to the body shape and weight, the body weight is distributed evenly.
Benefits of Memory Foam Mattresses
Thanks to supporting body weight and reducing pressure, memory foam can relieve and prevent pain on pressure points. Back pain sufferers gain the most from such sleep surfaces, as the mattress conforms naturally to their curves. The mattress also helps to reduce extra movement during sleep, so that one is less likely to wake up in the course of turning from one side to another. This can be especially useful for elderly people who have trouble sleeping.
Features of Foam Mattresses
Different types of foam exist, and they vary in their characteristics. Foam density, foam indentation load deflection, mmHg, size, and material are some of the features you should consider when purchasing a single-size foam mattress. You are most likely to find these specifications on the mattress package itself, or from the seller.
Foam Density
Foam density refers to the mass of material per unit of volume. The denser the foam, the more durable the mattress is, although many people find that it also influences the feel of the mattress. In terms of density, make sure that the value is given for the entire mattress, not only for the upper layer.
Foam Indentation Load Deflection
Foam indentation load deflection (ILD) is a value in the range of 6 to 40. Quality foam mattresses generally have an ILD value between 10 and 16. The best mattresses consist of multiple layers that function together and thus increase the value.
Foam mmHG
The millimetre of mercury, or mmHg measurement, is used to describe how the mattress reacts to pressure. The lower the number, the better. With a mmHg value over 30, issues arise with blood circulation. Values lower than that are thought to be better, because there is less pressure on body pressure points.
Foam Mattress Size
Beds, as well as mattresses and bedding linen items, such as bed sheets, come in certain standard sizes. This standardisation makes it easy to find a mattress of the right size. Bear in mind that the standard sizes may differ from country to country. You should pay attention to where the mattress was produced in order to find a suitable mattress for your bed. The safest bet is to measure your bed and then order a mattress with the same measurements. The standard single size in Australia is 91 cm in width and 190 cm in length.
Foam Mattress Material
The commonly known memory foam, or viscoelastic, is not the only material that can be used for foam mattresses. Although memory foam has been used for years, there are alternatives on the market as well. The industry is starting to use natural materials, such as latex, although these may be more expensive than the polyurethane version. The main benefit of the natural material is its breathability. Synthetic memory foam, similarly to polyester and nylon fabrics, traps heat and can become a nuisance in warm weather. However, should you still opt for a classic memory foam mattress, you can reduce the heat by choosing a lighter blanket. The chemical odours and unpleasant smells that accompany memory foam mattresses should disappear after some use. Some foam mattresses feature an upper gel layer that channels heat away and keeps your bed cool.
How to Buy a Single-Size Foam Mattress on eBay
On eBay, you can find a single-size foam mattress by using the search box found at the top of any eBay page. Vary your keywords to find the perfect mattress for your needs, and check for deals. You should measure your bed and then read the detailed item listings to make sure that the mattress of your choice fits your single bed. A foam mattress that reacts to body heat and moulds to the body can relieve back pain and promote better sleep. When buying a foam mattress, opt for either memory foam or latex foam, and consider the features, such as density, material, mmHg, and indentation load deflection.