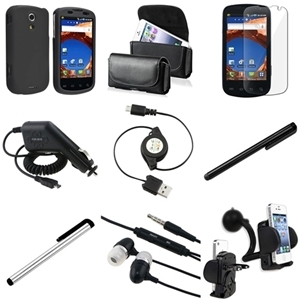 Smartphone bundles offer buyers great value for money and a chance to acquire not only a desired smartphone but also the various accessories that can improve the overall experience of using the device. The contents of a smartphone bundle vary greatly, and buyers should spend some time reviewing what's being sold. This will ensure that they are paying for items they will use rather than additional accessories that are not needed.
Choosing a Smartphone
Advisable for all buyers before they start browsing is to make a rough budget of how much money can be spent on the smartphone bundle. Doing so will speed up the search process and help to quickly eliminate unsuitable offers. There are a number of smartphone manufacturers operating today including Apple, Samsung, Nokia and HTC, and selecting a device from one of these companies is usually a matter of personal preference. Buyers should spend some time reading multiple reviews about the devices they are interested in buying, and they should examine the various features the smartphones have to offer.
Smartphone Bundles
Smartphone bundles are available to buy with predetermined network providers. These bundles usually offer the buyer a set amount of free credit and data, or a month's free use if the phone is being bought on a contract. Buyers interested in using a set monthly contract are advised to research into the different network providers and what they offer. Smartphones sold today are available either as locked or unlocked. If the device is locked then it has a preset network provider that must be used unless the buyer wishes to pay an additional fee to have the smartphone unlocked. If the device is unlocked then it can be used with any desired network provider, and it is suggested that all buyers search for unlocked devices.
What's in the Bundle?
As previously mentioned, the contents of a smartphone bundle varies from offer to offer, but the following are some of the most common accessories buyers can expect to be included in bundles.
· Some smartphone bundles include a screen protector, which will keep the device's LCD screen safe from scratches, dust and glare. This accessory is attached to the front of the smartphone and uses a self-adhering surface that leaves no residue on the surface.
· One or more additional cases that can be attached to the smartphone. Such accessories are mainly used for aesthetic value and are available in a variety of colours and designs.
· Nearly all smartphones are equipped with some form of music playback capability, so buyers can expect headphones to be included. All headphones that use a 3.5 mm jack can be connected to the smartphone, but the headphones included in bundles are usually made by the smartphone manufacturer.
· A touch screen stylus is often included in bundles for smartphones made by Samsung, LG and HTC.
· Battery chargers are handy accessories for those on the go who do not always have access to laptops or sockets.
Buying Smartphone Bundles on eBay
eBay is an excellent place to search for smartphones and smartphone bundles as the site tends to have such products for sale at lower prices than those found in retail stores or on specialist websites. To find an appropriate smartphone bundle take the following steps.
· On the next listings page, buyers have the option of listing smartphones by specific companies only. To do this simply click on the preferred company in the Brand filter in the Categories table on the left-hand side of the page. Type the name of the desired smartphone and the word bundle into the search bar and press enter e.g. iPhone 4 Bundle.
· The Condition filter can be used to list Used smartphone bundles only. This is an easy way to find less expensive products, but check photographs of the product for signs of physical damage before making a purchase.
Conclusion
Smartphone bundles offer buyers a chance to purchase their desired smartphone and relevant accessories at a great price. The accessories included in the bundle vary so always remember to read the description box on the item page to find out what is included.