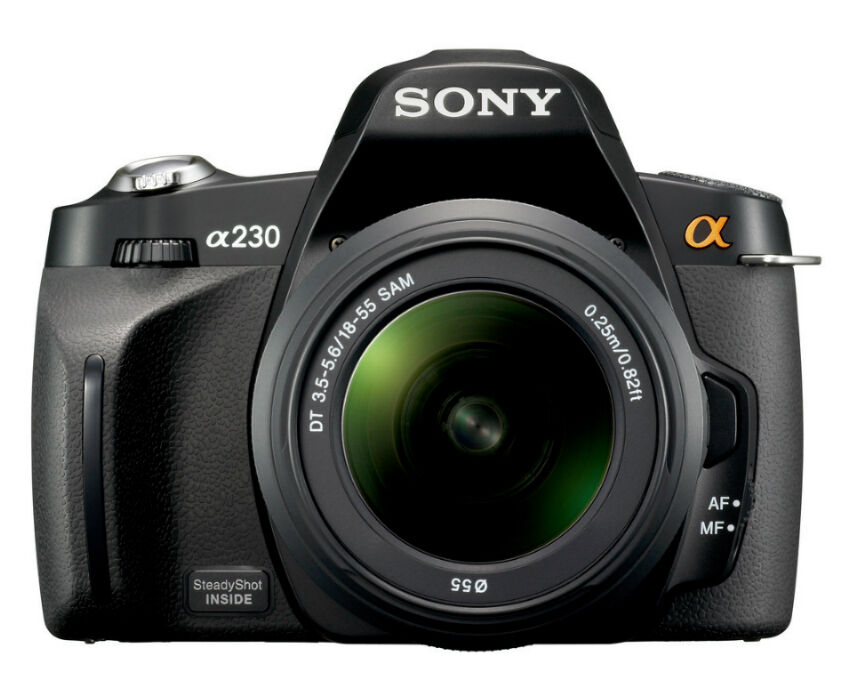 Classed as an entry-level camera, the Sony Alpha is a digital single-lens reflex (DSLR) model that was released in 2009. It comes with a 10.2 megapixel lens and a simple design intended to help SLR novices to capture images.
When coming to buy online, many people use eBay as a way to complete a purchase. With this in mind, this guide will focus on how to acquire a Sony Alpha 230 in relation to using the site.
Specifications of the A230
Below is a table detailing some selected specifications of the Alpha 230, useful when reviewing the camera's capabilities and also comparing it against similar models.
| | |
| --- | --- |
| Specification | Details |
| Sensor | 10.2 effective megapixels 23.6 × 15.8 mm CCD |
| Maximum resolution | 3872 × 2592 pixels |
| Flash | Built-in |
| Continuous Shooting | 2.5 frames per second |
| Viewfinder | 95% coverage, 0.83x |
| Screen | 2.7 inch LCD screen |
| Battery | Lithium-ion battery pack, Sony NP-FH50 |
| Dimensions | Approx. 128 x 97 x 67.5 mm |
| Weight | 450 g (16 oz) - without battery |
Characteristics of the A230
The Alpha 230 is the next camera in line after the A200 and has been reduced in size and weight for ease of use, and it also has less external controls. This section will look at the additional characteristics of the camera in terms of its appearance and feel, ease of use, and features.
Appearance and Feel
At 450 grams, the Alpha 230 is a lightweight camera model which can suit certain people over others. Although the reduced internal features can lead to a hollow feel, this isn't necessarily a concern for amateur photographers.
Its reduced measurements are also preferable for those with smaller grips or who favour a sleeker, more refined body shape. The curvaceous edges have become a feature of the current Sony brand.
Ease of Use
Some reviews of the A230 have not been too positive about the position of the buttons on the camera. Users easily become accustomed to them after time and extensive use.
Usefully, there are individual buttons for exposure compensation, drive mode, ISO, and flash mode. As to be expected with all DSLR models, the main mode menu includes shutter priority and aperture but also has 6 scene programs and a 'flash-mode off' button.
The Function menu provides a route into the shooting menu, which includes the autofocus mode, white balance, and creative styles options, amongst others. Further constructive features are pre-set tones that can be customised and on-screen notes (which appear after a couple of seconds) to explain current option.
Features
The performance of the A230 is adequate for its classification as an entry level camera. It can take single shots quickly and also manages 2.5 fps in continuous shooting mode, producing high quality JPEG results. One downside however is that the camera has no video mode.
Other features include a 9-point autofocus and anti-dust system. SteadyShot INSIDE image stabilization reduces the chance of camera-shake whilst taking pictures. In addition, the D-Range Optimizer allows the user to adjust brightness and contrast levels to capture backlit vistas.
The rechargeable NP-FH50 battery can take up to approximately 510 images, with 230 images in live view mode according to Sony. They also promote the decent noise performance and fast data processing offered by the BIONZ processor.
Buying the Sony Alpha 230 on eBay
As more and more people are turning to online shopping, eBay is a website that should be checked to find some potential deals:
· To reveal all the appropriate results, type in 'Sony Alpha 230' from the eBay home page and select theDigital Cameras subsection inside the Cameras category from the left-hand side of the page. Review the listings that appear, choosing further categories such asLenses, Filters, and Photographic Accessories to narrow down the results.
· The search page on eBay has useful features that can help pinpoint the most suitable items. Sort the listings in terms of the buying format, condition, price range, and item location. Further options can be found within the Advanced Search page.
· When a suitable product has been found, remember to carefully examine the description left by the seller. This will help guarantee a successful purchase. Look out for the postage and payments information provided by the seller also.
· Although the Sony Alpha 230 is one of the less expensive cameras on the market, some eBayers still are on the lookout for some potential deals. One way to do this is to check out the Digital SLR section within the eBay Deals website.
Conclusion
For a solid, entry-level camera at an affordable rate, the Sony Alpha 230 is an uncomplicated and easy-to-use model. Although some experienced photographers may find it limited, the simplicity of the camera is perfect for its target demographic of first-time users.
Before searching the high street or electrical online outlets, first look through Bay's listings as a way to unearth some potential deals.